id2 National Selection International Tour concludes in France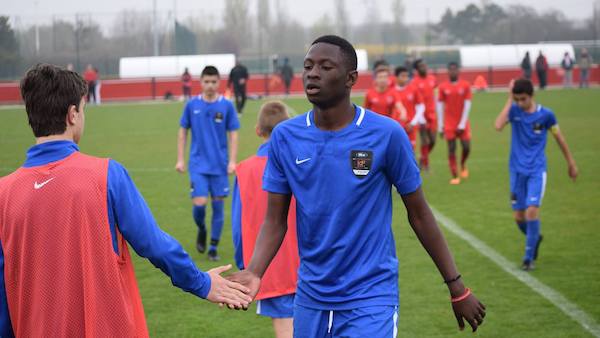 2019 id2 National Selection International Tour | usclubsoccer.org/id2
NEWARK, N.J. (Via US Club Soccer) – The fourth and final video journal of the 2019 id2 National Selection International Tour is now available, compiling highlights and commentary from every stage of the journey. This was the first time the id2 Program traveled to Belgium and France, and this year's id2 National Selection team compiled a 7-6 goal advantage in Belgium and 4-3 edge in France.
The roster was made up of 18 top boys players (17 born in 2005, 1 born in 2006), which competed against top academies in both European nations: 6-2 win over KV Mechelen, 4-1 loss to KRC Genk, 3-1 loss to PSG and 3-0 win over Reims.
Video journals:
"The players get to immerse themselves in an environment that they're not used to," said Eddie Henderson, id2 National Selection Head of Delegation and US Club Soccer Board of Directors member. "A lot of these players have ambitions to go on to another level – maybe it's the DA, maybe it's the youth national team, maybe it's professional. These are the types of environments that catapult players into that reality."
The players were not only challenged on the field against these renowned academies, but they also were led through several off-the-field presentations about tactics and mentality. The learning environment extended beyond soccer too, as the team received a cultural immersion by touring historic cities, such as Brugge, Versailles and Paris.
"In all of the games we had we learned, including the first game where we just learned how to be a family at a club," added McKeown. "It's great for our kids to see a different view. I think it's great to see what other cities look like. I think it's wonderful that they're able to see how other people live."
The trip began March 29 when the delegation met for the first time together in New Jersey. By the end of the 12-day experience, the boys had become a cohesive team. "I think that's the piece we're most happy with, because they really did become a team at the end," said Ian Mork, id2 National Selection assistant coach. "Hopefully they can take that to their environment back home and become better teammates and start to really reach a higher level for their own development."
These athletes join the record books, alongside some of the U.S.'s brightest stars in the game. Notable id2 National Selection alumni include: Christian Pulisic (2012), Jonathan Gonzalez (2013), Tyler Adams (2013), Corey Baird (2010) and Timothy Weah (2013). Last month, McKeown named his All-Time Best XI alumni of id2 boys programming.
"It's a very tough environment from a soccer standpoint, but like the old saying goes: 'If it doesn't challenge you, it won't change you,'" Henderson added. "id2 plays a huge role in the whole development of soccer."
If you missed any of the action from the past two weeks, you're encouraged to browse our extensive coverage on Twitter, Instagram, Facebook photo album and the daily log.
Consistent with US Club Soccer's philosophy that identification and development should be free to players, the organization funded the trip in conjunction with the strong support of Nike; there was no cost to players, including airfare, lodging, meals and gear. The id2 Program is an Olympic Development Program approved by the United States Olympic Committee and U.S. Soccer Federation.
In addition to Nike's steadfast support of this experience, Premier International Tours offered its resources to enhance the 2019 id2 National Selection International Tour – serving as an on-site liaison for the duration of the trip.