US Club Soccer id² National Selection returns to Spain for 2018 trip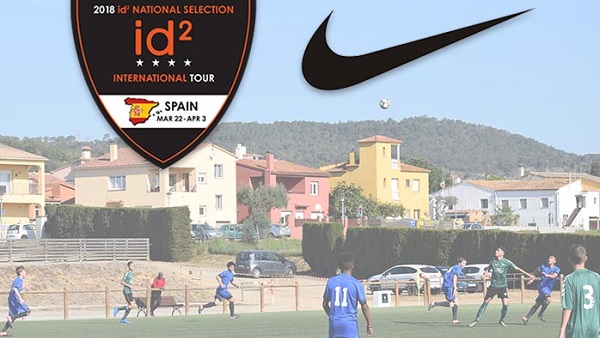 (Via US Club Soccer) – Members of the 2018 id² National Selection International Tour will travel to Spain to compete in the 18th annual Mediterranean International Cup (MIC) for the second consecutive year. The full tour dates are March 22-April 2, which includes a brief domestic camp in New Jersey, stop in Girona and then the MIC in Costa Brava.
The 2018 id² National Selection International Tour represents the final id² programming element for boys born in 2004. It concludes an age group cycle that featured numerous identification and development opportunities, including Player Development Program (PDP) events and id² Training Camps.
Nike continues to be an influential supporter of this international tour – and the id² Program in general.
id² Boys Program director Gerry McKeown will lead the team in the id² Program's ninth trip abroad. Eighteen male players will be selected in the coming weeks. A full roster and schedule of activities are to be announced on usclubsoccer.org soon.
+READ: Mike Cullina appointed chairman of US Club Soccer Board of Directors
"It is a unique opportunity to expose our players to games that have consequence," McKeown said. "At this age, our young players do not play enough elimination games. It will be challenging for them playing against great international clubs when the performance actually counts. In this tournament, if you underperform, it will result in an early departure or more beach time."
The MIC takes place on the northeast coast of Spain at the Costa Brava, featuring some of the best clubs and academy teams in the world. In its illustrious history, top teams like Brazil National Selection, Mexico National Selection, Real Madrid CF, FC Barcelona, Manchester United, Liverpool FC and FC Inter Milan have all competed. Lionel Messi, Neymar Jr., Gerard Piqué and other world-renowned stars have taken the MIC pitch.
Last year's team of 2003s advanced to the quarterfinals of the MIC – the best tournament finish by a U.S.-based squad, according to MIC officials. That group was defeated by FC Inter Milan in penalty kicks, but did not allow a goal against in any of its games.
+READ: Shannon Cirovski appointed US Club Soccer East Region Board Director
The 2018 MIC begins March 28 and progresses five days with the championship round on Easter Sunday (April 1). Prior to that, the id² National Selection team will begin its journey in New Jersey with a domestic camp, March 22-24. After arriving in Barcelona the morning of March 25, the American delegation transfers to Girona for training sessions and a scrimmage. Finally, on March 27, the group moves on to Platja D'Aro for the MIC competition.
Consistent with US Club Soccer's philosophy that identification and development should be free to players, the organization is funding the trip in conjunction with the strong support of Nike; there is no cost to players. The id² Program is an Olympic Development Program approved by the United States Olympic Committee and U.S. Soccer Federation.
Numerous id² National Selection alumni have advanced to the highest levels of the sport, including Christian Pulisic (2012), Jonathan Gonzalez (2013), Tyler Adams (2013), Corey Baird (2010), Danny Barbir (2012), Collin Fernandez (2010), Matthew Olosunde (2012), Tommy Redding (2011), Ben Swanson (2010) and Timothy Weah (2013). Just prior to the 2017 id² National Selection International Tour, US Club Soccer released an "id2 where are they now" web series detailing each year's National Selection alumni.
In addition to Nike, LaLiga is offering its resources to enhance the 2018 id² National Selection International Tour. Premier International Tours is also assisting with travel logistics, and, like previous years, is serving as on-site liaison for the duration of the trip.