US Club Soccer debuts LaLiga methodology at 2016 NSCAA Convention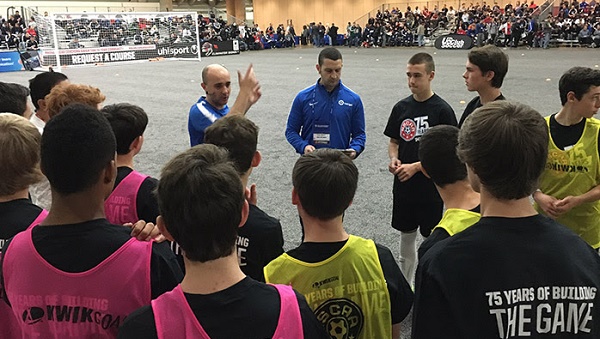 CHARLESTON, S.C. (Via US Club Soccer) – Known for his aggressive playing style during his professional career in Spain, Míchel Salgado didn't mince words during the US Club Soccer/LaLiga panel discussion at last week's NSCAA Convention.
"LaLiga is much more than just Real Madrid and (FC) Barcelona," Salgado said, later repeating it twice. And, anyone who trailed Salgado and the three other LaLiga officials in attendance, Jan. 13-16 in Baltimore, Md., can attest to that.
US Club Soccer hosted a field session, panel discussion, autograph session and classroom session with LaLiga ambassadors and methodology experts. The series of sessions proved LaLiga's dedication to further coaching education and player development resources in America.
Specifically, US Club Soccer and LaLiga introduced attendees to LaLiga Formation Methodology courses, which will begin this spring, to help provide new, advanced coaching education opportunities. These courses will be detailed on usclubsoccer.org soon.
Starting with the field session Thursday afternoon, LaLiga methodology clinicians Gari Fullaondo and Hugo Blanco led a group of players throughseveral activities, which encouraged tactical play, rather than a hyper-physical style. "To pass the ball well, you must have good control of the game," Fullaondo said to hundreds of coaches observing the session.
A couple hours later, Salgado (LaLiga ambassador) joined Fernando Sanz (LaLiga international projects director) on stage for a panel discussion titled "A Career in LaLiga and Bringing the Experience to the U.S." The former Real Madrid players both shared insight about their personal development and how LaLiga is helping to advance the game globally.
Then, when the NSCAA Convention exhibit hall opened that night, Salgado and Sanz were both at the US Club Soccer booth for an autograph and photo opportunity. A steady line of fans were also exposed to Players First at the expansive, largely Players First-branded booth, where US Club Soccer staff were on-hand to meet with current members and form relationships with prospective members. US Club Soccer officially launchedPlayers First in August at Nike World Headquarters, where it also signed a long-term technical partnership with LaLiga.
Friday afternoon, Fullaondo and Blanco presented a classroom session called "Youth Development in Spain – LaLiga Methods and Philosophy."
"We are going to show you how to create methodology and how to be better coaches," Fullaondo said. Fullaondo shared some of the complex sessions that LaLiga clubs use to help develop some of the world's best players. These same techniques, and the software that organizes it all – Kimet Sport, will be available during LaLiga Formation Methodology courses.
Blanco added that a team's failings are not typically due to a lack of player strength, speed or endurance. A team fails because it didn't create a proper tactical environment.