Over 70 top girls teams compete at NPL Showcase in Florida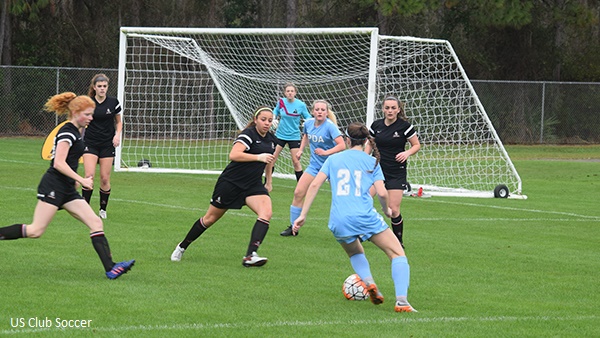 PALM COAST, Fla. (Via US Club Soccer) – More than 70 top NPL girls teams welcomed the New Year at the NPL Showcase, Dec. 31-Jan. 2, at the Indian Trails Sports Complex in Palm Coast, Fla. The second annual event for U-15 through U-17 girls teams saw growth in competition and number of college coaches with more than 100 coaches and scouts representing every level of collegiate soccer.
"This year's NPL Showcase proved even more successful than last year's event," NPL General Manager Leo Garcia said. "It has certainly become a strong, annual element for NPL clubs' calendars."
+Watch: Live Stream Match Replays
Four U-17 games were live streamed on Saturday to provide distant friends, family and college coaches with a way to watch the action. Connecticut FC United (Conn.) defeated Lake Norman SC (N.C.) in the opening time slot of the day. Afterward, PDA Blues (N.J.) finished its showcase with an unblemished 3-0 record by taking down Aztec SC (Mass.) in the second game of the live streamed slate.
PDA Impact (N.J.) also enjoyed a perfect record, capped by edging NEFC (Mass.) Saturday afternoon. NEFC proved to be a tough test; it had won a national championship at the 2015 NPL Finals in the U-16 bracket. Lastly, Riverhounds Development Academy (Pa.) won a thrilling, physical contest thanks to a second half goal to come out on top, 1-0, over FC Stars of Massachusetts West (Mass.).
In addition to PDA Blues and PDA Impact, seven other teams won all three of their matches during the showcase: East Meadow Smithtown Hotspur (U-16), FC Stars of Massachusetts Central United (U-15), Jacksonville FC Storm (U-15), NJ Wildcats Lady Strikers (U-17), Penn Fusion SA (U-16), Riverhounds Development Academy (U-16) and STA Morris United (U-16).
"It was great to see teams form new rivalries against opponents from other NPLs," Garcia added. "There's no doubt we'll be seeing some of these teams again in July at the NPL Finals."