US Club Soccer announces launch of Carolina's Premier League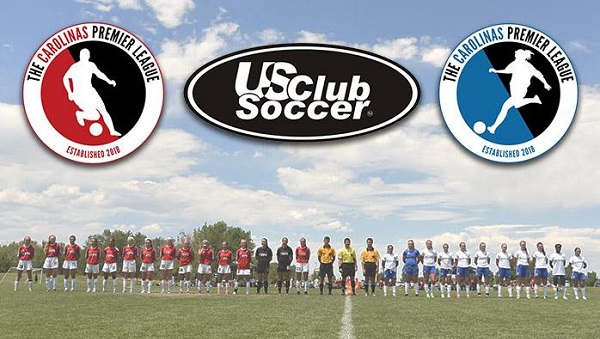 CHARLESTON, S.C. (Via US Club Soccer) – US Club Soccer has announced the launch of the Carolina's Premier League (CPL), beginning in the fall 2018 season.
The league is made up of 14 clubs with about 120 total teams representing 2,000 players in South Carolina and Georgia, featuring 8-U through 12-U boys and girls age groups:
Augusta Arsenal (Ga.)
Cainhoy Athletic (S.C.)
Carolina Football Club (S.C.)
Coast FA (S.C.)
Daniel Island Soccer Association (S.C.)
Discoveries Soccer Club (S.C.)
GPS Coastal Academy (S.C.)
GPS Lexington (S.C.)
GPS NASA (S.C.)
James Island Youth Soccer Club (S.C.)
SC/GA Bulls Soccer Club (Ga./S.C.)
South Carolina United FC (S.C.)
USA Mount Pleasant (S.C.)
USA Tormenta FC Youth (Ga./S.C.)
The CPL is built with a long-term player development focus, as its youngest age groups – 8-U through 10-U – compete in a 7v7 format, and the older age groups – 11-U and 12-U – play 9v9. This gives players more touches on the ball.
Similar to US Club Soccer's mission of fostering the growth and development of clubs throughout the country, the CPL's philosophy is to provide the optimal environment for player development at the club level. This is accomplished through all the clubs' Directors of Coaching consistently working together towards that goal for the benefits of players and their families.
"This is an exciting opportunity to work with the top clubs in South Carolina," said Sean Carey, League Director of the CPL. "The Carolina's Premier League will be player focused and club driven. The level of collaboration between the member clubs of the CPL has been impressive. We are looking forward to providing players, teams and clubs the best playing environment possible on the field supported by continued cooperation and organization off the field."
CPL clubs receive a wide array of benefits as part of its US Club Soccer membership. This includes Players First, which is a branded, holistic club soccer experience for parents and players, which emphasizes the development of each individual to his or her full potential, and helps parents make better choices about where their children should play. Players First is built on five pillars:
Club Development
Coaching Development
Player Development
Parent Engagement & Education
Player Health & Safety
US Club Soccer has been consistent that Player Health & Safety is US Club Soccer's "first and most important responsibility." That commitment has been demonstrated through various initiatives and Players First partnerships, including 11+, Fit for 90, Player's Health and Sideline Sports Doc.
US Club Soccer has implemented best-in-class background checks, as part of its background screening process for all registered staff. The effort is coupled with a requirement for those registered staff to complete a Sideline Sports Doc/US Club Soccer online injury recognition course.
CPL members will also enjoy exposure to Player Development Programs (PDPs) and theid² Program. These programs help provide identification and development to the entire country, including traditionally underserved regions.
Quote from participating clubs:
Heyward Gulledge, Coast FA Executive Director: "We feel the new Carolina's Premier League is a great fit for Coast FA and are excited to begin competition against some of the top clubs in South Carolina. The clubs involved share a similar philosophy regarding player development, coaching education and long-term goals. The idea of a home and away schedule in a festival setting for most weekends is very appealing. Having both genders of 8-U through 12-U age groups in the same location will be invaluable for our Directors of Coaching. The setting should produce a great energy similar to a tournament experience each weekend."
Kian Brownlee, United Soccer Academy Mount Pleasant Director of Soccer Programming: "USA Mount Pleasant is thrilled to be included as an initial member of the Carolina's Premier League and are excited about working to expand the league beyond the 12-and-Under age groups in the coming years. To be part of a league that will provide a club-centric, member- and player-friendly environment with an intelligently designed schedule will be a huge benefit to our clubs' growth and our players' development."