University of New Hampshire introduces No. 9 ranked men's soccer signing class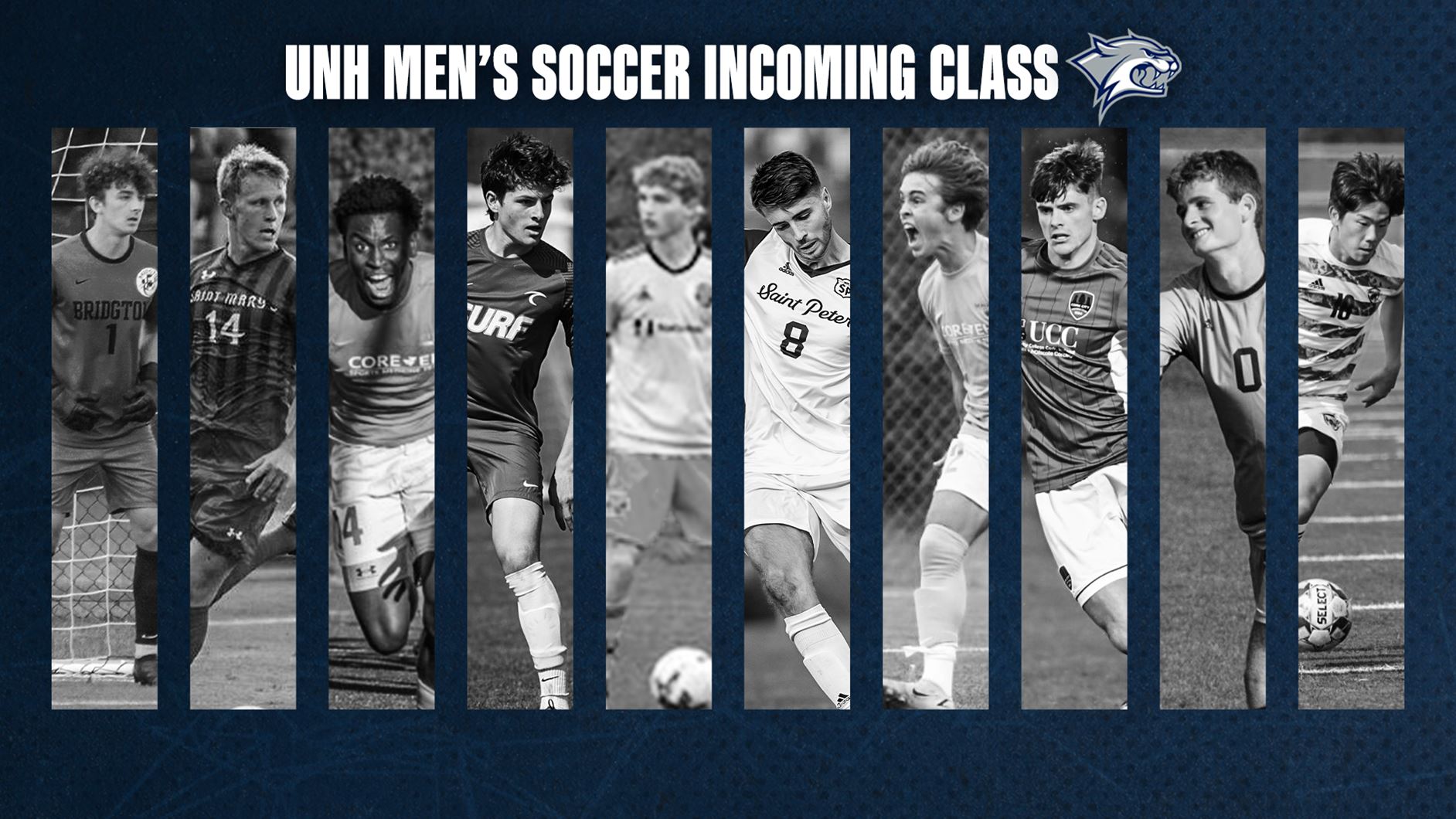 DURHAM, N.H. – University of New Hampshire head men's soccer coach Marc Hubbard has announced the incoming class for the 2022 season.
Featured in the UNH signing class are the following student-athletes: Alex Bachmann (Scarborough, Maine), Moise Bombito (Montreal, Quebec), David Brog (Sandy, Utah), Jamie Davis (Cheshire, England), Cameron Hall (Kensington, N.H.), Taig Healy (Southampton, N.H.), Isaac Heffess (Brookline, Mass.), Ronan Hurley (Schull, Ireland), Jiwoo Lee (Seoul, Korea) and Jacob Stazenski (Columbus, Ohio).
"It was a busy off season with change of staff and completing this class." said Hubbard. "A total of four new coaching staff members and 10 new players puts us in a nice position to sustain our success and achieve new milestones for the program. This class reflects some great young local talent coupled with international flair and representation from all over the country. I am very excited to get to work with this group as I feel this class along with our returning group and schedule, gives us a great chance to achieve all of our goals this year. We have created some wonderful momentum for the program and now it is time to put our heads down, be mindful of our daily approach and figure out our own piece to the puzzle."
The No. 9 nationally-ranked Wildcats kick off the 2022 season on Thursday, Aug. 25 with a top-20 matchup at No. 20 and four-time national champion Maryland. The home-opener is versus Boston University on Sunday, Aug. 28 at 5 p.m. at Wildcat Stadium.
2022 UNH MEN'S SOCCER INCOMING CLASS
| | | | | |
| --- | --- | --- | --- | --- |
| Name | Yr. | Pos. | Ht. | Hometown/Previous Club |
| Alex Bachmann | Fr. | GK | 6-0 | Scarborough, Maine/Bridgton Academy |
| Moise Bombito | Jr. | B | 6-3 | Montreal, Quebec/Iowa Western |
| David Brog | Gr. | F | 5-10 | Sandy, Utah/Saint Mary's |
| Jamie Davis | Gr. | M | 6-0 | Cheshire, England/Saint Peter's |
| Cameron Hall | So. | GK | 6-1 | Kensington, N.H./La Salle |
| Taig Healy | Fr. | M/F | 5-7 | Southampton, N.H./Seacoast United |
| Isaac Heffess | Fr. | B | 5-11 | Brookline, Mass./New England Surf |
| Ronan Hurley | Gr. | B | 5-9 | Schull, Ireland/Cork City FC |
| Jiwoo Lee | Jr. | M | 6-0 | Seoul, Korea/Iowa Western |
| Jacob Stazenski | Fr. | B | 6-2 | Columbus, Ohio/Columbus Crew SC Academy |
ALEX BACHMANN
COACH HUBBARD: "We are very fortunate to have had Alex join us this Spring. He is a tremendous worker and has huge upside with his athleticism. Alex has a natural ability to keep the ball out of the net and we look forward to continuing to see him grow both physically and mentally within the program."
Played two seasons of varsity soccer at Bridgton Academy and earned 2021 Class A All-NEPSAC Goalkeeper accolades
Member of Seacoast United Maine from 2014-2021
Team was the 2017 National Runner-Up and 2018 Regional Runner-Up
Played two seasons of varsity soccer at Scarborough High School
Team captain in 2019
MOISE BOMBITO
COACH HUBBARD: "Moise is a two-footed center back coming to us from a national championship season in Junior College Division I. He also helped lead Seacoast this summer to a successful season in USL2. We feel that he has the technical and athletic attributes to help fill a backline that lost three of its four starters from last season. Moise excels in his entry ball passing and defensive recovery. We look forward to having him in Durham for the future."
Played two seasons at Iowa Western Community College with five goals and 10 points
Team won the national championship in the fall of 2021 and was national runner-up in the spring of 2021
Earned 2021 All-American accolades
Named the ICCAC Tournament MVP, while he was selected to the ICCAC All-Tournament Team and the ICCAC All-Region First Team
Posted three goals for Seacoast United in USL2 in 2022
Graduated in 2017 from Ecole Secondaire Saint-Laurent High School in Montreal
DAVID BROG
COACH HUBBARD: "David is a versatile player who has four years of Division I experience. He has played attacking center midfield but played up top last season at St. Mary's. David's maturity, personality and character are going to immediately impact our locker room. David has also had a lot of success in USL2, being a part of a final four team and we look forward to seeing how it translates to his final Fall season."
Four-year member of the Saint Mary's College men's soccer team as the Gaels went 51-10-4 over four years, while the team won the 2018 and 2019 WCC championships and advanced to the Round of 16 of the NCAA Tournament in 2018
2019 and 2020 WCC All-Academic Team Honorable Mention
Played for Portland Timbers U-23 in 2021 in USL2 posting three goals and three assists for nine point as he was named the team's Unsung Hero and was a member of the Northwest Division Best XI, while the team won the Western Conference championship and advanced to the USL2 National Semifinals
Member of Inter FC Utah / AFC Apex from 2005-2018 as he was a team captain and the 2018 TOSH Male Athlete of the Year
Four-year member of the varsity soccer team at Brighton High School with 32 goals and 21 assists for 85 points as he was a two-year team captain, 2017-18 First Team All-State, 2016-17 Second Team All-State and 2018 UHSAA Academic All-State
Graduated from Brighton High School in 2018 as he was a member of the National Honor Society for five years
JAMIE DAVIS
COACH HUBBARD: "Jamie is a very impressive left footed technical midfielder that has an exceptional ability in his longer range passing. His delivery on restarts is first class and we look forward to incorporating him into our arsenal. Jamie already understands how to play in our system and his most underrated quality is his tactical understanding of being able to defend in big spaces as well as read second and third balls to jump start our attack."
Four-year member of the men's soccer team at St. Peter's University as he was a team captain in 2021
Posted six goals and 24 assists (second all-time in school history) for 36 career points as his 12 assists during the 2021 season was ranked third in all of Division I
Selected to the 2021 All-MAAC First Team and the 2019 All-MAAC Second Team, while he was a four-time All-MAAC Academic Team honoree
Played club soccer for Warrington Town (2016-17), Seacoast United U23 (2021) and North Carolina Fusion U23 (2022)
Member of Crewe Alexandra Academy for eight years
CAMERON HALL
COACH HUBBARD: "Cameron was also able to join us this Spring and we are very excited to have another local product want to come back home to represent his home state. Cam instantly made our goalkeeper core better with his demeanor, positivity and being a great teammate. Cam has good feet and is a natural shot stopper. We look forward to watching him continue to compete for position this Fall."
Played two seasons at La Salle University appearing in 10 games with seven starts
Made a career-high eight saves versus UMass and posted his first collegiate shutout versus St. Joseph's
Member of Seacoast United from 2010-2020
Earned call up to the U.S. National Team Camp at U15 level, as well as 13 regional training centers
Graduated from Exeter High School in 2020
TAIG HEALY
COACH HUBBARD: "Taig is a local player that has had a lot of success for the local club team Seacoast United, leading his U19 squad to the national playoffs for the first time in club history. He also recently led the USL2 group to the playoffs, leading them in goals scored from the attacking center midfield position. Taig is technical, tenacious and lionhearted. We look forward to having another New Hampshire player stay in state and carry that pride onto the field at Wildcat Stadium."
Member of Seacoast United from 2009-2022
Team won the 2022 USL2 Northeast Division championship
Led the USL2 team in 2022 with seven goals and four assists for 18 points during the regular season
Graduated from St. Thomas High School in Dover, N.H. in 2022
Member of National Honor Society in 2020-2021 and 2021-2022
ISAAC HEFFESS  
COACH HUBBARD: "Isaac committed to us very early in the process and we are very excited because we feel he could be someone that really develops the most with under the radar athleticism, versatility and determination. We feel that Isaac can play anywhere across the back because of his recovery speed and willingness to tackle. Isaac is untapped and with his work ethic, we look forward to molding him in future seasons."
Member of New England Surf in 2020-21 and 2021-22
Team went to the 2021 National Semifinals and was three-time Regional champions
Played three seasons of varsity soccer at Brookline High School with 12 goals and 10 assists with 34 career points as the team won the Division I State championship
Named All-State and All-Conference, while he earned Boston Globe Athlete of the Year, Boston Globe All-Scholastic and Boston Herald All-Scholastic accolades
Won Team MVP and Brookline High School Athlete of the Year
Graduated from Brookline High School in 2022
RONAN HURLEY    
COACH HUBBARD: "Ronan is a left sided defender that we were lucky to come across who has been able to combine high level academics and soccer overseas in his undergraduate career at Cork. Ronan is very calm on the ball, can pass and understands tactically how to play the position. Most importantly, he has a great understanding of the type of student-athletes we want at New Hampshire having been in a very competitive environment at Cork City while excelling at his local university. His maturity of how to deal with this balance is very important to our culture and we look forward to having Ronan strengthen our backline this Fall."
Member of Cork City FC from 2015-22 in the League of Ireland
Team Captain of the U19 team in 2018
Named the team's Player of the Year twice
Team captain during the 2017-18 season at Schull Community College
Member of Lakewood Athletic in 2014, while he played for Bunratty United from 2005-14 as he was the U14 Team Captain and U14 Player of the Year with the team earning the League and Cup Double
JIWOO LEE
COACH HUBBARD: "Jiwoo is a player we were aware of before Iowa Western and we were very lucky to have him go there, develop and get assimilated into the American culture. Jiwoo is a versatile midfielder who can probably play in the front five positions in our system. He is a honest player, protects the ball well and can create for others while still supplying some goals. Jiwoo's familiarity with Moise and Coach Shaad will give him a great advantage of transitioning to pace of play and life here at New Hampshire."
Played two seasons at Iowa Western Community College
Team won the national championship in the fall of 2021 and was the national runner-up in the spring of 2021
Team Captain in 2021-22
Posted seven goals and three assists for 17 career points
JACOB STAZENSKI
COACH HUBBARD: "Jacob became available late in the process and we were very fortunate to get the opportunity to recruit him when the position opened up on our team in late Spring. Jacob is a honest and trustworthy person who will translate extremely well into our culture. He is a very good passer and can dictate the game from the center back position which has become a very important part to our build over recent years. Jacob has grown in the Crew system for many years so he understands the pressure to compete for championships and what that entails on a daily basis. We look forward to seeing how Jacob impacts our program."
Member of Columbus Crew SC Academy from 2016-22 in MLS Next
Graduated from Thomas Worthington in High School in 2022
Earned Honor Roll accolades all four years