University of Michigan announces 9-man freshman class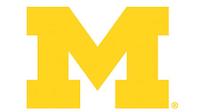 ANN ARBOR, Mich. (Via University of Michigan) – The University of Michigan men's soccer program announced Tuesday (April 30) its complete nine-man freshman class for the 2019 season, including Moshtaba Alhasnawi (Dearborn, Michigan), Brennan Callow(Cincinnati, Ohio), Owen Finnerty (Walled Lake, Michigan), Carter Payne (Phoenix, Arizona), Harrison Pithers (Tampa, Florida), Christian Pulselli (Pembroke, Massachusetts), Evan Rasmussen (Libertyville, Illinois), Inaki Rodriguez (Santiago, Chile) and Ryan Schultz (Short Hills, New Jersey).
"This class gives us a lot of balance and depth and will be an excellent complement to our returning team," said head coach Chaka Daley. "Not only are they all great players who have experience in high-level environments, they're outstanding students and will be ambassadors for our program and for our university. We're very excited about their potential and can't wait to get to work with them."
Moshtaba Alhasnawi
Forward/Midfielder | Dearborn, Mich. (Fordson) | Vardar Academy USSDA
An attacking player, Alhasnawi can slot in at forward or in the midfield. He was an ENCL All-American and an ENCL Midwest All-Conference selection. An ODP Region II player, Alhasnawi also spent time training with the Stoke City FC Academy.
Daley on Alhasnawi: "The Dearborn community has a long tradition of sending players to the University of Michigan, and Moshtaba only adds to that. He's a highly creative player who is equally equipped to score goals inside the box or set up his teammates. Moshtaba is a natural lefty and is very dangerous around the target."
Brennan Callow
Defender | Cincinnati, Ohio (Seven Hills) | Cincinnati United
Callow is a lengthy and physical centerback. He was a 2018 United Soccer Coaches All-American and is a Gatorade National Player of the Year nominee. Callow is a two-time all-state (first team) selection and was chosen to participate in the 2018 High School All-America Game. He scored 62 goals and tallied 22 assists at Seven Hills School.
Daley on Callow: "The thing that stands out with Brennan is his physicality, especially in the air. He is capable of winning plenty of balls and contributing offensively on set pieces. Beyond that, he's a tremendous leader who is highly coachable. He's got a very high ceiling and is a guy who will only get better once he begins to adapt to the day-in, day-out rigors of collegiate competition."
Owen Finnerty
Goalkeeper | Walled Lake, Mich. (Detroit Catholic Central) | Michigan Wolves USSDA
The lone goalkeeper of the class, Finnerty comes from the Michigan Wolves and Detroit Catholic Central High School. He was a member of the U.S. U-18 National Team and the U.S. U-16 Futsal National Team. Finnerty is rated a three-star prospect by TopDrawerSoccer.com, and he is ranked No. 111 in the 2019 Boys IMG Academy 150. He will spend the summer training with the Las Vegas Lights FC.
Daley on Finnerty: "Owen will raise the level of our goalkeeping group from day one. He's got experience within the U.S. National Team system that will serve him well as he transitions to the college game. Owen is very athletic and aggressive in net, and he has a commanding presence inside the box."
Carter Payne
Defender/Midfielder | Phoenix, Ariz. (Shadow Mountain) | Barca Academy USSDA
Payne is a versatile and speedy player capable of playing on defense or in the midfield. He played a big role in helping Barca Academy finish third in the USDA U-17 Championships and was named a standout in the semifinals from TopDrawerSoccer.com. He is a two-time Arizona ODP selection and started every match this past season for the Barca U-19s.
Daley on Payne: "Carter comes to us from one of the premier development academies in the country. He helped Barca Academy win a lot of games last year and played a key role in both central midfield and at fullback. He is very comfortable playing out of the back, and his work rate is unparalleled. Carter will be one of the quicker players on our team who is very good in tight spaces."
Harrison Pithers
Midfielder | Tampa, Fla. (Berkeley Prep) | Chargers Soccer Club USSDA
Pithers is a box-to-box midfielder with national and international experience. In 2015, Pithers was called up to the U.S. National Team Training Camp in Carson, California, and represented the Liverpool FC U-16s at the 2015 Milk Cup in Northern Ireland. He was called up for trials with the academies at Fulham (2015-16) and Aston Villa (2013-14). He has trained with the Clearwater Chargers Development Academy since 2014.
Daley on Pithers: "Harry is very mature in his approach to the game. Every time he steps on the field, whether it's a practice or a match, he's always locked in on what his role is. He's a very technically-gifted player and has great vision, and we will look for him to impact our midfield immediately."
Christian Pulselli
Forward | Pembroke, Mass. (Pembroke) | Boston Bolts USSDA
Pulselli is a standout with the Boston Bolts, leading the U.S. Development Academy League with 18 goals in 14 matches during the fall 2017 season. He was named to the Boys DA Winter Showcase U16/U17 Best XI by TopDrawerSoccer.com and has scored 30 goals over the last two seasons for the Bolts. Off the pitch, Pulselli was a state track champion in the 300-meter dash and on three relays for Pembroke. Pulselli is rated a three-star prospect by TopDrawerSoccer.com and is ranked No. 72 in the 2019 Boys IMG Academy 150.
Daley on Pulselli: "One of the biggest elements to Christian's game is his speed. He's a constant threat to get in behind opposing defenses and stretch any team in college soccer. Along with that, Christian has an incredible, relentless work ethic that helped him become one of the leading goal-scorers in the USSDA."
Evan Rasmussen
Midfielder | Libertyville, Ill. (Libertyville) | Libertyville FC
Rasmussen is a standout prep player for Libertyville High School in suburban Chicago. Rasmussen was a United Soccer Coaches All-American in 2018 and is a Gatorade National Player of the Year nominee. He was also chosen to participate in the 2018 High School All-America Game. Rasmussen scored 59 career goals and tallied 30 assists for Libertyville.
Daley on Rasmussen: "Like Brennan Callow, Evan has a physical edge and a commanding presence on the field. He brings a level of toughness to our midfield and the ability to win balls out of the air. He's also a goal-scoring threat who passes the ball extremely well."
Inaki Rodriguez
Midfielder | Santiago, Chile (The Northwood School) | Black Rock FC
Rodriguez enrolled at U-M in January 2019 and was able to participate in spring practice. A native of Chile, he twice qualified for the quarterfinals of Chile's National Youth Championship with his club, Audax Italiano, playing with the U16s in 2016 and the U17s in 2017. He spent time training with the Getafe CF U23s before committing to come to Michigan. Rodriguez was also a 2018 High School All-American playing for Northwood Prep in Lake Placid, New York.
Daley on Rodriguez: "Inaki had the benefit of getting here a semester early to train with the team, and he's certainly made an impression within our group. He's a true No. 10 who is excellent at creating chances for others. One of his biggest strengths is his vision and passing ability. It allows him to see things most players at his age don't see."
Ryan Schultz
Defender | Short Hills, N.J. (Millburn) | New York Red Bulls Academy USSDA
Schultz follows in the footsteps of Marcello Borges and Evan Louro, two former New York Red Bulls Academy standouts who ended up at the University of Michigan. Before landing with NYRB, Schultz spent four years training in the Orlando City FC Academy (U14-U17, U-19). He made 116 starts in 129 matches and played every minute during the Red Bulls U-17s quarterfinals run during the June 2018 USSDA Playoffs, scoring three goals in four matches.
Daley on Schultz: "Ryan is a highly competitive and tough-nosed centerback. He's started a lot of matches for the Orlando City and NYRB Academies and has made a name for himself as a vocal leader who approaches the game with a maturity beyond his years. He'll add quality depth and experience to our back line."