United Soccer Coaches release 11th set of Boys Fall 2022 High School Rankings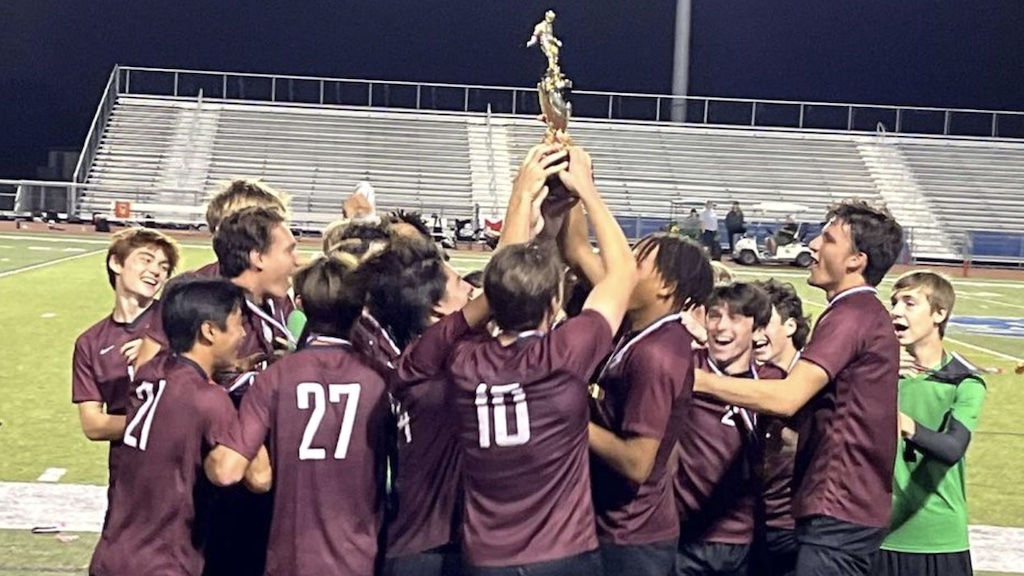 KANSAS CITY, Mo. – St. Benedict's Prep (Newark, N.J.) and Bearden (Knoxville, Tenn.) claim No. 1 spots on the latest fall high school boys' and girls' soccer rankings, United Soccer Coaches announced. On the boys' rankings, St. Benedict's Prep (Newark, N.J.) claimed the top spot again this week, followed by Calvert Hall (Baltimore, Md.) in second, Scarsdale (Scarsdale, N.Y.) in third, and St. Ignatius (Cleveland, Ohio) in fourth. St. John's Preparatory School (Danvers, Mass.) moved up one spot to claim the fifth spot.
Pictured Above: Lower Merion (Ardmore, Pa.) is featured at No. 11 this week after previously being ranked No. 22.
FALL BOYS – NATIONAL – POLL 11 – NOVEMBER 15, 2022
| Rank | School | Prev | W-L-T |
| --- | --- | --- | --- |
| 1 | St. Benedict's Prep (Newark, N.J.) | 1 | 24-0-0 |
| 2 | Calvert Hall (Baltimore, Md.) | 2 | 24-0-1 |
| 3 | Scarsdale (Scarsdale, N.Y.) | 3 | 21-0-0 |
| 4 | St. Ignatius (Cleveland, Ohio) | 4 | 21-2-0 |
| 5 | St. John's Preparatory School (Danvers, Mass.) | 6 | 20-0-1 |
| 6 | Maize South (Maize, Kan.) | 9 | 21-0-0 |
| 7 | Wayzata (Plymouth, Minn.) | 8 | 18-1-2 |
| 8 | Martin Luther King, Jr. (New York, N.Y.) | 7 | 19-0-0 |
| 9 | East (Denver, Colo.) | RV | 14-1-1 |
| 10 | Noblesville (Noblesville, Ind.) | 12 | 16-3-3 |
| 11 | Lower Merion (Ardmore, Pa.) | 22 | 22-1-0 |
| 12 | Timberline (Boise, Idaho) | 11 | 20-0-2 |
| 13 | William Hall (West Hartford, Conn.) | 14 | 17-0-2 |
| 14 | Naperville Central (Naperville, Ill.) | 16 | 24-3-1 |
| 15 | Charleston Catholic (Charleston, W.Va.) | 13 | 21-0-2 |
| 16 | Oregon (Oregon, Wis.) | 15 | 22-2-3 |
| 17 | Paul Laurence Dunbar (Lexington, Ky.) | 17 | 19-2-3 |
| 18 | Amityville (Amityville, N.Y.) | 21 | 20-1-1 |
| 19 | St. Christopher's School (Richmond, Va.) | 19 | 15-1-4 |
| 20 | Christian Brothers (Lincroft, N.J.) | RV | 17-1-0 |
| 21 | Jesuit (Portland, Ore.) | 20 | 14-1-4 |
| 22 | Mill Valley (Shawnee, Kan.) | 23 | 17-1-1 |
| 23 | Nashua South (Nashua, N.H.) | RV | 17-3-0 |
| 24 | Woodbury (Woodbury, Minn.) | 24 | 15-2-3 |
| 25 | Salesianum School (Wilmington, Del.) | 25 | 14-1-2 |
Records shown are through games of Nov. 13, 2022
Also receiving votes: Parkland (Allentown, Pa.), Adams (Rochester Hills, Mich.), New Albany (New Albany, Ohio), Rockhurst (Kansas City, Mo.), St. Joseph's Collegiate (Buffalo, N.Y.), Bishop Gorman (Las Vegas, Nev.), Brunswick (Brunswick, Maine), Gonzaga College (Washington, D.C.), McQuaid Jesuit (Rochester, N.Y.), Romeoville (Romeoville, Ill.), Rockford (Rockford, Mich.), Seneca Valley (Harmony, Pa.), Valor Christian (Highlands Ranch, Colo.), Yarmouth (Yarmouth, Maine), Western Reserve Academy (Hudson, Ohio), Seton Hall Prep (West Orange, N.J.), Cleveland (Rio Rancho, N.M.), Skaneateles (Skaneateles, N.Y.), Verona (Verona, Wis.)