United Soccer Coaches honor eight College Players of the Week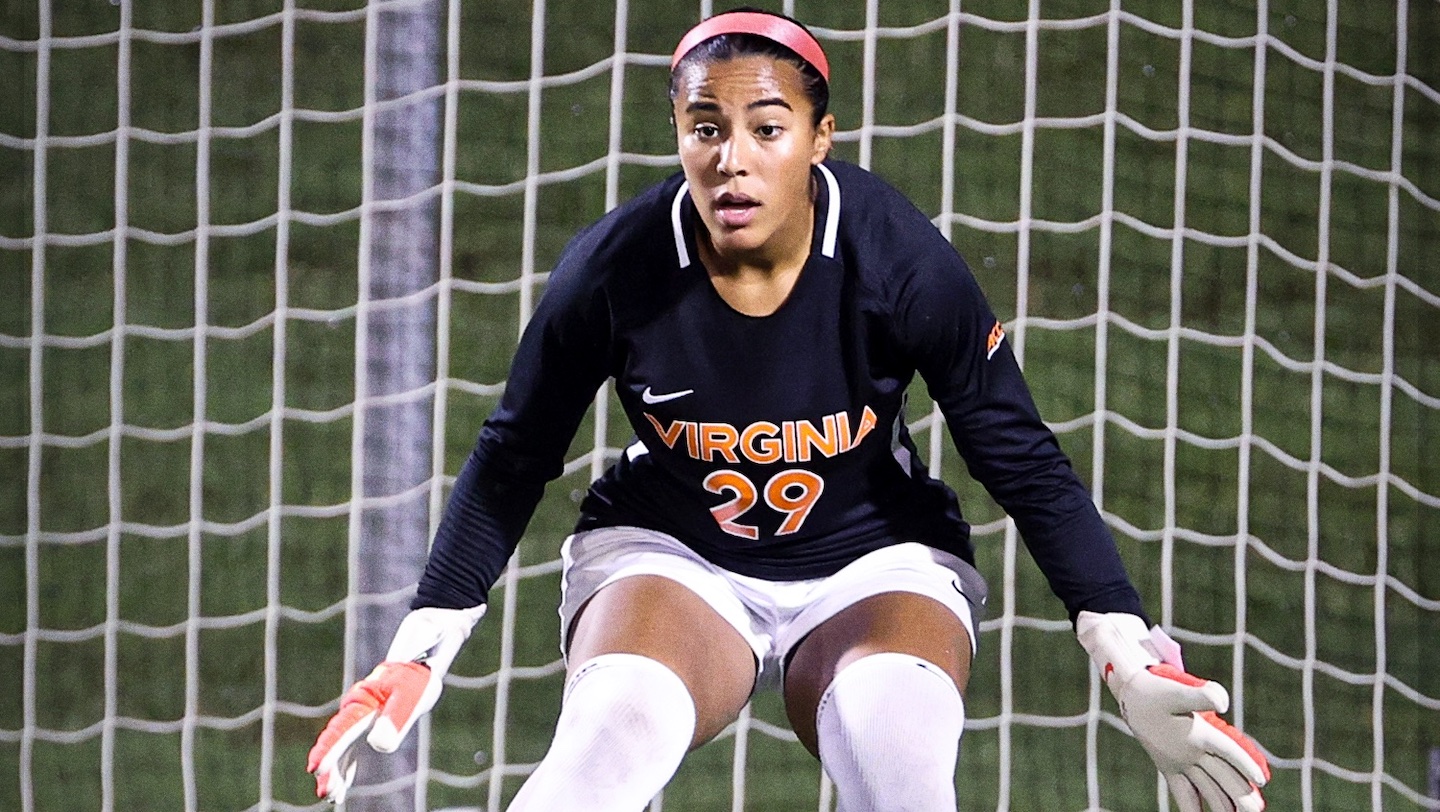 KANSAS CITY, Mo. – United Soccer Coaches announced its College Player of the Week awards, with eight student-athletes representing NCAA Division I, II, III, and NJCAA men's and women's soccer.
Phil Horton recorded a career-high 5 points (two goals and one assist) in Virginia's 3-1 victory over No. 10 Pitt. Horton was involved in all three of Virginia's goals against Pitt. His five points rank as the third-highest single-game total among ACC players this season and are the highest total of any player this week. Horton helped Virginia to jump out in front early as he scored his goal in the first minute of play. After the score was leveled, it was a crucial pass from Horton that set up Reese Miller's game-winning goal with just over an hour played in Pittsburgh.
Cayla White posted a clean sheet to help the Cavaliers post a 1-0 victory at No. 4 Duke over the weekend. White tallied six saves – one off her career high – in keeping the Blue Devils off the board. One of her saves came in a one-on-one breakaway chance by the Blue Devils as White came off her line to make the sliding kick save of the shot in the second half.
Albert Escuin led his team to two victories over the weekend. The senior goalkeeper from Spain, made five saves in a pair of shutout wins, including one against No. 17 Rockhurst. He also made four stops against Jewell, including one on a penalty kick.
Blair Cowan had a 14-point weekend last week. She scored six goals and recorded two assists overall. She scored three goals and one assist in the 5-0 victory over Auburn Montgomery. Cowan followed up that performance with another hat trick and an assist in the 5-1 victory over Montevallo.
Colin Schulmeister finished the week with three goals and an assist in a 1-1 week. Schulmesiter had a goal on two shots on Tuesday against Scranton in a 3-2 loss. The junior then scored two goals and an assist that helped Wilkes past DeSales, 4-3, on Saturday.
Emily Zeblisky had a hand in all six Rams' goals in a come-from-behind victory. The senior forward had the game-tying assist in the 7th minute before collecting a natural hat trick to put the game out of reach. In the second half, Emily scored her fourth goal and added an assist.
Munier Hussen led his team to a perfect record on the week. He scored 6 points, including two goals. Hussen scored one goal against Everett and followed that up with a two-goal performance against Highline.
Whitni Newbill a freshman forward from Austin, has been an absolute spark plug for the Lady Bears this season. Her pace, power and goal scoring ability was on full display this week with goals and assists against Mountain View and Eastfield respectively. Whitni scored one goal and had one assist against Mountain View. She then produced her first collegiate hat trick against Eastfield along with one assist.
Each Wednesday during the college regular season, United Soccer Coaches selects a men's and women's Player of the Week for NCAA Divisions I, II, and III and Junior College competition based on nominations from schools and conferences. Nominations are due every Tuesday by 10 a.m. CT to be considered.