United Bid for 2026 FIFA World Cup receives 41 host city bids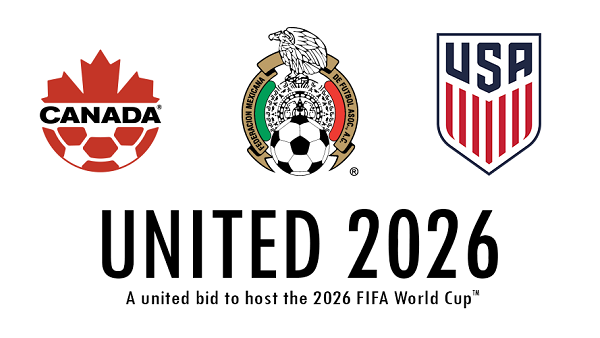 OTTAWA (Via U.S. Soccer) – Forty-one cities across Canada, Mexico and the United States have submitted bids to serve as Official Host Cities in the United Bid for the 2026 FIFA World Cup™. The United Bid Committee will review all bid submissions and release an initial shortlist of cities later this fall.
The United Bid Committee started its outreach to potential host cities by sending Requests for Information to 41 cities in July. Today's bid submissions mark the 41 cities' official declaration of interest to be included in the final bid that will be sent to FIFA by March 16, 2018.
A list of the bidding cities and venues can be found at the bottom of this release.
"The host cities that are selected from the list announced today will define the United Bid,"  commented Peter Montopoli, Canada Soccer General Secretary and Canada Bid Director for the United Bid.  "We are pleased that six Canadian cities have completed the Request for Information and we look forward to working closely with these potential host cities in the next steps of preparing a world class bid to secure the 2026 FIFA World Cup for the United Bid of Canada, Mexico and the United States."
+READ: Jill Ellis names 22-player USWNT roster for friendlies vs New Zealand
After the initial shortlist is released, the Bid Committee will provide more detailed bid information to cities and hold meetings to discuss questions as candidate cities prepare their final bids. Twenty to 25 cities will be included in the final bid to FIFA. If the United Bid is selected to host the 2026 FIFA World Cup™, subject to FIFA's determination, it's expected that at least 12 locations could ultimately serve as Official Host Cities.
Cities not selected to host matches may be involved with the 2026 FIFA World Cup™ in other ways. Those cities, including those not submitting bids to serve as Official Host Cities, could be selected as the location for the International Broadcast Center, host Team Base Camps, or host other major events such as the Preliminary or Final Draw.
The 2026 FIFA World Cup™ will be the first tournament with the expanded 48-team format and will require world-class facilities and infrastructure. Canada, Mexico and the United States are uniquely suited to accommodate FIFA's high-level standards for hosting a FIFA World Cup™.
The 41 cities represent diverse geographical regions across the three countries and a wide spectrum of facilities, including stadiums for soccer and American football, as well as domed and retractable roof facilities. All stadiums are required to have at least 40,000 seats for group stage matches, and a capacity of at least 80,000 to be considered for the Opening Match and the Final.
The submitted bids provide information about each city's experience hosting major sporting and cultural events, potential venues, transportation infrastructure, available accommodations, environmental protection initiatives and more.
+READ: Hackworth calls 25 players to U.S. U-17 Men's National Team camp
In addition to a stadium capable of hosting international soccer, each city must propose top international-level training sites and locations for team base camps as well as hotels for teams, staff and VIP's. The Bid Committee will also evaluate cities on their commitment to sustainable event management, aspirations to develop soccer, and the positive social impact they anticipate stemming from the event in the local community and beyond.
FIFA established a deadline of August 11 for Member Associations to express their interest to bid to host the 2026 FIFA World Cup™. Morocco declared its intention to bid on this date. Both candidates must now submit their proposals for consideration by FIFA, with a decision to be taken at the FIFA Congress next June.
The United Bid Committee kicked off its efforts in July by announcing the Board of Directors and the executive leadership team that includes Executive Director John Kristick, Managing Director of Technical Operations Jim Brown, Canada Bid Director Peter Montopoli, who is Canada Soccer General Secretary, and Mexico Bid Director Yon De Luisa, who is a Televisa Vice President. In total, five hundred people are working on the Committee's campaign.
The United Bid Committee's Board of Directors includes Sunil Gulati (Chairman), Steven Reed (Canada), Peter Montopoli (Canada), Decio De Maria (Mexico), Guillermo Cantu (Mexico), Carlos Cordeiro (USA), Donna Shalala (USA), Dan Flynn (USA), Don Garber (USA), Carlos Bocanegra (USA), Julie Foudy (USA), Ed Foster-Simeon (USA) and Victor Montagliani (CONCACAF). Legendary sports executive Robert Kraft has been appointed as Honorary Chairman of the Board.
The three nations have hosted a combined 13 FIFA World Cups (men's, women and youth), more than any other trio of geographically-connected nations, and set attendance records for five of those events.
Proposed stadiums and metropolitan markets for further consideration 
Metropolitan Market
Stadium
Capacity
Canada (6 cities)
Edmonton, Alberta
Commonwealth Stadium
56,335
Montréal, Québec
Stade Olympique
61,004
Ottawa, Ontario
TD Place Stadium
24,341
Regina, Saskatchewan
Mosaic Stadium
30,048
Toronto, Ontario
BMO Field
28,026
Vancouver, British Columbia
BC Place
55,165
Mexico (3 cities)
Guadalajara, Jalisco
Estadio Chivas
45,364
Mexico City
Estadio Azteca
87,000
Monterrey, Nuevo León
Estadio Rayados
52,237
United States (32 cities)
Atlanta, GA
Mercedes-Benz Stadium
75,000
Baltimore, MD
M&T Bank Stadium
71,008
Birmingham, AL
Legion Field
71,594
Boston, MA
Gillette Stadium
66,829
Charlotte, NC
Bank of America Stadium
75,525
Chicago, IL
Soldier Field
61,500
Cincinnati, OH
Paul Brown Stadium
65,515
Cleveland, OH
FirstEnergy Stadium
67,895
Dallas, TX
Cotton Bowl
92,100
Dallas, TX (Arlington, TX)
AT&T Stadium
105,000
Denver, CO
Sports Authority Field at Mile High
76,125
Detroit, MI
Ford Field
65,000
Houston, TX
NRG Stadium
72,200
Indianapolis, IN
Lucas Oil Stadium
70,000
Jacksonville, FL
EverBank Field
82,000
Kansas City, MO
Arrowhead Stadium
76,416
Las Vegas, NV
Raiders Stadium
72,000
Los Angeles, CA
Los Angeles Memorial Coliseum
93,000
Los Angeles, CA (Inglewood, CA)
City of Champions Stadium
100,000
Los Angeles, CA (Pasadena, CA)
Rose Bowl
90,888
Miami, FL
Hard Rock Stadium
65,326
Minneapolis, MN
U.S. Bank Stadium
66,200
Nashville, TN
Nissan Stadium
69,143
New Orleans, LA
Mercedes-Benz Superdome
76,468
New York/New Jersey (East Rutherford, NJ)
MetLife Stadium
82,500
Orlando, FL
Camping World Stadium
65,000
Philadelphia, PA
Lincoln Financial Field
69,596
Phoenix, AZ (Glendale, AZ)
University of Phoenix Stadium
73,000
Pittsburgh, PA
Heinz Field
68,400
Salt Lake City, UT
Rice-Eccles Stadium
45,807
San Antonio, TX
Alamodome
72,000
San Francisco/San Jose, CA (Santa Clara, CA)
Levi's Stadium
75,000
Seattle, WA
CenturyLink Field
72,000
Tampa, FL
Raymond James Stadium
75,000
Washington, DC (Landover, MD)
FedEx Field
82,000