UNC Greensboro men's soccer announces highly-touted signing class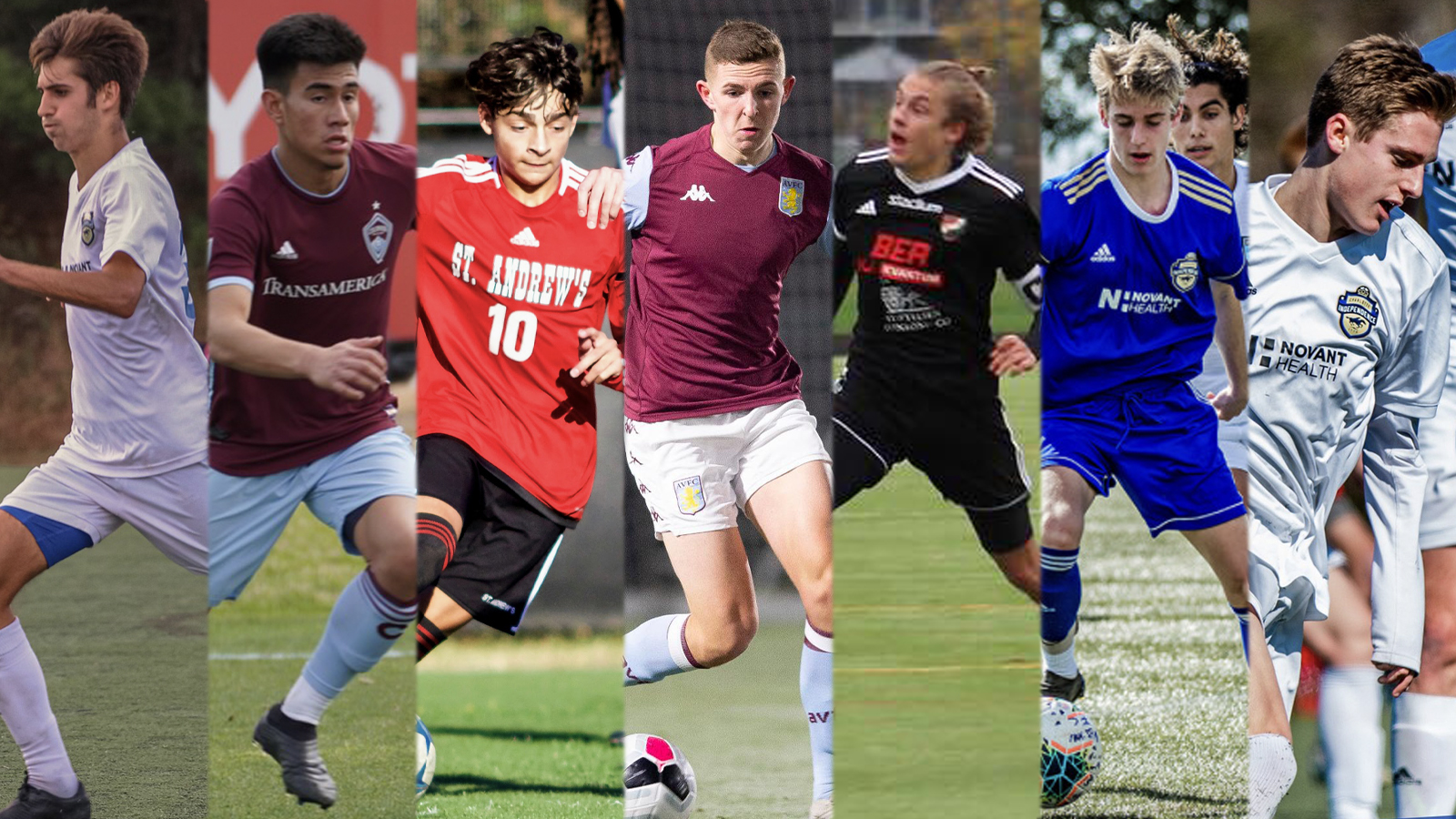 GREENSBORO, N.C. – With last year's signing class ranked as high as 10th in the country, the UNC Greensboro men's soccer team continues another successful session of offseason recruiting, inking seven new Spartans over the course of the current signing period and landing a spot in the top-30 of TopDrawerSoccer's 2021 Recruiting Class rankings.
Four of the Spartans' lucky seven are from the state of North Carolina, while head coach Chris Rich and company add commitments from Maryland, England and Sweden. Two of UNCG's signings have experience playing in overseas youth academies, while four others have collected senior team experience with MLS or USL Championship-level clubs.
"This class is a great combination of North Carolina, in-region, and international-based players," said head coach Chris Rich, preparing for his second season at the helm of the Spartan men's soccer program. "All of them represent what we look for in a person and player, so we're very excited to have them join the UNCG soccer family.
Our coaching staff worked tirelessly to put this class together and did so at a high level. A huge shoutout and thank you to Coach [Scott] Wells, Coach [Jaime] Ibarra, and Coach [Brian] White. We still have work to do to finish this class out but we're very excited about the group we have so far."
Joey Skinner
Left Back | Charlotte Independence | Charlotte, N.C. 
• Played five years in the Charlotte Independence youth academy
• Signed an academy contract with Charlotte back in February
• Brother Matthew is a regular in the Spartan back-four, starting 16 of their 19 matches in 2019
Coach Rich on Skinner: "Joey was the very first commitment for our coaching staff, so we're excited to finally get him here. He is a dynamic, attack-minded left back that can also play left center back. His mentality and work rate are arguably his best qualities. He is also excellent in both offensive and defensive duels, a very good passer, and is dominant on all set pieces. We expect him to make a huge impact here in Greensboro!"
Steven Cordova
Midfield | Colorado Rapids | Statesville, N.C. 
• Trained with Colorado Rapids (MLS) & Charlotte Independence (USL) senior teams
• Attended U15 U.S. National Team camp
Coach Rich on Cordova: "Stevie is another in-state player that has spent the last couple of years with MLS side Colorado Rapids. He is a pure footballing central midfielder. We love his in-possession qualities as he has elite technical ability and good decision-making. He's a player that fits our style of play here at UNCG, so we are very excited that he is a Spartan!"
Holden Woodings
Winger | St. Andrew's Episcopal School | Bethesda, Md.
• Three-time state champ with club team Achilles FC
• Won regionals and a pair of EDP Cups with Achilles FC
• Gained All-Conference & All-MAC playing with St. Andrew's, along with All-League honors at the club level
Coach Rich on Holden: "Holden is a legacy player as his father, Ted Woodings, played here at UNCG as well. He is an attack-minded player that can play multiple positions but we do expect him to contribute more at both winger positions. He is a technical player that is very good in 1v1 situations. He is also a competitive, gritty, hard-working player. We're excited to have him!"
Jack Birch
Midfield | Aston Villa U23 | Birmingham, England, United Kingdom 
• Made nine appearances with the Aston Villa U23s last season, in the squad 16 times in all
• Split time with the U18s and U23s during the 2018/19 campaign, making 13 appearances and adding an assist in U18 Premier League play
Coach Rich on Birch: "Jack comes from a high-level environment as he came through the academy at Aston Villa. He is a defensive midfielder that is very good out of possession and in possession. He has the ability to dictate the tempo of a game at the DM position, so he fits our style of play perfectly. We expect him to make an immediate impact at UNCG!"
Olle Kaissidis
Midfield | Enskede IK U19 | Stockholm, Sweden
• Played on Enskede IK U19s in the top tier of U19 Swedish football
Coach Rich on Kaissidis: "Olle comes to us highly recommended and from a very good level in Sweden. He is a box-to-box central midfielder with an attacking mindset. He has good physical qualities which should translate very well. He is also a very good passer of the ball and is excellent on the dribble. We're excited that he is a Spartan!"
Chase Gilley
Forward | Charlotte Independence | Iron Station, N.C.
• Two-time All-State selection, competing in the North Carolina East vs. West All-Star Game
• Owns the East Lincoln High School career and single season records in both goals and assists
• Led his Charlotte Independence pro academy team with 11 goals
Coach Rich on C. Gilley: "Chase is another in-state player that comes to us from the Charlotte Independence. He is very versatile but is probably best at the center forward position. His best quality is definitely his ability to score goals. He has a fantastic mentality and his movement with the ball is very good. We are excited to welcome Chase to the family!"
Logan Gilley
Winger | Charlotte Independence | Iron Station, N.C.
• Two-time All-State selection and three-time All-Region selection
• Scored 106 career goals while playing with East Lincoln High School
• Lincoln HS team MVP, and two-time Academy Player of the Week selection with Charlotte Independence
Coach Rich on L. Gilley: "Logan is another player from the Charlotte Independence academy. He has the ability to play on either side of the front-three. Just like his brother Chase, he is a goal scorer. He is very good at 1v1s in wide areas as he's excellent on the dribble. He's another competitive player with a high-level work rate. Logan will do very well here at the G!"