UIC women's soccer program adds pair of assistant coaches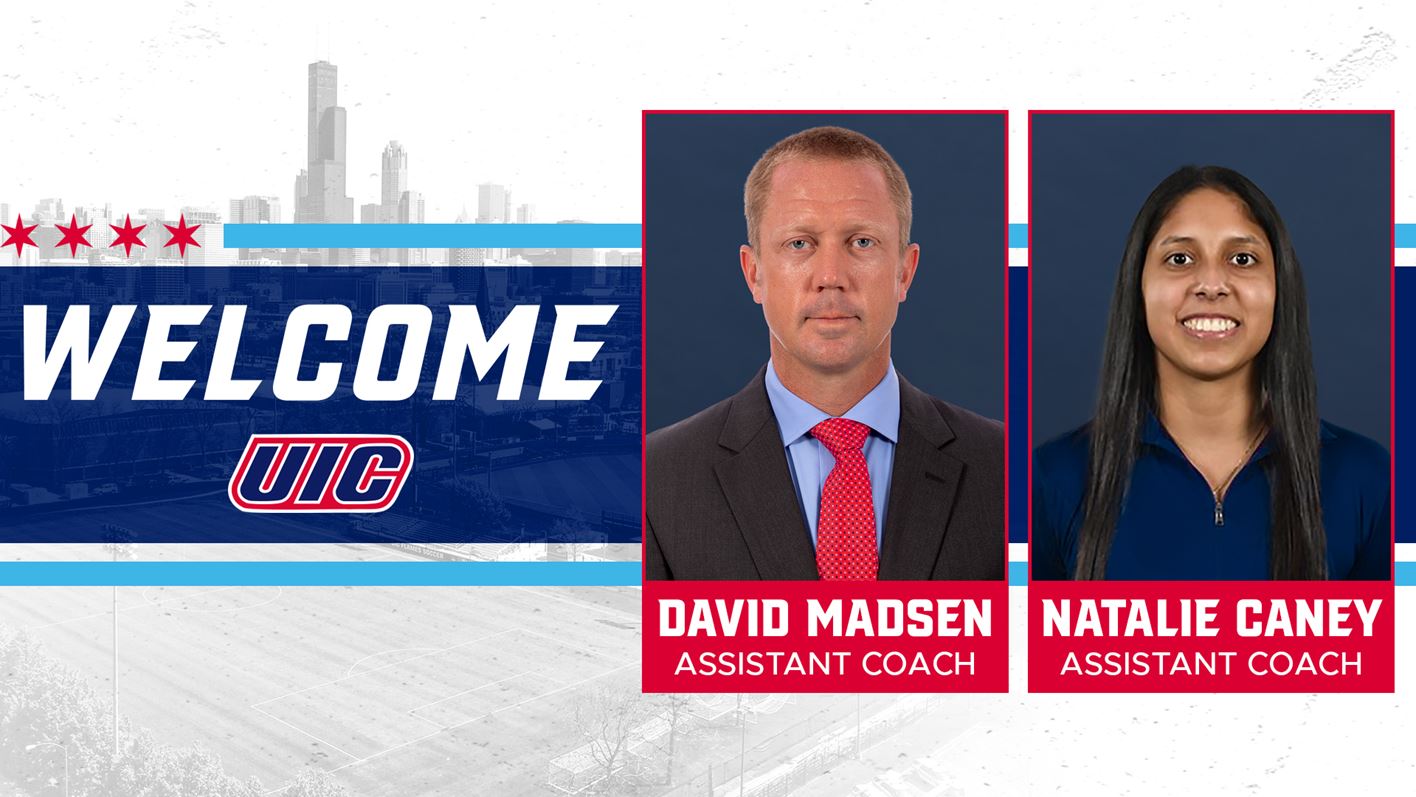 CHICAGO – University of Illinois Chicago (UIC) women's soccer head coach David Nikolic has tabbed Natalie Caney and David Madsen to join the Flames staff as assistant coaches.
Caney arrives at UIC in the same manner as Nikolic, by way of Northwestern. She served as a volunteer Director of Operations for the Wildcats during the recently completed 2020-21 season. Madsen also has history with Nikolic as the two worked the sidelines together at Milwaukee from 2010-11.
"I am excited to bring on Dave and Natalie to join me here with Flames Women's Soccer," said Nikolic. "I know they share a similar passion for the game and for teaching as I do which will benefit the women from the first moment we work with them."
Since departing Milwaukee in 2015, Madsen has served as an assistant coach at Bucknell University. There, he aided the Bison to 52 wins in six seasons and a mark of 30-14-6 (.660) in Patriot League play. Madsen was an integral member of the 2016 coaching group that was named the NSCAA Regional Coaching Staff of the Year as it guided the squad to a record of 16-2-2 and the program's first NCAA Tournament appearance in 11 years.
Madsen has a knack for training goalkeepers. He mentored Bucknell's Jessica Ratner as she earned Patriot League Goalkeeper of the Year plaudits in 2016, becoming the first Bison in program history to do so. Ratner picked up NSCAA All-Region honors under Madsen's tutelage as her 11 shutouts ranked eighth in the NCAA that season.
Prior to his stint at Bucknell, Madsen was on staff alongside Nikolic at Milwaukee. There, he helped Jamie Forbes collect Horizon League Goalkeeper of the Year and Co-Defensive Player of the Year honors in 2011. While with the Panthers, Madsen was part of four Horizon League Championship teams in five seasons.
Madsen was the head coach of the men's and women's soccer programs at Lakeland College from 2006-09. Prior to that he worked as an assistant coach at his alma mater, Wisconsin-Whitewater (UWW), for three seasons.
A Milwaukee native, Madsen was a goalkeeper during his playing days at UWW, and he captained the team as a senior in 2002. He led the team to three NCAA Round of 16 appearances and was an NSCAA All-Region selection in 2002.
Madsen was a member of the Student-Athlete Advisory Committee at UWW. He received his bachelor's degree in business administration in December 2003 and his master's in curriculum and instruction in December 2005. Madsen currently holds a United States Soccer Federation "B" License and an NSCAA Goalkeeping Level 3 diploma.
"I am very excited to join David Nikolic's staff here at UIC," said Madsen. "Our first real opportunity to coach together was 11 years ago, and it was here in Chicago, so it's fitting to reunite with him here.
"UIC offers a lot to the student-athletes and it is great to see how competitive the women's soccer program has become in the short time it has existed," added Madsen. "I am very thankful to David for thus opportunity, to Kelly Cook at Bucknell for my experience the past six years, and I eager to get to work and compete for the Horizon League Championship."
"I have known Dave since I coached him as a 15-year old goalkeeper on one of the top teams in the Midwest Region," said Nikolic. "We have worked closely together in the past and I know firsthand that his thirst for learning and growing as a coach is fantastic. He is a demanding trainer of goalkeepers and always is expanding his techniques to get more out of his players. He is loyal, extremely trustworthy and I am happy to be working with him again!"
Prior to her arrival in Evanston, Caney was a graduate assistant coach of the women's lacrosse program for two years at Smith College in Northampton, Mass. As an athlete, Caney was a multi-sport standout in lacrosse and soccer at Massachusetts College for Liberal Arts (MCLA). On the pitch, Caney was the Massachusetts State Collegiate Athletic Conference (MASCAC) Rookie of the Year and ended her career tied for the program's all-time scoring record. Caney earned All-MASCAC recognition all four years with the Trailblazers.
As a member of the lacrosse team, she was a two-time All-MASCAC honoree finishing her career with 127 points.
Caney earned a bachelor of arts degree in sociology with a minor in sports coaching, social work, and women's studies from MCLA in 2017, and a master's degree in exercise and sports studies form Smith College in 2020. While at MCLA, she was a member of the President's Athletic Advisory Committee, Student Athlete Advisory Committee, and L.E.A.D., a summer leadership program at the college. Caney was an NCAA Division III Ethnic Minority Grant selectee and attended the NCAA Convention in 2016.
At Northwestern, Caney assisted with the creation of practice plans and analysis of statistical data from training sessions and games. She was responsible for cataloging recruit information and corresponding with club soccer coaches about prospective student-athletes.
"I am very excited and grateful for the opportunity to be a part of the women's soccer program as the new assistant coach," said Caney. "While working with David [Nikolic], I've seen the passion and joy he brings to the table. I look forward to seeing his vision for the UIC program come alive.
"I am eager to start working closely with the team in order to help them continue to be competitive in the Horizon League," added Caney.
"From the moment I met Natalie, I was impressed with her eye for the game and drive when given a project to complete," said Nikolic. "She is meticulous and detailed with her work.  Natalie has incredible desire to learn and watches the game at the highest levels constantly. She is thoughtful, honest and hard working. I am excited to watch her and provide guidance as she grows in her college coaching career."
On the field, Madsen's primary role will be focused on goalkeeper preparation and performance. He will also focus on coordinating the program's recruiting efforts and camps. Madsen will also work closely with the strength and conditioning staff regarding the GPS tracking system the Flames utilize as a team.
In addition to assisting with team and individual training sessions, Caney will work on scouting the opposition and utilize her strengths in recruit talent identification. Off the field, she will work closely with Student-Athlete Academic Services to aid in the academic progress of the Flames.