UCLA law professor breaks down U.S. Soccer's PR woes in legal battle with USWNT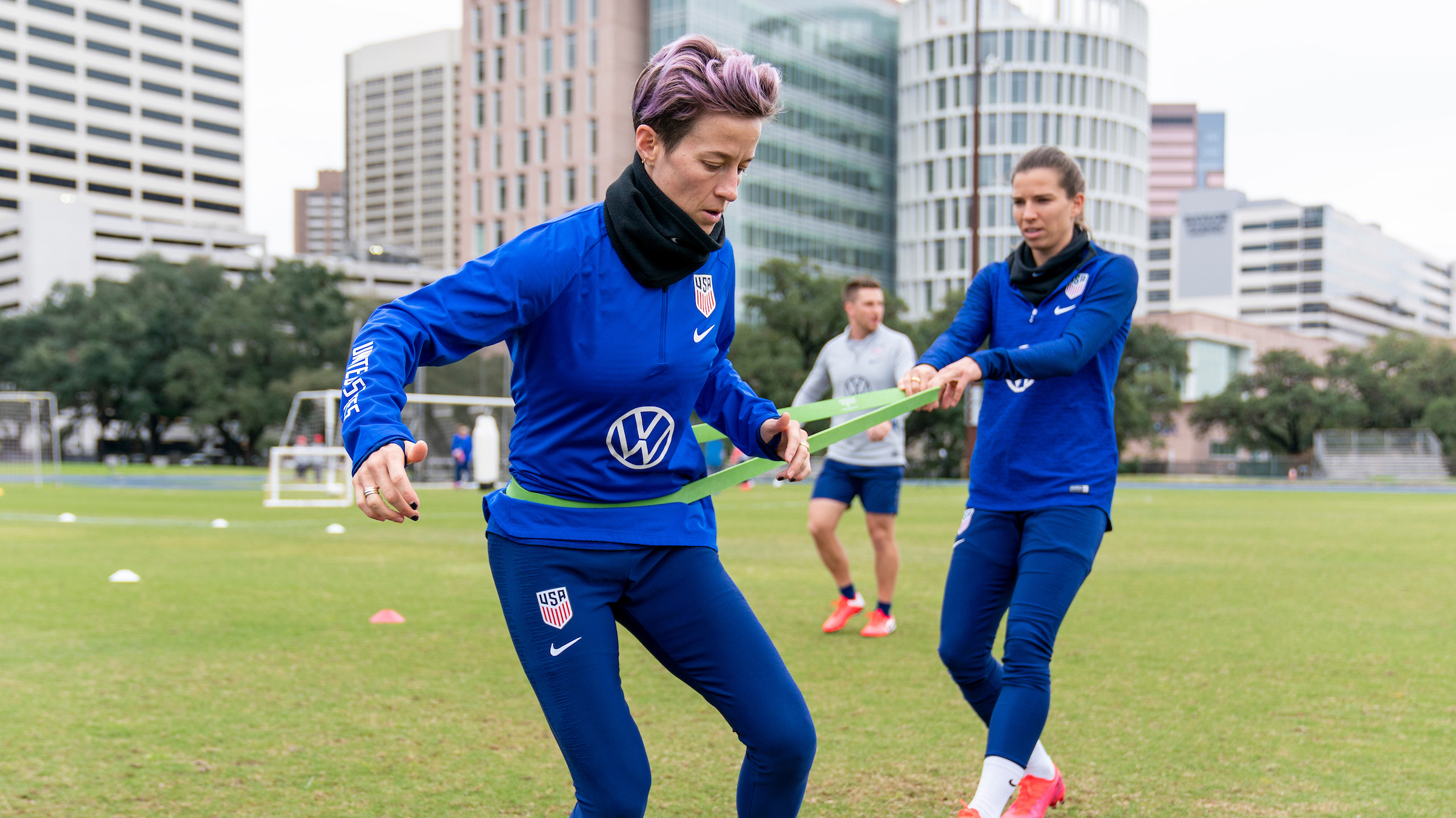 The U.S. Soccer Federation experienced public relations armageddon in March, as backlash from what many people viewed as sexist language in a legal filing for their lawsuit against the U.S. Women's National Team players led to the resignation of USSF president Carlos Cordeiro.
In the court of public opinion, U.S. Soccer hit rock bottom as fans, media and corporate sponsors spoke out against the Federation's legal filing, which argued that U.S. women's players were paid less than the men's team because the men's game requires a "higher level of skill."
The backlash against U.S. Soccer hit a crescendo on March 11 when the USWNT players wore their warm-up jerseys inside out in protest of the Federation, ahead of their 3-1 victory against Japan in the SheBelieves Cup title match. Cordeiro announced his resignation the following day, taking responsibility for the misstep, and vice president Cindy Parlow Cone stepped in as the first-ever female USSF president.
With the USSF and USWNT players potentially beginning their trial in the pay discrepancy lawsuit as early as May 5 in Los Angeles, the PR battle has quieted down since the fireworks in early March. As the COVID-19 pandemic has dominated the world's attention over the past several weeks, news of what may come of the USWNT's $67 million pay discrimination lawsuit – including the potential for a settlement ahead of the scheduled trial – has been scarce.
Parlow Cone has indicated that resolving the Federation's pay dispute with the USWNT players will be her highest priority as she steps in as USSF president. For morale purposes, the best way to resolve it may be to do so outside of court, avoiding a trial altogether.
UCLA law professor Steven Bank recently joined The SoccerWire Podcast with host Charles Boehm to share his perspective on the lawsuit, including what he believes would be the best next moves for both sides.
Bank shared his opinion that U.S. Soccer's PR woes came as a result of an overly-aggressive and "ruthless" legal strategy:
"They're not used to the PR battle, and they're not very good at it," Bank said of U.S. Soccer. "It's inconceivable that a lawyer read through those briefs and didn't think, 'how is this going to read outside of the four corners of this room?'"
From a legal standpoint, Bank added that the controversial argument may have worked in U.S. Soccer's favor, based on precedent from a 1993 sex discrimination lawsuit filed by former USC women's basketball coach Marianne Stanley.
"It might actually read well in the chambers of a judge, so to be fair to the lawyers, maybe that is actually the right argument, but someone needed to be thinking more broadly about how this was going to work," Bank explained. "I think there's now recognition that there needs to be a holistic view of this case and others."
U.S. Soccer is in the midst of several lawsuits at the moment, and is experiencing an all-time high in media coverage. In the social media age, the Federation has seen a rude awakening when it comes to the amount of scrutiny on their legal filings, Banks said:
"I think someone [on the USSF legal team] lost sight of the fact that there are a lot of people watching and reading these briefs. It's all electronically available, and it didn't used to be. If you look back 10 years ago, 15 years ago, I could probably get access to this, but there's no Twitter for me to tweet it out, and nobody really cares. I think [U.S. Soccer] got on this track, they're undefeated in legal cases largely, and they felt like they had facts on their side, and they could pursue a ruthless strategy. I think it backfired because they didn't think about PR."
Despite the mistakes by U.S. Soccer, Bank believes the case may still be a tough one for the USWNT to win if it goes to trial. The USSF has pulled back on its argument that the men's side requires 'more skill', and has now reverted to its previous angle that the U.S. women were paid more than the men in terms of total compensation.
"The women know that their argument is tough in a court of law, so they're pursuing the court of public opinion," Bank said.
An out-of-court settlement may end up being the most desirable option for both the USWNT and USSF, as the lawsuit is now just a few weeks away from its tentative start date. The closest thing to a certainty in the case is that the USSF won't be forced to pay out the full $67 million, a sum which would put the Federation into potentially dire financial territory.
"It can't settle for $67 million, that's not a settlement," Bank said. "There's a sunk cost on PR damage, since U.S. Soccer is as low as it can get. I'm not sure U.S. Soccer gets any worse if they proceed with litigation. If they pay $67 million, then they're not helping their PR, and they're paying $67 million."
"Even if they had that money, that might actually backfire on the USWNT, because that would mean cutting Youth Women's National Team programs, that would mean cutting money to girls' soccer, the Girls DA, it would mean cutting money from a whole bunch of people," Bank continued. "They would be saying, 'Why are 18-20 players asking to get paid when the rest of the soccer community is being shut out?'
And that is the PR point that U.S. Soccer has never successfully been able to make, which is that there are trade-offs here."
To listen to the full episode of The SoccerWire Podcast with UCLA law professor Steven Bank, Click Here.