U.S. Women's National Team to play 10-game schedule ahead of World Cup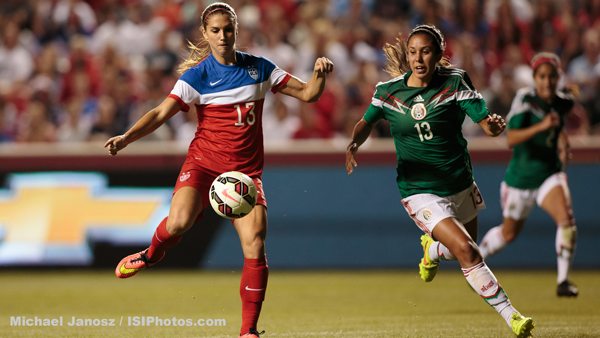 CHICAGO (Via U.S. Soccer) – The U.S. Women's National Team will play 10 matches in 2015 prior to the FIFA Women's World Cup, including four across the United States in April and May as the team completes its final preparations for the tournament.
After six matches in Europe, the USA's first domestic match will be played against New Zealand on Saturday, April 4, at Busch Stadium in St. Louis, Missouri. The match will kick off at 2:30 p.m. CT and be broadcast on FOX Sports 1.
The final three matches take place in May and make up the Send-Off Series prior to departing for Winnipeg, Canada, in advance of the team's first match of the Women's World Cup. The USA's first game will be against Ireland on Sunday, May 10, at 11:30 a.m. PT at Avaya Stadium in San Jose, California, the new home of Major League Soccer's San Jose Earthquakes.
From there, the USA will travel down the coast for its second Send-Off Series match, facing Mexico on Sunday, May 17, at 6 p.m. PTat StubHub Center in Carson, California. Both California matches will be broadcast on FOX Sports 1.
The U.S. heads to the East Coast to conclude the Send-Off Series against Korea Republic on Saturday, May 30, at Red Bull Arena in Harrison, New Jersey. The match will kick off at 4:30 p.m. ET and be broadcast on ESPN and WatchESPN.
As previously announced, the U.S. WNT opens the 2015 schedule in February with a pair of international matches abroad. The team will first play France in Lorient on Feb. 8 (Noon ET on ESPN2), followed by a meeting with England on Feb. 13 in Milton Keynes (3 p.m. ET on FOX Sports 1).
The U.S. WNT will then play four matches at the annual Algarve Cup in Portugal from March 4-11. The U.S. will play Norway, Switzerland and Iceland in group play on March 4, March 6 and March 9, respectively, along with a placement match. Information on the kickoff times and venues will be provided in the coming weeks. All Algarve Cup matches will be televised on FOX Sports 1 and will also be available on multi-platform devices via FOX Sports GO, FOX Soccer 2Go and FOXSportsGO.com.
This summer, the USA will face Australia, Sweden and Nigeria in Group D at the 2015 FIFA Women's World Cup. The USA opens against Australia on June 8 at Winnipeg Stadium, followed by Sweden on June 12 in Winnipeg and Nigeria on June 16 at BC Place in Vancouver.
The 2015 FIFA Women's World Cup runs from June 6-July 5 and all 52 games will be shown live on FOX, FOX Sports 1, FOX Sports 2and on tablets and mobile devices through the FOX Sports GO app and FOXSportsGO.com.
2015 U.S. Women's National Team Schedule:
| | | | | |
| --- | --- | --- | --- | --- |
| Date | Opponent | Time | TV | Venue |
| Feb. 8 | France | 12 p.m. ET | ESPN2 | Stade du Moustoir; Lorient, France |
| Feb. 13 | England | 3 p.m. ET | FOX Sports 1 | stadiummk; Milton Keynes, England |
| March 4 | Norway | 2 p.m. ET | FOX Sports 1 | Vila Real de San Antonio, Portugal |
| March 6 | Switzerland | 12 p.m. ET | FOX Sports 1 | Vila Real de San Antonio, Portugal |
| March 9 | Iceland | 1:30 p.m. ET | FOX Sports 1 | Lagos, Portugal |
| March 11 | TBD | TBD | FOX Sports 1 | TBD, Portugal |
| April 4 | New Zealand | 2:30 p.m. CT | FOX Sports 1 | Busch Stadium; St. Louis, Mo. |
| May 10 | Ireland | 11:30 a.m. PT | FOX Sports 1 | Avaya Stadium; San Jose, Calif. |
| May 17 | Mexico | 6 p.m. PT | FOX Sports 1 | StubHub Center; Carson, Calif. |
| May 30 | Korea Republic | 4:30 p.m. ET | ESPN, WatchESPN | Red Bull Arena; Harrison, N.J. |
| June 8 | Australia | 6:30 p.m. CT | FOX | Winnipeg Stadium; Winnipeg, Canada |
| June 12 | Sweden | 7 p.m. CT | FOX | Winnipeg Stadium; Winnipeg, Canada |
| June 16 | Nigeria | 5 p.m. PT | FOX | BC Place Stadium; Vancouver, Canada |