U.S. U-23 Women's National Team defeats Norway 3-0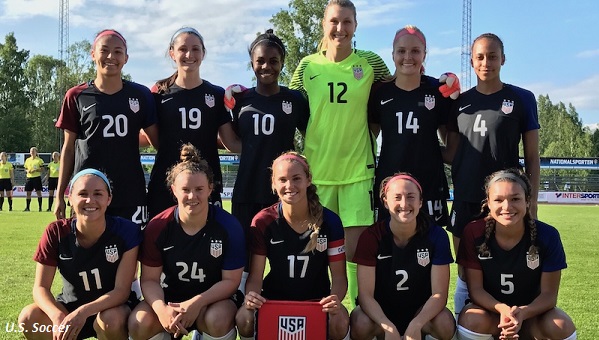 KARLSTAD, Sweden (Via U.S. Soccer) – The U.S. Under-23 Women's National Team defeated Norway 3-0, scoring three times after the 70th minute, in its opening game of the U-23 Four-Nations Nordic Tournament in Sweden.
In the other match, England defeated Sweden, 4-0. The USA will next face England on June 9 and then finish against Sweden on June 12.
All of the NWSL players who arrived on Monday in Sweden following their weekend games did not see action, but Danielle Weatherholt of the Orlando Pride, who traveled with the squad on June 1, captained the side.
The USA opened the scoring in the 71st minute on a set play as defender Tegan McGrady took the free kick near the corner at the top of the penalty area and served it to the top of the six-yard box. Seventeen-year-old midfielder Jaelin Howell, who came into the match at halftime, lost her marker and beat the goalkeeper to the ball, sending her header into the corner of the net.
Just two minutes later the USA doubled the score as forward Sophia Smith took advantage of a poor back pass from the midfield, picked it off and outpaced a defender before calmly dribbling past the 'keeper to roll her shot into the net.
The 16-year-old Smith has now scored in international games for the U.S. Under-18, Under-20 and Under-23 teams in 2017.
Defender Kaleigh Riehl added an insurance goal in the 82nd minute, out-jumping a defender to meet a service from 17-year-old Brianna Pinto and sent a looping header into the net.
For all three players, it was their first U-23 international goal in their first U-23 caps. Howell and Smith played in the FIFA U-17 Women's World Cup in Jordan last year while Riehl played in the FIFA U-20 Women's World Cup in Papua New Guinea.
Natalie Jacobs, who replaced Mallory Eubanks on the roster before the tournament, played 90 minutes on the back line along with U-20 WWC teammates Ellie Jean and Riehl. Casey Murphy, who played all six games in PNG, earned the shutout in goal. Sky Blue FC defender Erica Skroski did not make the trip due to injury.
 -U.S. Under-23 Women's National Team Match Report-
Match: U.S. U-23 WNT vs. Norway U-23 WNT
Date: June 6, 2017
Competition: Women's U-23 Four-Nations Nordic Tournament
Venue: Tingvalla IP; Karlstad, Sweden
Weather: 72 degrees; sunny
Scoring Summary:   1          2          F    
USA                             0          3          3
NOR                            0          0          0
USA – Jaelin Howell (Tegan McGrady)         71st minute
USA – Sophia Smith                                        73
USA – Kaleigh Riehl (Brianna Pinto)               82
Lineups:
USA: 12-Casey Murphy; 4-Ellie Jean, 19-Kaleigh Riehl, 14-Natalie Jacobs, 20-Tegan McGrady; 17-Danielle Weatherholt (capt.) (16-Sandra Yu, 65), 24-Savannah McCaskill (8-Jordan DiBiasi, 85), 10-Brianna Pinto; 2-Zoey Goralski (15-Michelle Xiao, 75), 11-Mayra Pelayo (6-Jaelin Howell, 46), 5 Sophia Smith (18-Hailie Mace, 85).
Subs not used: 1-Jane Campbell, 3-Christina Gibbons, 7-Margaret Purce, 9-Ashley Hatch, 13-Kristen McNabb
Head Coach: BJ Snow
NOR: 1-Aurora Mikalsen; 2-Cecille Kvsmme, 3-Ingrid Stenevik, 6-Stine Reinas (capt.), 7-Lisa Naalsund, 8-Amalle Eikeland, 9-Synne Jensen, 11-Emelie Nautnes (4-Hanna Dahl, 77), 14-Marit Lund, 18-Ingrid Engen (15-Katrine Jorgensen, 77), 19-Tonje Pedersen (16-Nora Lie, 70).
Subs not used: 5-Andrine Tomter, 12-Oda Marie Bogstad, 13-Ingris Elvebakken, 20-Maria Hiim, 21-Frida Maanum, 22-Andrea Norheim
Head Coach: Nils Lexerod
Stats Summary: USA / NOR
Shots: 9 / 9
Shots on Goal: 6 / 3
Saves: 3 / 3
Corner Kicks: 5 / 1
Fouls: 6 / 12
Offside: 1 / 2
Misconduct Summary:
None
2017 Women's U-23 Four-Nations Nordic Tournament Standings – Sweden
| | | | | | | | | |
| --- | --- | --- | --- | --- | --- | --- | --- | --- |
| Team | GP | W | L | T | Pts. | GF | GA | GD |
| ENG | 1 | 1 | 0 | 0 | 3 | 4 | 0 | +4 |
| USA | 1 | 1 | 0 | 0 | 3 | 3 | 0 | +3 |
| NOR | 1 | 0 | 1 | 0 | 0 | 0 | 3 | -3 |
| SWE | 1 | 0 | 1 | 0 | 0 | 0 | 4 | -4 |
2017 Women's U-23 Four-Nations Nordic Tournament Results
June 6
USA 3, Norway 0
England 4, Sweden 0
June 9
USA vs. England
Norway vs. Sweden
June 12
USA vs. Sweden
Norway vs. England