U.S. U-23 WNT draws Chicago Red Stars 0-0 in Thorns Invitational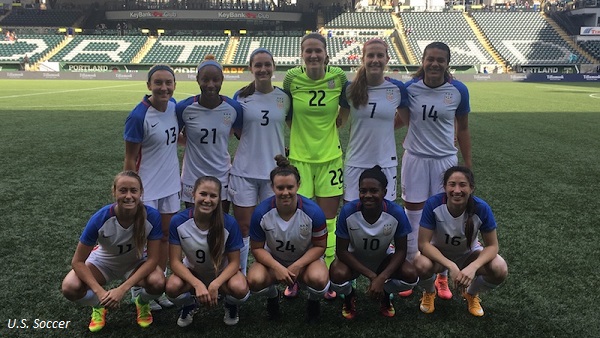 PORTLAND, Oregon (Via U.S. Soccer) – The U.S. Under-23 Women's National Team drew 0-0 with the Chicago Red Stars to finish the Thorns Spring Invitational with a 1-1-1 record. The USA fell to the Houston Dash by a 2-1 score in its first game and then beat the Portland Thorns, 2-1.
Both teams fired nine shots while Bella Geist and Casey Murphy shared the shutout in goal for the USA. Murphy had to come into the match in the 65th minute after Geist suffered a shoulder injury.
The USA was playing without midfielder Jaelin Howell and forward Sophia Smith, who both were called up to train with the full U.S. Women's National Team in Texas. The Red Stars were playing without U.S. WNT players Alyssa Naeher, Christen Press and Casey Short, who are also in Texas, and Julie Johnston, who is on her honeymoon. In addition, U.S. head coach B.J. Snow gave some playing time to a few players who hadn't seen much action in the first two games.
In the second game of the doubleheader, the Thorns tied the Houston Dash, 1-1, on goals from Mana Shim for Portland and Rachel Daly for the Dash.
The U-23 WNT will now hold another training camp from April 2-8 in Orlando, Fla., that will feature a closed-door match against the Orlando Pride on April 7 and a match against the University of Central Florida. Snow will bring four players from the Portland roster to the Orlando camp, but the roster will otherwise be made up of different players that competed in the Portland tournament.
-U.S. Under-23 Women's National Team Match Report-
Match: U.S. U-23 WNT vs. Chicago Red Stars
Date: April 1, 2017
Venue: Providence Park; Portland, Oregon
Kickoff: 7 p.m. CT
Weather: 58 degrees; cloudy
Scoring Summary:  1          2          F
USA                             0          0          0
CHI                              0          0          0
Lineups:
USA: 22-Bella Geist (1-Casey Murphy, 64); 14-Alana Cook, 3-Kaleigh Riehl, 13-Gabrielle Seiler (23-Tziarra King, 73), Alexis Warner (4-Ellie Jean, 73); 7-Tierna Davidson, 10-Brianna Pinto, 16-Sandra Yu (17-Tegan McGrady, 46), 11-Mallory Eubanks (5-Taylor Racioppi, 64), 9-Ashley Sanchez, 24-Savanna McCaskill (capt.)
Subs Not Use: 2-Taylor Isom, 8-Jordan DiBiasi, 15-Michelle Xiao, 18-Simone Charley
Head coach: B.J. Snow
CHI: 18-Michele Dalton; 3-Erin Gilliland, 16-Samantha Johnson, 14-Sarah Gorden, 7-Laura Comeau; 13-Morgan Proffitt (34-Mary Luba, 46), 24-Danielle Colaprico, 10-Vanessa DiBernardo (capt.), 4-Alyssa Mautz (29-Brittany Ratcliffe, 46); 12-Cara Walls (25-Simone Kolander, 46), 9-Stephanie McCaffrey (19-Summer Green, 75)
Subs Not Used: 2-Jen Hoy, 5-Katie Naughton, 11-Sofia Huerta, 15-Courtney Raetzman, 30-Lauren Kaskie
Head coach: Rory Dames
Stats Summary: CHI / USA
Shots: 9 / 9
Shots on Goal: 2 / 1
Saves: 1 / 2
Corner Kicks: 7 / 4
Fouls: 12 / 4
Offside: 4 / 2
Misconduct Summary:
None
Officials:
Referee: Levi Rippy
Asst. Referee: Brandon Harris
Asst. Referee: Connor Hazelwood