U.S. U-23 WNT defeats Norway 2-0 at La Manga Tournament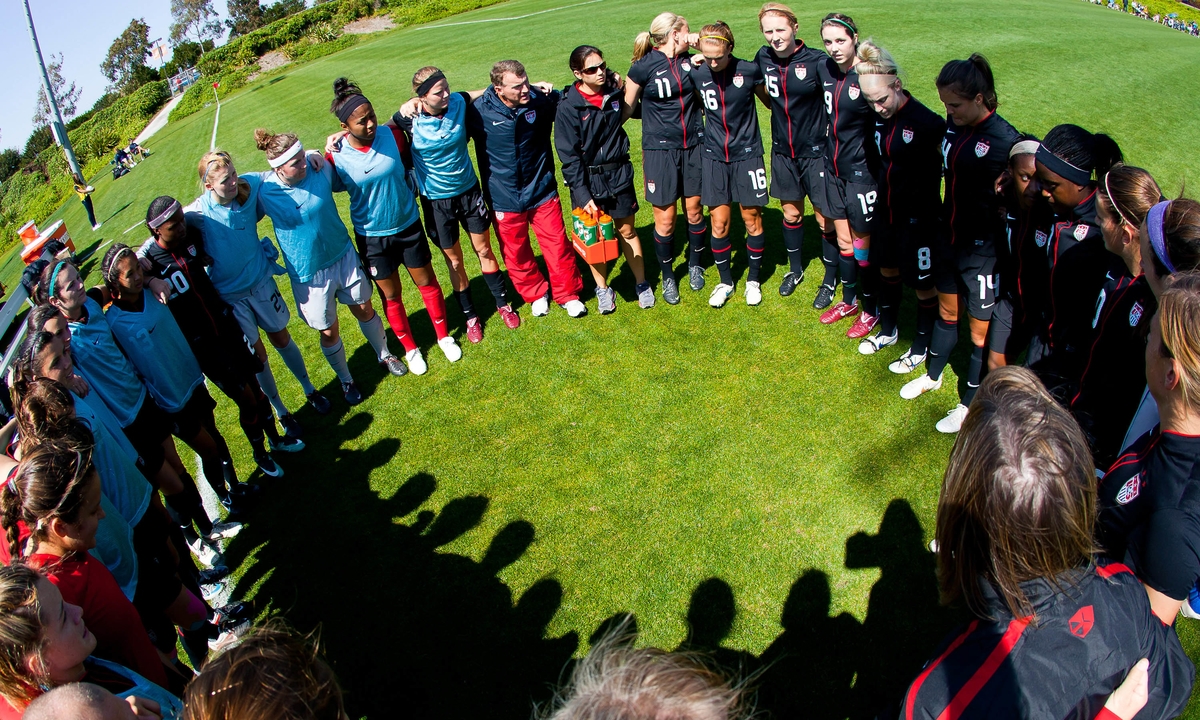 CHICAGO (Via U.S. Soccer) – The U.S. Under-23 Women's National Team made it two wins in a row at the Six Nations Tournament in La Manga, Spain, defeating its counterpart from Norway, 2-0, on goals from forward Shea Groom and midfielder Danielle Colaprico.
The USA out-shot Norway 16-2, but didn't get on the board until a few minutes before halftime. Midfielder Samantha Mewis, the only player on the U.S. roster with senior WNT caps, played a pass into Groom near the left side of the penalty box. Groom took a long touch inside to beat the defender and finished hard inside the near post.
+Read: U-23 WNT opens La Manga Tournament with 1-0 victory against Japan
Groom, a second round pick by FC Kansas City in the 2015 NWSL Draft, turned provider on the insurance goal. In the 70th minute she got to the end line and played a pass back across the face of the goal. Boston Breakers fourth-round draft pick Stephanie Verdoia made a perfect dummy run and the ball rolled to Colaprico, a Chicago Red Stars first-round pick, who finished from the top of the six-yard box. Stanford goalkeeper Jane Campbell picked up the shutout for the USA.
+Read: U.S. U-17 MNT routs Cuba 5-0 to open CONCACAF Championship
The USA was coming off a 1-0 victory against Japan on Feb. 26 and will try to make it a three-game sweep at this friendly tournament against England on March 2. After Mewis captained the side against Japan, defender Emily Sonnet wore the armband against Norway.
The 22-player U.S. squad features 14 professional players, including 13 who were taken in the recent 2015 NWSL Draft. The only one-year pro is Chicago Red Stars midfielder Vanessa DiBernardo.
– U.S. U-23 Women's National Team Match Report – 
Match: U.S. U-23 Women's National Team vs. Norway U-23 Women's National Team
Date: February 28, 2015
Competition: Six Nations Tournament
Venue: La Manga Football Centre; La Manga, Spain
Scoring Summary:       1          2          F
USA                              1          1          2
NOR                             0          0          0
USA – Shea Groom (Samantha Mewis)               42nd minute
USA – Danielle Colaprico (Shea Groom)             70 
Lineups:
USA: 1-Jane Campbell; 17-Andi Sullivan, 13-Emily Sonnett (capt.), 23-Kristin Grubka, 4-Caprice Dydasco (7-Jaelene Hinkle, 46); 9-Rose Lavelle (16-Daphne Corboz, 78), 21-Lo'eau LoBonta, 14-Samantha Mewis (2-Danielle Colaprico, 46); 6-Shea Groom, 10-Stephanie Verdoia, 5-Makenzy Doniak (19-Cheyna Williams, 65)
Subs not used: 3-Vanessa DiBernardo, 8-Sarah Killion, 11-Stephanie McCaffrey, 15-Cari Roccaro, 18-Abby Smith, 20-Lynn Williams, 25-Abby Dahlkemper
Head Coach: Steve Swanson 
NOR: 1-Nora Neset Gjoen, 2-Cecilie Redisch Kvamme, 4-Stine Pettersen Reinas, 15-Maria Thorisdottir, 5-Nora Byon-Nilssen, 17-Maria Dybwad Brochmann (6-Tonje Pedersen, 61), 16-Anja Sonstevold, 10-Andrine Stolsmo Hegerberg, 7-Victoria Ludvigsen, 9-Melissa Bjanesoy, 8-Guro Reiten (19-Lisa Fjellstad Naalsund, 46)
Subs not used: 3-Ane Sund Walsoe, 11-Synne Skinnes Hansen, 12-Hilde Gunn Olsen, 13-Mali Lilleas Naess, 14-Ingrid Ostervold Stenevik, 18-Therese Asland, 12-Anniken Jerre 
Stats Summary: USA / NOR
Shots: 16 / 2
Shots on Goal: 11 / 1
Saves: 1 / 9
Corner Kicks: 6 / 0
Fouls: 5 / 10
Offside:  1 / 2 
Misconduct Summary:
None
Officials:
Referee: J. Lavrenovaite
Assistant Referee 1: I. Siliuniene
Assistant Referee 2: V. Skiptitene