U.S. U-23 WNT camp in Florida features 24 college players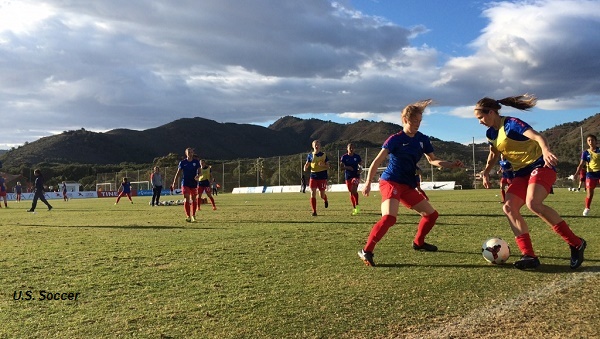 CHICAGO (Via U – The U.S. Under-23 Women's National Team will hold a training camp in Lakewood Ranch, Florida, from April 26-May 3, featuring 24 current collegiate players.
The majority of the roster has extensive experience with the USA's Youth National Teams, including nine players who have played for the USA at FIFA U-17 or U-20 Women's World Cup tournaments.
The camp will be used as a final evaluation to pick a 20-player roster that will travel to Norway in May to play the U-23 teams from Sweden, Norway and England.
Roster by Position: Detailed Roster
GOALKEEPERS (3): Jane Campbell (Stanford; Kennesaw, Ga.), Madalyn Schiffel (USF; Citrus Heights, Calif.), Abby Smith (Texas; Plano, Texas)
DEFENDERS (8): Christina Gibbons (Duke; Raleigh, N.C.), Jaycie Johnson (Nebraska; Lake Winnebago, Mo.), Kayla Mills (USC; West Covina, Calif.), Katie Naughton (Notre Dame; Elk Grove Village, Ill.), Cari Roccaro (Notre Dame; East Islip, N.Y.), Jacqueline Simpson (USF; Lithia, Fla.), Emily Sonnett (Virginia; Marietta, Ga.), Andi Sullivan (Stanford; Lorton, Va.)
MIDFIELDERS (7): Claire Falknor (Florida; Dayton, Ohio), Michaela Hahn (Florida State; Titusville, Fla.), Rose Lavelle (Wisconsin; Cincinnati, Ohio), Ashley Meier (Virginia Tech; Strongsville, Ohio), Gabbi Miranda (UCLA; Highlands Ranch, Colo.), Alexis Shaffer (Virginia; Cary, N.C.), Danielle Weatherholt (Santa Clara; Capistrano Beach, Calif.)
FORWARDS (6): Makenzy Doniak (Virginia; Chino Hills, Calif.), Hayley Dowd (Boston College; Peabody, Mass.), Ashley Hatch (BYU; Gilbert, Ariz.), McKenzie Meehan (Boston College; North Scituate, R.I.), Margaret Purce (Harvard; Silver Spring, Md.), Taylor Smith (UCLA; Los Angeles, Calif.)