U.S. U-23 MNT facing Mexico tonight in Carson, Calif. at 8 p.m. PT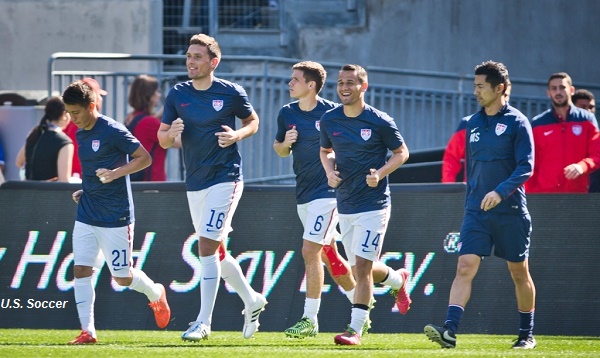 (Via U.S. Soccer) – For the first time in 2015, the U.S. Under-23 Men's National Team is set to play on American soil, this time facing off with archrival Mexico on Wednesday, April 22 at StubHub Center in Carson, California. The game will be broadcast live on UniMas and Univision Deportes Network at 8 p.m. PT.
U-23 MNT head coach Andi Herzog has assembled 20 players in California. The roster is charged with experience, as nine players were part of the USA's 2013 FIFA U-20 World Cup team, and 11 participated in the U.S. U-23 camp in Europe this past March, which was highlighted by a 5-2 victory over Bosnia in Herzog's first victory as head coach of the U-23 program.
In six matches between the U.S. U-23's and Mexico since 1992 (when Olympic soccer was first designated as an Under-23-tournament), the USA has gone 5-2-0, including a victory during the squads last matchup on Feb. 29, 2012 by a score line that has become familiar for these two rivals: 2-0.
Mexico, the defending Olympic champion, went an undefeated 10-0-1 in its 11 matches in 2012 on the way to the gold medal and will look to continue that success with the 20-man roster it has brought to Carson for this match.
The 2015 CONCACAF Men's Olympic Qualifying championship will be played in the United States from Oct.1-13.
Roster by Position:
GOALKEEPERS (2): Cody Cropper (Southampton; Maple Grove, Minn.), Jon Kempin (San Antonio Scorpions; Leawood, Kan.)
DEFENDERS (8): Christian Dean (Vancouver Whitecaps FC; East Palo Alto, Calif.), Juan Pablo Ocegueda (Alebrijes de Oaxaca; Riverside, Calif.), Boyd Okwuonu (Real Salt Lake; Edmund, Okla.), Shane O'Neill (Colorado Rapids; Boulder, Colo.), Dillon Serna (Colorado Rapids; Brighton, Colo.), Oscar Sorto (LA Galaxy; Los Angeles, Calif.), Sam Strong (UC Santa Barbara; Santa Barbara, Calif.), Walker Zimmerman (FC Dallas; Lawrenceville, Ga.)
MIDFIELDERS (5): Fatai Alashe (San Jose Earthquakes; Northville, Mich.), Luis Gil (Real Salt Lake; Garden Grove, Calif.), Alejandro Guido (Club Tijuana; Chula Vista, Calif.), Benji Joya (Santos Laguna; San Jose, Calif.), Daniel Metzger (New York Red Bulls II; Holmdel, N.J.)
FORWARDS (5): Alonso Hernandez (C.F. Monterrey; El Paso, Texas), Alfred Koroma Shams (Unattached; Southlake Carol, Texas), Jordan Morris (Stanford; Mercer Island, Wash.), Mario Rodriguez (Borussia Mönchengladbach; North Hollywood, Calif.), Jose Villarreal (LA Galaxy; Inglewood, Calif.)
USA U-23's vs. Mexico:
The United States is 5-2-0 against Mexico since 1992.
The last time the U-23's faced Mexico, the U.S. came away with a 2-0 victory in Frisco, Texas . The two goal-scorers in that game for the U.S. were forward Juan Agudelo and midfielder Mix Diskerud. Both Agudelo and Diskerud played in the U.S. senior side's match last week against Mexico, where Agudelo scored the second goal of the team's 2-0 victory.
Since 1992, the U-23's are 3-0 against Mexico when playing on U.S. soil.
Alejandro Guido and Mexico's Jose Alberto Garcia, Pedro Hernandez, and Gibran Lajud are Liga MX club teammates at Club Tijuana, while Alonzo Hernandez is teammates with Luis Cardenas, Jorge Caballero and Bernardo Hernandez at Monterrey.
U.S. Roster Notes:
Nine players were part of the USA's 2013 FIFA U-20 World Cup team: Cody Cropper, Luis Gil, Alonso Hernandez, Benji Joya, Juan Pablo Ocegueda, Shane O'Neill, Mario Rodriguez, Oscar Sorto and Jose Villarreal.
Jordan Morris made his first start and scored his first international goal with the senior MNT during the U.S. Men's National Team's 2-0 win against Mexico on April 15.
Eleven players from this roster were on the squad that defeated Bosnia's U-23 team 5-2 on March 27, including all five U.S. goal scorers from that game: Fatai Alashe, Morris, Rodriguez, Joya and Hernandez. Other players returning from that roster are Christian Dean, Ocegueda, O'Neill, Sorto, Gil, and Alfred Koroma Shams.
In addition to Gil captaining the USA during the win against Bosnia, he also assisted on three of the five tallies.
Cropper, Dean, Gil, Kempin, Morris, O'Neill, Serna and Sorto have all been part of a USMNT senior camp this year.
Gil and Morris are the only two players from the roster to have earned a cap with the senior team in 2015.
MLS has sent nine players for this roster with two players each from the Colorado Rapids, LA Galaxy and Real Salt Lake.
Four players on the roster play for Mexican-based clubs (three from Liga MX and one from Ascenso MX).
Mexico Roster Notes:
Fourteen of the 20 players play in Liga MX.
Forward Marco Bueno was part of the Mexico senior team roster that played against the U.S. MNT on April 15. Bueno earned a cap after entering in the game's 83rd minute.
Uvaldo Luna Martinez was born in Houston, Texas, and spent time with the U.S. U-20 MNT.
Mexico Roster by Position:
GOALKEEPERS (2): Luis Cárdenas (Monterrey), Gibran Lajud (Club Tijuana)
DEFENDERS (6): Gil Burón (Querétaro), Jorge Caballero (Monterrey), Luis Guzmán (Atlas), Bernardo Hernández (Monterrey), Louis Alfonso Solorio (Coras), Pedro Terán (Atlas)
MIDFIELDERS (7): Carlos Ernesto Cisneros (Coras), Rosario Enrique Cota Carrazco (Cruz Azul), Kevin Escamilla (UNAM) Jonathan Espericueta (Tigres), Pedro Hernández (Club Tijuana), Michael Pérez Ortiz (Coras), Daniel Hernández Trejo (Atlante),
FORWARDS (5): Marco Bueno (Toluca), Jose Alberto Garcia (Club Tijuana), Ulises Jamies Huerta (Monarcas), Uvaldo Luna Martinez (Tigres), Ángel Zaldivar (Coras)
U-23's Last Time On the field against Mexico:
Feb. 29, 2012 – FC Dallas Stadium; Frisco, Texas – International Friendly
Scoring Summary:    1    2    F
USA                             2    0    2
MEX                             0    0    0
USA – Juan Agudelo (Mix Diskerud)    35th minute
USA – Mix Diskerud (Freddy Adu)        36
Lineups:
USA : 1-Bill Hamid (18-Sean Johnson, 46); 3-Kofi Sarkodie, 2-Ike Opara (capt.), 4-Perry Kitchen, 5-Zarek Valentin; 6-Alfredo Morales (19-Amobi Okugo, 90), 8-Mix Diskerud, 10-Joe Corona; 7-Freddy Adu (17-Tony Taylor, 67), 9-Juan Agudelo (12-Teal Bunbury, 61), 11-Joe Gyau (14-Dilly Duka, 78)
Subs not used: 13-Jorge Villafana, 15-Jack McInerney, 16-Sebastian Lletget, 20-Michael Stephens
Head Coach: Caleb Porter
MEX : 1-Liborio Sanchez, 2-Israel Jimenez, 4-Nestor Araujo, 5-Darvin Chávez, 6-Ricardo Bocanegra (17-Javier Aquino, 46), 7-Javier Cortés, 9-Jeronimo Amione (19-Alan Pulido, 64), 10-Marco Fabian, 14-Jorge Enriquez (8-David Cabrera, 78), 16-Miguel Ponce (18-Hector Herrera, 46), 21-Ricardo Mier (capt.)
Subs not used: 11-Nestor Calderon, 12-Antonio Rodriguez, 13-Diego Reyes, 15-Jair Barraza, 20-Hugo Rodriguez
Head coach: Luis Fernando Tena