U.S. U-23 MNT falls to Denmark 1-0 to wrap up European camp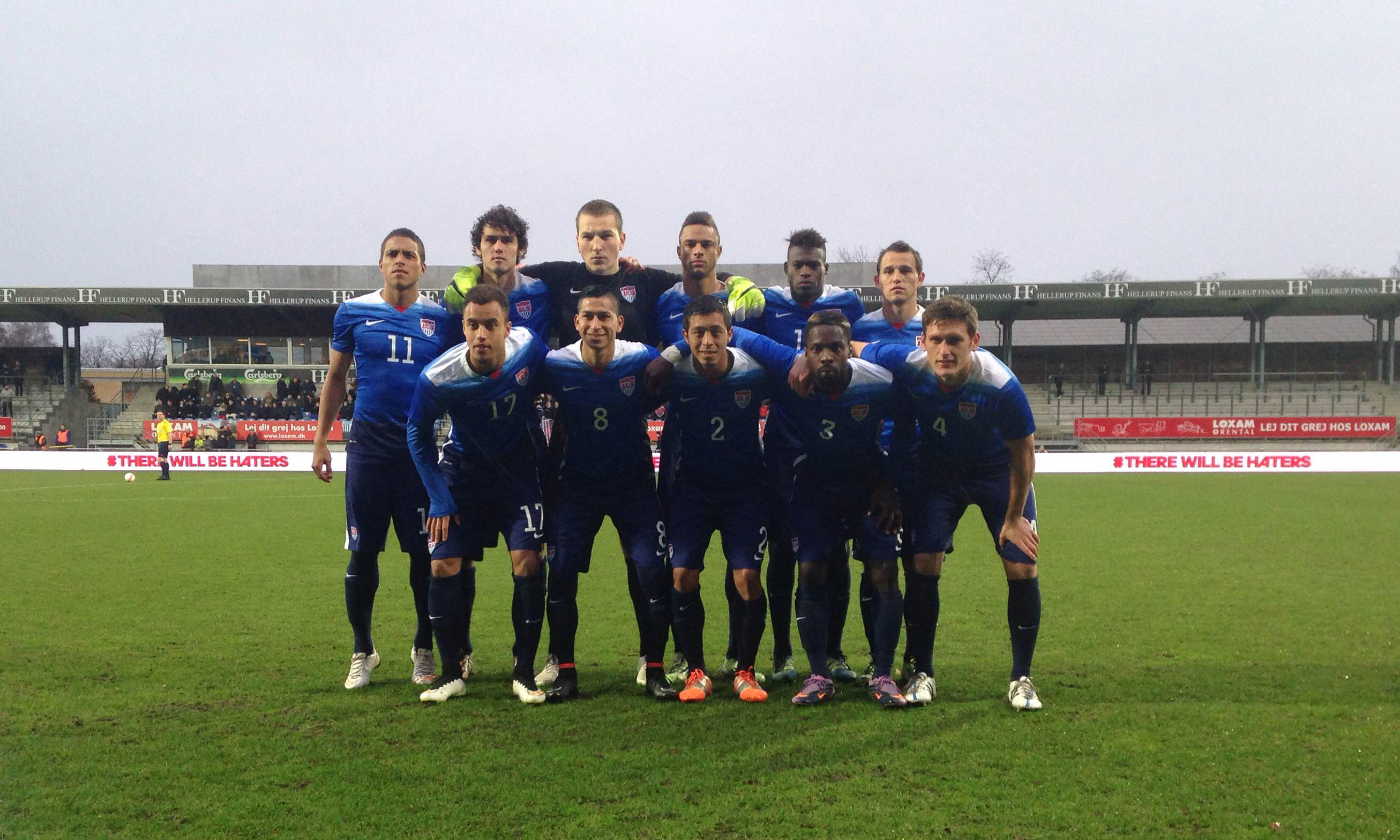 COPENHAGEN, Denmark (Via U.S. Soccer) – The U.S. Under-23 Men's National Team fell to Denmark's U-21 side 1-0 on Tuesday night at Lingby Stadion in Copenhagen, Denmark.
Andreas Cornelius gave the home side the lead in the 52nd minute after entering the pitch as a second-half substitute. Despite a strong final 40 minutes from the U.S., the team was unable to find the equalizer.
Denmark was the most dangerous side early on, but USA goalkeeper Charlie Horton and left back Juan Pablo Ocegueda were up to the task and kept the Danish at bay.
The USA's best chance came in the 51st minute when Luis Gil, wearing the captain's armband for the second straight match, displayed some nice moves to get past two defenders in the box before lifting a cross to the back post. Will Packwood jumped high and headed the ball down but Denmark's goalkeeper, Frederik Ronnow, reacted quickly and was able to stop the shot right at the line.
On the next possession, Denmark's Yussuf Yurary Poulsen made a nice pass from the right to just inside the top of the box, where Cornelius trapped it with his back to the goal, turned left, and shot past a diving Tyler Miller, who replaced Horton in the second half.
Miller, making his USA debut, came up with numerous saves to keep the USA within reach. In the 54th minute he stretched out fully to his right to bat a shot out of bounds. Later, he was able to stay on a free kick that changed direction after hitting the wall to make another save.
The U.S. began threatening with Zach Pfeffer, who twice combined with Khiry Shelton for good opportunities, but Denmark's goalkeeper did his job; first with a fantastic diving save on a shot from 16 yards out, and then with a header from 12 yards out that went just wide.
A final chance to equalize came late in the game but Pfeffer's attempt inside the six was cleared, and a rebound shot taken by Ariel Lassiter was saved by the goalkeeper.  
-U.S. Under-23 Men's National Team Match Report-
Match: U.S. U-23 Men's National Team vs. Denmark U-21 Men's National Team
Date: March 31, 2015
Competition: International Friendly
Venue: Lyngby Stadion, Copenhagen, Denmark
Kickoff: 1 p.m. ET (7 p.m. Local)
Attendance: 1,322
Weather: 38 degrees, rain
Scoring Summary:   1      2      F
USA                               0      0      0
DEN                               0      1      1
DEN – Andreas Cornelius (Yussuf Yurary Poulsen)             52nd minute
Lineups:
USA: 12-Charlie Horton (22-Tyler Miller, 46), 2- Juan Pablo Ocegueda (6-Christian Dean, 59), 4-Shane O'Neill, 5- William Packwood, 8-Benji Joya (16-Daniel Metzger, 74), 14-Fatai Alashe, 13-Khiry Shelton, 17-Jerome Kiesewetter (7-Ariel Lassiter, 74), 10-Luis Gil, 11-Alonso Hernandez (21-Zach Pfeffer, 59)
Substitutions Not Used:  15-Alfred Koroma Shams
Head coach: Andreas Herzog
DEN: 16-David Jenson (1-Frederik Ronnow, 46), 2-Alexander Scholz (13-Ryan Laursen, 66), 3-Frederik Sorensen (12-Patrick Banggaard, 46), 4-Jannik Vestergaard, 5-Patrick Da Silva, 6-Christian Norgaard (19-Jens Jonsson, 46), 7-Yussuf Yurary Poulsen, 8-Nicolaj Thomsen, 10-Rasmus Falk (15-Nicolai  Poulsen, 79), 14-Lucas Andersen (18-Emil Berggren, 70), 20-Nicolai Brock-Madsen (9-Andreas Cornelius, 46)
Head coach: Jess Thorup
Stats Summary: USA / DEN

Shots: 8 / 12
Shots on Goal: 4 / 7
Saves: 6 / 4
Corner Kicks:  10 / 11
Fouls: 7 / 10
Offside: 0 / 0
Misconduct Summary:
USA – Alonso Hernandez (caution)          38th minute
DEN –Nicolai Brock-Madsen (caution)    43
DEN – Andreas Cornelius (caution)          52
USA – Oscar Sorto (caution)                        88
USA – Luis Gil (caution)                              90+3
Officials:
Referee: Petur Reinert (FRO)
Assistant Referee 1: Regin Egholm (FRO)
Assistant Referee 2: Jan a Lioarenda (FRO)
Fourth Official: Kjaersgaard-Andersen (DEN)