U.S. U20 Women's National Team roster named for NTC Invitational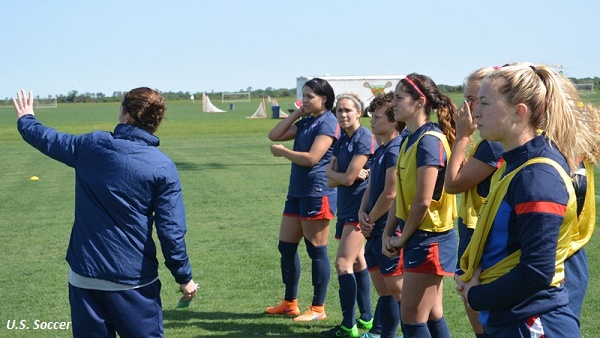 CHICAGO (Via U.S. Soccer) – U.S. Under-20 Women's National Team head coach Michelle French has named 20 players to the roster for an almost three-week training camp that will conclude with the 2016 U-20 Women's NTC Invitational as the U.S. team enters its final stages of preparations for the 2016 FIFA U-20 Women's world Cup.
The U.S. team will be encamped at the U.S. Soccer National Training Center in Carson, Calif. from Sept. 1-19 and will face Brazil, England and the Korea Republic in tournament play at the end of camp. Each of the match days – Sept. 14, 16 and 18 – will feature a doubleheader with the USA playing the second game of the day. The winner of the competition will be based on total points with the first tiebreakers being overall goal difference and then total goals scored.
+Read: U.S. Soccer to host U-20 Women's NTC Invitational in September
The USA, Brazil and the Korea Republic are currently preparing for the 2016 FIFA U-20 Women's World Cup which will be held in Papua New Guinea from November 13-Dec. 3. England did not qualify. Admission to the matches and parking is free to the public. All the matches will be streamed live on ussoccer.com.
U.S. Under-20 Women's National Team Roster by Position
GOALKEEPERS (3): Rose Chandler (Penn State; Atlanta, Ga.), Brooke Heinsohn (NEFC; Norfolk, Mass.), Casey Murphy (Rutgers; Bridgewater, N.J.)
DEFENDERS (7): Madeline Elliston (Penn State; Omaha, Neb.), Emily Fox (FC Virginia; Ashburn, Va.), Sabrina Flores (Notre Dame; Livingston, N.J.), Ellie Jean (Penn State; Coventry, Conn.), Natalie Jacobs (Notre Dame; Coto de Caza, Calif.), Taylor Otto (CASL; Apex, N.C.), Kaleigh Riehl (Penn State; Fairfax Station, Va.)
MIDFIELDERS (7): Marley Canales (San Diego Surf; San Diego, Calif.), Katie Cousins (Tennessee; Forest, Va.), Savannah DeMelo (Beach FC; Bellflower, Calif.), Kelcie Hedge (Washington; Post Falls, Idaho), Emily Ogle (Penn State; Strongsville, Ohio), Courtney Petersen (Virginia; Canton, Mich.), Parker Roberts (Florida; Leawood, Kansas)
FORWARDS (3): Mallory Pugh (Real Colorado; Highlands Ranch, Colo.); Jessie Scarpa (North Carolina; Lakeland, Fla.), Ally Watt (Texas A&M; Colorado Springs, Colo.)
Mallory Pugh, a member of the USA's 2016 Olympic Team who became the youngest U.S. player to score in an Olympics Games, returns to training camp with the U-20s. Pugh captained the team last fall as it won the CONCACAF title in Honduras and earned a berth to the World Cup in PNG.
In addition, French will bring in three players to train who have seen most of their National Team action this year with the U.S. U-18 WNT in defender Julie Doyle (San Diego Surf; Laguna Niguel, Calif.), midfielder Shea Moyer (FC Revolution; Wyomissing, Penn.) or forward Parker Goines (TSC Hurricane; Broken Arrow, Okla.).
French will choose the final roster for the tournament prior to the start of the games.