U.S. U-20 Women's National Team plays Japan to 2-2 draw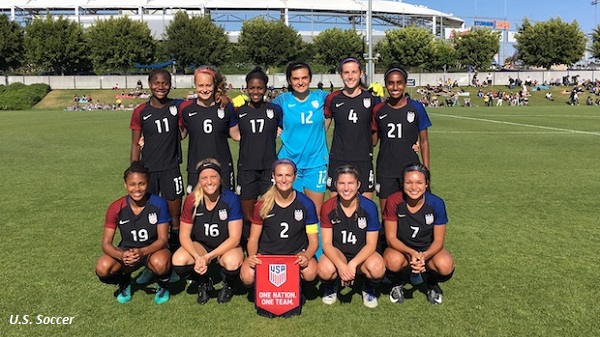 CARSON, Calif. (Via U.S. Soccer) – Both teams scored a goal in each half as the U.S. Under-20 Women's National Team tied the Japan Under-20 Women's National Team 2-2 in the second of two matches between the countries at the U.S. Soccer National Training Center.
Japan defeated the USA 2-1 on May 22, scoring in the last minute of second half stoppage time.
For the second game in a row, Japan scored early, this time tallying in the 6th minute as Fuka Kono found some space the left flank, cut inside and hit a right-footed grass cutter that snuck just inside the post.
The USA tied the game in the 25th minute, when Abigail Kim got around her defender on the right flank and sent a cross into the middle that Adrienne Richardson tapped into the net for her first international goal at the U-20 level.
+READ: Tobin Heath accepts position with Portland Thorns FC Girls DA
The USA took the lead just a few minutes into the second half. This time Richardson played provider, sending a diagonal ball to Sophia Smith, who dribbled at the net and scored her fifth U-20 goal. She scored her first four during a tournament in La Manga, Spain last March.
Japan equalized in the 62nd minute off a turnover in midfield that led to a 2-on-1 scenario, and Asato Miyagawa finished past U.S. goalkeeper Laurel Ivory for the final score line.
 – U.S. Under-20 Women's National Team Match Report –
Match: U.S. Under-20 WNT vs. Japan Under-20 WNT
Date: May 24, 2017
Competition: International Friendly
Venue: Glenn "Mooch" Myernick Field; StubHub Center; Carson, Calif.
Weather: 70 degrees; sunny, windy
Scoring Summary:   1          2          F
USA                             1          1          2
JPN                             1          1          2
JPN – Fuka Kono                                                                   6th minute
USA – Adrienne Richardson (Abigail Kim)                              25
USA – Sophia Smith (Adrienne Richardson)                          49
JPN – Asato Miyagawa                                                          62
Lineups:
USA: 12-Laurel Ivory; 14-Isabel Rodriguez (3-Julie Doyle, 63), 4-Tierna Davidson, 21-Naomi Girma (18-Karina Rodriguez, 46), 2-Emily Fox (capt.) (15-Tara McKeown, 33), 19-Adrienne Richardson (10-Viviana Villacorta, 72), 6-Jaelin Howell, 17-Brianna Pinto (8-Savannah DeMelo, 46); 7-Sophia Smith (9-Belle Briede, 63), 16-Civana Kuhlmann (13-Kelsey Turnbow, 63), 11-Abigail Kim (20-Amirah Ali, 72)
Subs not used: 1-Brooke Heinsohn, 5-Sydney Dawson, 22-Amanda McGlynn, 22-Amanda Dennis, 23-Mireya Grey, 24-Taylor Kornieck
Head Coach: Jitka Klimkova
JPN: 21-Mai Fukkuta; 2-Riko Ushijima (7-Mizuka Sato, 59), 13-Hana Takahashi, 12-Reina Nagashima, 23-Miyu Tomit (4-Moeka Minami, 32), 19-Nagisa Sato, 17-Sari Suzuki (5-Asato Miyagawa, 42), 14-Honoka Yonei (22-Mayu Karahashi, 32); 16-Yurina Imai, 6-Mami Muraoka (8-Rina Mehara, 48), 11-Fuka Kono
Subs not used: 1-Aguri Suzuki, 3-Miyu Takahira, 9-Hinata Miyazawa,10-Fuka Nagano, 15-Nana Ono, 18-Hannah Stambough, 20-Niina Yamada
Head Coach: Futoshi Ikeda
Statistical Summary: USA / JPN
Shots: 6 / 10
Shots on Goal: 3 / 8
Saves: 6 / 1
Corner Kicks: 2 / 4
Fouls: 9 / 3
Offside: 1 / 6
Misconduct Summary:
None
Officials:
Referee: Jamie Padilla (USA)
Asst. Referee 1: Karen De Leon (USA)
Asst. Referee 2: Alexis Farmer (USA)