U.S. U-20 WNT shuts out England 2-0, sweeping two game set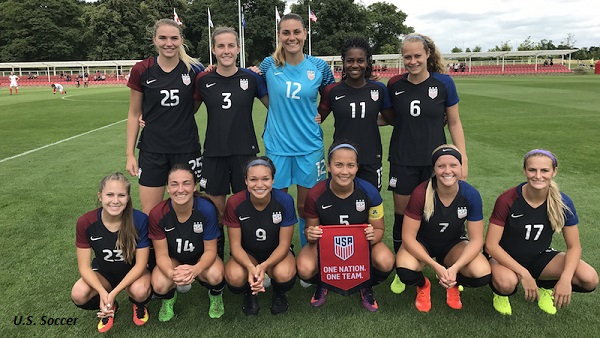 BURTON-UPON-TRENT, England (Via U.S. Soccer) – The U.S. Under-20 Women's National Team defeated its counterparts from England 2-0 in a friendly match at St. George's Park, England's National Team Training Center. The win gave the USA a two-game sweep of England after winning 2-1 on July 5.
Forward Civana Kuhlman scored her second goal in as many games just five minutes after midfielder Taylor Kornieck had gotten the USA on the board in the 35th.
Kuhlmann had a chance to open the scoring in the 33rd minute, but her penalty kick was saved by England goalkeeper Ellie Roebuck.
The match was the second of four games in Europe for the U.S. U-20s, which now travel to Germany for two games against the Germany U-20 WNT that will take place on July 10 and July 12 in Rheine.
+READ: U.S. U-20 WNT shuts out England 2-0, sweeping two game set
Forward Sophia Smith helped create the first goal as she took a shot from inside the six-yard box that took a deflection off an English defender and bounced right to the feet of Kornieck, who was positioned in the center of the penalty area. After taking a touch, she drove the ball with her left foot on the fly past the goalkeeper and into the left side of the net.
Kuhlmann doubled the lead with a nice solo effort as she drove down the right side and faked a shot with her right foot before bringing it to over her left. She then curled the ball around the goalkeeper into the right side of the goal from the corner of the 18-yard box.
It was Kuhlmann's fourth international goal in seven U-20 caps after also tallying against England, on a penalty kick, on July 5.
The U-20 WNT is midway through the first year of a two-year cycle with the focus on qualifying for the next U-20 Women's World Cup.
– U.S. Under-20 Women's National Team Match Report –
Match: United States U-20 WNT vs. England U-20 WNT
Date: July 7, 2017
Competition: International Friendly
Venue: St. Georges Park; Burton-upon-Trent, England
Weather: 76 degrees, cloudy
Scoring Summary:   1          2          F
USA                              2          0          2
ENG                             0          0          0
USA – Taylor Kornieck                                    35th minute
USA – Civana Kuhlmann                                 40
Lineups:
USA: 12-Brooke Heinsohn; 14-Karlie Paschall, 5-Samantha Hiatt (capt.) (4-Naomi Girma, 46), 17-Emily Fox (24-Sophia Serafin, 60), 3-Tierna Davidson (capt.), 6-Jaelin Howell (16-Zoe Morse, 60), 25-Taylor Kornieck (15-Samantha Coffey, 75), 11-Brianna Pinto, 9-Sophia Smith (18-Parker Goins, 73), 23-Ashley Sanchez (21-Abigail Kim, 46), 7-Civana Kuhlmann
Subs Not Used: 1-Laurel Ivory, 2-Tara McKeown, 10-Viviana Villacorta, 13-Isabel Rodriguez, 19-Kelsey Turnbow, 20-Arlie Jones, 22-Mandy McGlynn
Head Coach: Jitka Klimkova
ENG: 22-Ellie Roebuck (13-Sian Rogers, 70); 24-Megan Finnigan, 23-Grace Fick (capt.) (5-Anna Patten, 53), 8-Chloe Peplow (10-Georgia Stanway, 53), 20-Danielle Brown (2-Mayumi Pacheco, 53), 12-Zoe Cross, 3-Taylor Hinds, 4-Mollie Rouse, 17-Niamh Charles (21-Ella Toone, 83), 15-Alessia Russo, 19-Rianna Dean (18-Ellie Brazil, 53)
Subs Not Used: 1-Sandy Maclver; 6-Sam Tierney, 14-Georgia Allen, 7-Chloe Kelly, 9-Charlie Wellings, 11-Ronsola Babajide, 16-Lotte Wubben Moy
Head Coach: Mo Marley
Stats Summary: USA / ENG
Shots: 12 / 10
Shots on Goal: 5 / 6
Saves: 6 / 3
Corner Kicks: 4 / 4
Fouls: 7 / 7
Offside: 2 / 0
Misconduct Summary:
None