U.S. U-20 WNT roster announced for upcoming training camp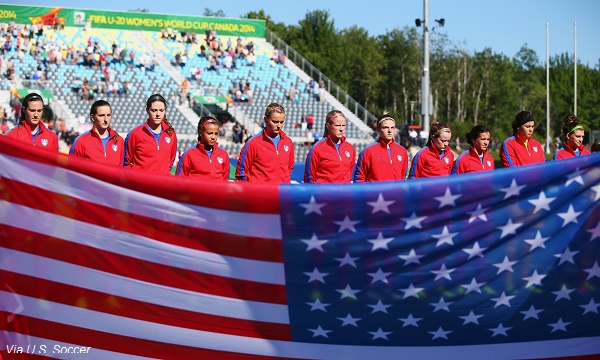 CHICAGO (Via U.S. Soccer) – After going undefeated in three matches at a friendly tournament in La Manga, Spain, in early March, the U.S. Under-20 Women's National Team will hold a domestic training camp from April 11-18 at the U.S. Soccer National Training Center in Carson, California. The event will be held in conjunction with a U-19 Women's National Team camp.
U.S. head coach Michelle French has called up 24 players – 12 college players and 12 currently still playing for their youth clubs – with 13 players born in 1996, seven in 1997 and three in 1998, including Jordan Harr and Mallory Pugh, both of who scored goals in La Manga. French will add one more player to the camp before it begins.
+Read: U.S. U-16 GNT heads to San Diego for camp with U-17 WNT
This age group is focusing on qualifying for the 2016 FIFA U-20 Women's World Cup, which has an age cut-off of players born on or after Jan. 1, 1996. FIFA recently announced that the tournament will be held in Papau New Guinea.
The U-20s will split its squad on Friday, April 17, to play matches against USC (4:45 p.m. PT) and UCLA (6:30 p.m. PT).
U.S. U-20 WNT Roster by Position:
GOALKEEPERS (3): Caroline Brockmeier (Florida State; Tallahassee, Fla.), Samantha Leshnak (Ohio Elite; Liberty Township, Ohio), Casey Murphy (Rutgers; Bridgewater, N.J.)
DEFENDERS (7): Schuyler DeBree (Duke; Fair Haven, N.J), Sabrina Flores (Notre Dame; Livingston, N.J.), Ally Haran (Wake Forest; Linden, Mich.), Natalie Jacobs (Slammers FC; Coto de Caza, Calif.), Courtney Petersen (Michigan Hawks; Canton, Mich.), Kaleigh Riehl (Penn State; Fairfax Station, Va.), Jessie Scarpa (UNC; Lakeland, Fla.)
MIDFIELDERS (9): Megan Buckingham (UNC; Novi, Mich.), Marley Canales (San Diego Surf; San Diego, Calif.), Katie Cousins (Tennessee; Forest, Va.), Savannah DeMelo (Beach FC; Bellflower, Calif.), Jordan Harr (Dallas Sting; Sachse, Texas), Mikaela Harvey (Texas A&M; Liberty Hill, Texas), Gabrielle Matulich (UCLA; Los Gatos, Claif.), Emily Ogle (Penn State; Strongsville, Ohio), Parker Roberts (KC Metro Dynamos; Leawood, Kan.)
FORWARDS (5): Alexa Ben (DePaul; Schaumburg, Ill.), Mallory Pugh (Real Colorado; Highlands Ranch, Colo.), Taylor Racioppi (PDA; Ocean Township, N.J.), Kelly Sweeney (Vardar; Bloomfield Hills, Mich.), Ally Watt (Pride Soccer Club; Colorado Springs, Colo.)