U.S. U-19 WNT opens 2015 programming with training camp in Carson, Calif.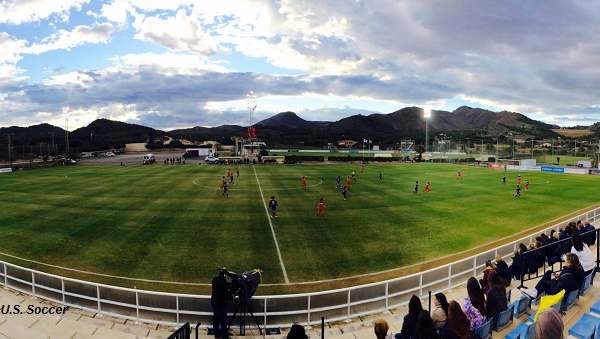 CHICAGO (Via U.S. Soccer) – The U.S. Under-19 Women's National Team will kick of its 2015 programming with a 24-player training camp at the U.S. Soccer National Training Center in Carson, California, running from April 11-18. The event will be held in conjunction with a U.S. Under-20 Women's National Team camp.
This will be U.S. Soccer's first Under-19 WNT training camp since 2004. The following year the program switched to Under-20s as FIFA's world championship for this age group moved from a U-19 competition that was staged in 2002 and 2004, to the U-20 Women's World Cup which has been held in 2006, 2008, 2010, 2012 and 2014.
The reinstitution of the U-19s is a part of an overall increase in programming for the USA's youth women's and girls' national teams which now has teams at the U-14, U-15, U-16, U-17, U-18, U-19, U-20 and U-23 levels.
+Read: U.S. U-20 WNT roster announced for upcoming training camp
All the players in this age group are eligible for the team that will attempt to qualify for the 2016 FIFA U-20 Women's World Cup. FIFA recently announced that the tournament would be held in Papua New Guinea. Sixteen of the players called up were born in 1997 and eight were born in 1996, which is the age cutoff year for the next U-20 Women's World Cup. Of the 24 players called up, 10 are in college and 14 are still playing youth club.
At this camp the U-19 Women's National Team is being guided by Women's Development Coach Jitka Klimkova. Her staff will include U.S. Soccer Youth Women's Technical Director April Heinrichs, as well as Women's Head Development Coach April Kater and Women's Development Coaches Mark Carr and Tricia Taliaferro.
U.S. U-19 WNT Roster by Position:
GOALKEEPERS (3): Ella Dederick (Washington State; Camarillo, Calif.), Lauren Rood (Crossfire Premier; Camas, Wash.), Brittany Wilson (Real Colorado; Littleton, Colo.)
DEFENDERS (7): Elysse Branton (William & Mary; Sterling, Va.), Alana Cook (Match Fit Academy; Far Hills, N.J.), Ellie Jean (Oakwood SC; Coventry, Conn.), Annia Mejia (California; Bloomington, Calif.), Jacey Pederson (PSV Union; Palo Alto, Calif.), Allyson Swaby (Boston College; West Hartford, Conn.), Michelle Xiao (Gretna Prima; Omaha, Neb.)
MIDFIELDERS (7): Dorian Bailey (Sporting Blue Valley; Mission, Kans.), Carlyn Baldwin (Tennessee; Oakton, Va.), Alyssa Baumbick (Internationals SC; Avon Lake, Ohio), Olivia Erlbeck (San Diego Surf; Rancho Santa Fe, Calif.), Alissa Gorzak (Eclipse Select; Naperville, Ill.), Kelcie Hedge (Washington; Post Falls, Idaho), Christina Kalum (Providence; Rockville Centre, N.Y.)
FORWARDS (7): Michaela Abam (West Virginia; Sugar Land, Texas), Jorian Baucom (LSU; Phoenix, Ariz.), Rachel Corboz (Georgetown; Green Brook, N.J.), Hana Kerner (Match Fit Academy; Upper Saddle River, N.J.), Madeline McCracken (Richmond United; Lynch Station, Va.), Taylor Otto (CASL; Apex, N.C.), Zoe Redei (Eclipse Select; Highland Park, Ill.)