U.S. U-20 MNT drawn into Group A for FIFA U-20 World Cup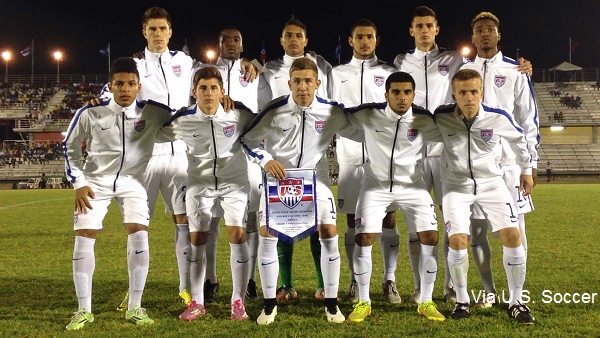 CHICAGO (Via U.S. Soccer) – The U.S .Under-20 Men's National Team was drawn into Group A with host New Zealand, Ukraine and Myanmar at the 2015 FIFA U-20 World Cup in New Zealand.
The USA opens group play against Myanmar on May 30 in Whangarei, followed by New Zealand on June 2 and Ukraine on June 5, both of which will be played in Auckland.
"It's always an exciting moment to know your group as the reality sets in for the World Cup stage," said U.S. U-20 Men's National Team head coach Tab Ramos. "New Zealand, Ukraine and Myanmar will certainly prove to be formidable opponents. At this phase, every country is a challenge, so we will need to be clicking on all cylinders tactically, physically and mentally. We made great strides during the qualifying tournament, and we're confident that with our deep pool of players that we can have a successful run at the World Cup."
The FIFA U-20 World Cup runs May 30-June 20 among seven sites in New Zealand: Auckland, Christchurch, Dunedin, Hamilton, New Plymouth, Wellington and Whangarei. The championship and third-place matches take place Saturday, June 20, at the 25,000-capacity QBE Stadium in Auckland.
A total of 24 countries participate in the tournament. The top two teams in each group, as well as the best four third-place teams, advance to the Round of 16 on June 10 and 11.
At the 2013 FIFA U-20 World Cup, the USA drew a difficult Group A that included group winner Spain, Ghana and eventual World Cup winner France, which the U.S. drew 1-1 on June 24. The U.S. went 0-2-1 and did not advance to the knockout round.
This is the 14th occasion that the USA has advanced to a FIFA World Youth Championship or World Cup at this age group. The USA's best performance was a fourth-place finish at the seventh FIFA World Youth Championship in 1989 that included wins against East Germany and Iraq and was capped off by a 2-0 loss to Brazil in the third-place match in front of 65,000 spectators at Riyadh, Saudi Arabia.
The U.S. earned third place at the 2015 CONCACAF U-20 Championship in January. The USA went 3-1-1 in the Group A stage for second behind Panama to earn the top seed in the playoff stage. The U-20 MNT defeated fourth-seeded El Salvador 2-0 on Jan. 24 to clinch its spot at the FIFA U-20 World Cup.
U.S. defender Shaquell Moore and midfielder Romain Gall earned CONCACAF U-20 Championship Best XI honors, and Gall shared the tournament's golden boot with Mexico's Hirving Lozano after scoring five goals in qualifying.
2015 FIFA U-20 World Cup
Group A: New Zealand (host), Ukraine, USA, Myanmar
Group B: Argentina, Panama, CAF 3, Austria
Group C: Qatar, Colombia, Portugal, CAF 4
Group D: Mexico, CAF 2, Uruguay, Serbia
Group E: CAF champion, Brazil, Korea DPR, Hungary
Group F: Germany, Fiji, Uzbekistan, Honduras
U.S. U-20 MNT's Group A Schedule:
May 30: USA vs. Myanmar; Northland Events Center, Whangarei
June 2: New Zealand vs. USA; QBE Stadium, Auckland
June 5: Ukraine vs. USA, QBE Stadium, Auckland