Bradley, Dempsey score as USMNT break skid with 2-0 win over Panama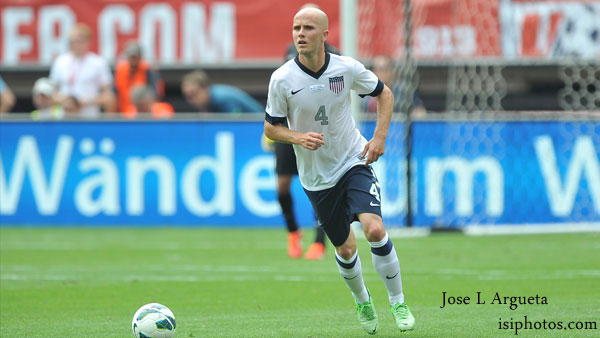 CARSON, California (Via U.S. Soccer) – Michael Bradley and Clint Dempsey scored first-half goals and the U.S. Men's National Team defeated Panama 2-0 in the USA's 2015 home opener in front of 20,271 spectators at StubHub Center.
Dempsey joins Landon Donovan as the only MNT players to score 40 international goals. Nick Rimando and Sean Johnson split time in net for the clean sheet.
It was the MNT's first victory of the year, as well as the first win since a 1-0 decision against the Czech Republic on Sept. 3, 2014, in Prague.
+Read: U.S. WNT falls to France in World Cup tune-up
Perry Kitchen and Matt Hedges made their MNT debuts as second-half subs, and 10 players have now earned their first caps under Jurgen Klinsmann in the seven matches following the 2014 FIFA World Cup.
Miguel Ibarra and Gyasi Zardes each earned their first starts. Zardes assisted the Dempsey goal.
The USA had other goal scoring chances throughout the match to add to its lead. The best second-half opportunity came in the 60th minute when Bradley's free kick found an unmarked Jermaine Jones in the middle of the box. Jones whipped a header toward the goal, but directly to Panama goalkeeper Jaime Penedo.
Five of the USA's six shots were placed on goal, while two of Panama's five shots were put on frame.
Goal Scoring Rundown:
USA – Michael Bradley, 27th minute: Just four minutes after a corner kick threatened the Panama net, Bradley delivered another one that found its way into the net. Bradley drove the corner from the left side toward the far right of the goal frame. Panama goalkeeper Jaime Penedo leapt to try and get a glove on it, but instead the ball went directly into the far right side of the frame, where Jozy Altidore also was close by. USA 1, PAN 0 (SEE GOAL)
USA – Clint Dempsey (Gyasi Zardes), 37th minute: Zardes did the setup work, intercepting Panama's Luis Ovalle in midfield and dribbling centrally before sending a well-placed through ball that split two Panama defenders. Dempsey timed his run perfectly, took a touch and a leap to elude Jaime Penedo and shot right-footed before Harold Cummings could converge. USA 2, PAN 0 (SEE GOAL) (FINAL)
Key Saves and Defensive Stops:
USA – Nick Rimando, 14th minute: Panama threatened with a cross from the right side to the left of the box, and without a USA defender in the vicinity of Panama midfielder Eric Davis, Rimando was forced to rush off of his line and block the shot.
PAN – Anibal Godoy, 23rd minute: Michael Bradley took the corner kick from the left side, a bending ball into the six-yard box that likely was headed for goal. Panama goalkeeper Jaime Penedo had a difficult time getting to the ball, but Godoy headed it out of harm's way at the near post.
Milestone Watch:
Michael Bradley scored his 13th-career goal. He is now tied for 13th on the all-time MNT goal scoring list with Marcelo Balboa and Hugo Perez. Next up on the list is 12th-place Carlos Bocanegra, who scored 14 goals from 2001-12.

Clint Dempsey joins Landon Donovan as the only U.S. MNT players to score 40 international goals. Donovan scored 57 times in 157 games and Dempsey has 40 goals in 112 matches.

Dempsey is now tied for sixth all-time in career appearances with Claudio Reyna, who earned 112 caps from 1994-2006.
Next on the Schedule:
The U.S. MNT faces Denmark at 3 p.m. ET on March 25 in Arhus.
Broadcast information: ESPN, WatchESPN, UniMas, Univision Deportes Network
Additional Notes:
Before the match, a moment of remembrance was held for former 1950 FIFA World Cup goalkeeper Frank Borghi, who passed away last week. The National Soccer Hall of Famer manned the net in the USA's famous 1-0 victory against England in Brazil.

The USA is now 12-1-2 all-time against Panama and has won the past six meetings.

Head coach Jurgen Klinsmann's lineup included Nick Rimando returning to goal and a defensive back four with Brek Shea on the left, DeAndre Yedlin on the right and Jermaine Jones and Matt Besler at center back. Jones earned his 50th-career cap.

In the midfield of the USA's 4-2-3-1, Mix Diskerud and Michael Bradley played in the holding role, with Miguel Ibarra, captain Clint Dempsey and Gyasi Zardes above them, left to right. Ibarra and Zardes each earned their first MNT starts in just their second appearances. It was a familiar setting for Zardes who plies his professional trade with Major League Soccer's LA Galaxy at StubHub Center.

Striker Jozy Altidore played up front.

Goalkeeper Sean Johnson replaced Rimando to open the second half. It was Johnson's first appearance since a 1-0 shutout victory against Costa Rica on July 16, 2013, at the CONCACAF Gold Cup.

Also to open the second half, Chris Wondolowski entered for Altidore who was held out for the remainder of the game for precautionary reasons (right hamstring soreness).

Two players made their MNT debuts in the 72nd minute. Perry Kitchen replaced Diskerud and Matt Hedges replaced Yedlin, who had to leave the match with a right knee sprain in the 68th minute

Lee Nguyen took the place of Ibarra in the 79th minute.

Luis Gil joined the action in the 81st minute for Dempsey.
– U.S. Men's National Team Match Report –
Match: U.S. Men's National Team vs. Panama
Date: Feb. 8, 2015
Competition: International Friendly
Venue: StubHub Center; Carson, California
Kickoff: 1 p.m. PT
Attendance: 20,271
Weather: 72 degrees, partly cloudy
Scoring Summary: 1 2 F
USA                        2 0 2
PAN                        0 0 0
USA – Michael Bradley                         27th minute
USA – Clint Dempsey (Gyasi Zardes)     37
Lineups:
USA: 1-Nick Rimando (12-Sean Johnson, 46); 2-DeAndre Yedlin (3-Matt Hedges, 72), 13-Jermaine Jones, 5-Matt Besler, 11-Brek Shea; 4-Michael Bradley, 10-Mix Diskerud (15-Perry Kitchen, 72); 20-Gyasi Zardes, 8-Clint Dempsey (capt.) (14-Luis Gil, 81), 19-Miguel Ibarra (7-Lee Nguyen, 79); 17-Jozy Altidore (18-Chris Wondolowski, 46)
Subs Not Used : 6-Wil Trapp, 16-Shane O'Neill, 21-Dillon Serna
Head coach: Jurgen Klinsmann
PAN: 1-Jaime Penedo (capt.); 2-Leonel Parris, 5-Fidel Escobar (23-Chin Hormechea, 46), 3-Harold Cummings, 17-Luis Ovalle (11-Hécgar Murillo, 46); 8-Marcos Sánchez (16-Yairo Glaize Yau, 46), 13-Alfredo Stephens (22-Ismael Díaz, 55), 20-Aníbal Godoy, 15-Éric Davis; 7-Blas Pérez (21-Ricardo Buitrago, 56), 9-Rolando Blackburn (4-Luis Pereira, 63)
Subs Not Used: 6-Michael Amir Murillo, 10-Gabriel Torres, 12-José Calderón, 19-Jhamal Rodríguez
Head Coach: Hernan Dario Gomez
Stats Summary: USA / PAN
Shots: 6 / 5
Shots on Goal: 5 / 2
Saves: 2 / 3
Corner Kicks: 3 / 5
Fouls: 23 / 15
Offside: 0 / 3
Misconduct Summary:
USA – Michael Bradley (caution)       38th minute
PAN – Luis Ovalle (caution)              40
PAN – Anibal Godoy (caution)           59
USA – Chris Wondolowski (caution)   65
Officials:
Referee: Henry Bejarano (CRC)
Assistant Referee 1: Warner Castro (CRC)
Assistant Referee 2: Christian Ramirez (HON)
Fourth Official: Oscar Moncada (HON)
Man of the Match: Michael Bradley