U.S. U-17 Men's National Team roster named for Nike Friendlies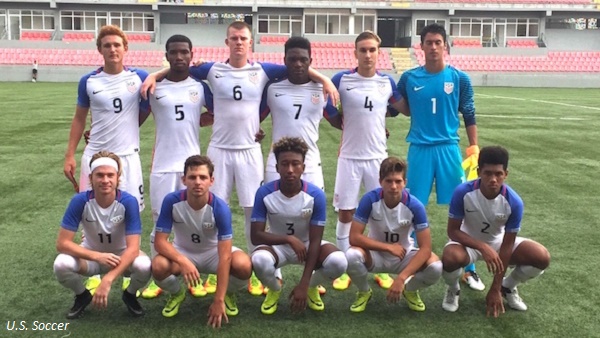 CHICAGO (Via U.S. Soccer) – U.S. Under-17 Men's National Team head coach John Hackworth named a 20-player roster that will compete at the 13th annual Nike International Friendlies in Lakewood Ranch, Fla. from Nov. 30-Dec. 4.
Twelve players return to the USA's Nike Friendlies roster after also participating in the 2015 edition of the tournament including Andrew Carleton and Josh Sargent, who both scored in last year's competition. Players who also competed in the 2015 Friendlies when the U.S. went 1-2-0 with a 2-1 win vs. tournament runner-up Netherlands, are: Justin Garces, Jaylin Lindsey, James Sands, Arturo Vasquez, George Acosta, Chris Durkin, Blaine Ferri, Rayshaun McGann, Ayo Akinola and Timothy Weah.
Of the 20 players on the roster, only three: Carlos Dos Santos (Benfica), Dest Sergino (Ajax) and Tim Weah (Paris Saint-Germain), do not play for U.S. Soccer Development Academy clubs.
+Read: U.S. U-18, U-19 Men's National Teams conclude Florida camp
The tournament, which will return to Premier Sports Complex and run concurrently with the U.S. Soccer Development Academy Winter Showcase, features two games on each of three match days. Beginning on Nov. 30, the U.S. faces Portugal (7 p.m. ET), then plays the Turkey on Dec. 2 (7 p.m. ET) and finishes the competition against Brazil on Dec. 4 (5 p.m. ET). All of the USA's games will serve as the feature match of the evening, following the opening international match at 3 p.m. ET.
All Nike Friendlies and six select Development Academy matches will be broadcast live on ussoccer.com U.S. Soccer's Facebook page and YouTube channel.
U.S. U-17 Men's National Team Roster by Position
GOALKEEPERS (2): Carlos Joaquim Dos Santos (S.L. Benfica; Philadelphia, Penn.), Justin Garces (Kendall SC; Miami, Fla.)
DEFENDERS (7): Carlos Asensio (Atlanta United FC; Roswell, Ga.), Sergino Dest (Ajax; Almere-stad, Netherlands), Christopher Gloster (New York Red Bulls; Montclair, N.J.), Jaylin Lindsey (Sporting Kansas City; Charlotte, N.C.), Carlos Ritaccio (BW Gottschee; Westbury, N.Y.), James Sands (New York City FC; Rye, N.Y.), Arturo Vasquez (FC Golden State; Mira Loma, Calif.)
MIDFIELDERS (6): George Acosta (Weston FC; Hollywood, Fla.), Isaac Angking (New England Revolution; Providence, R.I.), Christopher Durkin (D.C. United; Glen Allen, Va.), Blaine Ferri (Solar Chelsea SC; Southlake, Tex.), Rayshaun McGann (Philadelphia Union; Royal Palm Beach, Fla.), Indiana Vassilev (IMG Academy; Savannah, Ga.)
FORWARDS (5): Ayomide Akinola (Toronto FC; Brampton, Ont.), Andrew Carleton (Atlanta United FC; Powder Springs, Ga.), Bryan Reynolds Jr. (FC Dallas; Little Elm, Tex.), Joshua Sargent (Scott Gallagher Missouri; O'Fallen, Mo.) Timothy Weah (Paris Saint-Germain F.C.; Rosedale, N.Y.)
2016 Nike International Friendlies Schedule
Wednesday, Nov. 30
Brazil vs. Turkey – 3:30 p.m. ET
USA vs. Portugal – 7 p.m. ET
Friday, Dec. 2
Portugal vs. Brazil – 3:30 p.m. ET
USA vs. Turkey – 7 p.m. ET
Sunday, Dec. 4
Turkey vs. Portugal – 1:30 p.m. ET
USA vs. Brazil – 5 p.m. ET
Brazil has been ever-present at the Nike Friendlies since 2006, last winning the competition in 2014. Portugal last competed in the Nike Friendlies in 2013, while Turkey returns to the competition for the first time since 2012, the last year the Nike Friendlies featured all the same contestants as this year's tournament.
The Nike Friendlies were established in 2001 by U.S. Soccer to provide top-level competition for the U.S. U-17 MNT and is one of the premier annual events on the youth soccer calendar.