U.S. U-20 Men's National Team downs Eintracht Frankfurt 3-0 at Dallas Cup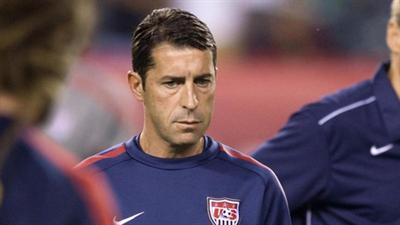 DALLAS, Texas – Forward Zach Pfeffer sparked the U.S. U-20 Men's National Team to its second win in as many days at the 35th Dallas Cup by scoring one goal and assisting another in the American's 3-0 win against German side Eintracht Frankfurt on Monday at Richland College.
The U-20 MNT (2-0-0, 6pts) heads Bracket C of the Gordon Jago Super Group, followed by Club Athletico River Plate (1-1-0, 3pts), UANL Tigres (0-1-1, 1pt) and Eintrach Frankfurt (0-1-1, 1pt). The three Bracket winners advance to the tournament semi-finals and will be joined by a second-placed wild card team with the most points after round robin play. In the event of a tie, the team with the greater amount of goals scored advances.
Pfeffer put the U-20 MNT in the driver's seat by setting up and scoring a goal in a five-minute window that overlapped the halftime break. He first set up the opening goal for Benji Lopez by dribbling into the Frankfurt box and cutting a pass back for his fellow forward to lash home in the 43rd minute.
Lopez was then integral to the build-up of Pfeffer's strike in the 48th minute, crossing the ball in for Lynden Gooch to put a shot on goal that was blocked by Frankfurt goalkeeper Julian Bibleka, and Pfeffer was on site to stab the rebound into the net for a 2-0 U.S. lead.
The U-20 MNT grabbed a final late tally in the 87th minute through substitute Romain Gall, who headed in a Paul Arriola cross after he picked the pocket of a Frankfurt defender deep in the German club's defensive half.
The U-20 MNT finishes Bracket C play against Mexico's UANL Tigres on Wednesday. Kickoff is scheduled for 7:30 p.m. CT at the Cotton Bowl.
– U.S. Under-20 Men's National Team Match Report –
Match: U.S. U-20 Men's National Team vs. Eintracht Frankfurt
Date: April 14, 2014
Competition: Dallas Cup
Venue: Richland College Field #10
Kickoff: 4:00 p.m. CT
Weather: 60 degrees, windy
Scoring Summary: 1 2 F
USA 1 2 3
EIN 0 0 0
USA – Benji Lopez (Zach Pfeffer) 43rd minute
USA – Zach Pfeffer 48
USA – Romain Gall (Paul Arriola) 87
Lineups:
USA: 12-Santiago Castano; 2-Shaquell Moore (6-Kellyn Acosta, 46), 13-Erik Palmer Brown, 18-Trevor Haberkorn, 15-John Requejo Jr., 16-Lynden Gooch (11-Rubio Rubin, 56), 17-Luis Felipe (23-Jordan Allen, 76), 14-Amando Moreno, (10-Romain Gall), 7-Paul Arriola, 20-Benji Lopez, 24-Zach Pfeffer
Subs Not Used: 1-Zack Steffen, 5-Sullaiman Dainkeh, 9-Ben Spencer
Head Coach: Tab Ramos
EIN: 22-Julian Bibleka; 2-Marco Meyerhoefer, 5-Ozgur Ozdemir, 13-Moussa Ouattara, 3-Niclas Mohr, 6-Hermann Dorner, 7-Eray Eren, 8-Illia Azouaghi, 10-Joel Gerezgiher, 18-Raffael Grigorian (20-Clay Verkaj, 17), 11-Marvin Helm
Subs Not Used: 1-Yannick Zummack, 4-Viktor Talevski, 9-Noah Michel, 12-Yannick Wolf, 14-Miklas Kunzel, 15-David Roesler, 16-Manuel Konate Lueken, 17-Loris Weiss, 19-Fabian Lifka, 21-Dominik Reining
Head Coach: Daniyel Cimen
Stats Summary: USA / EIN
Shots: 12 / 3
Shots on Goal: 6 / 2
Saves: 2 / 3
Corner Kicks: 2 / 1
Fouls: 10 / 14
Offside: 2 / 4
Misconduct Summary:
EIN – Clay Verkaj Caution 57th minute
USA – Benji Lopez Caution 77
USA – Amando Moreno Caution 70
EIN – Julian Bibleka Caution 84
USA – Erik Palmer-Brown Caution 90+4
Officials:
n/a