U.S. U-19 Women's National Team falls 2-1 to Czech Republic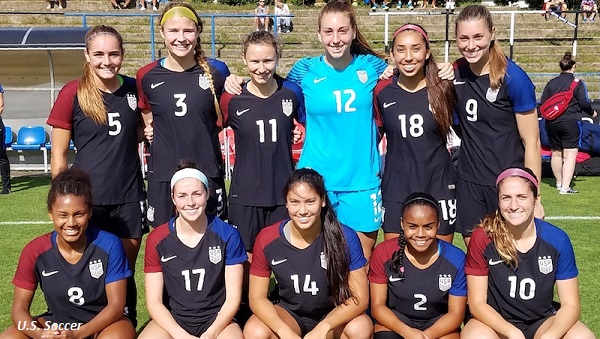 PRAGUE, Czech Republic (Via U.S. Soccer) – The U.S. Under-19 Women's National Team lost 2-1 to the Czech Republic U-19 WNT in the first of two matches during a training camp in Prague.
The USA will play the full Czech Republic Women's National Team on June 13. The U.S. U-19s were going to play the senior team on June 10 and the U-19s on June 13, but the matches were flip-flopped after the USA arrived in Prague.
All the goals came in the first half, the first off a first-time volley by Andrea Staskova from a corner kick in just the 8th minute. The Czechs doubled the score in the 38th minute through Nela Krejcirova before the USA pulled a goal back two minutes later.
+READ: U.S. U-23 Women's National Team plays England to 0-0 draw
It was an own goal as Emina Ekic put pressure on a back pass to the goalkeeper and she deflected it into her own net. The USA was playing against a team of players who for the most part play in the Czech Republic women's semi-professional league.
– U.S. Under-19 Women's National Team Match Report –
Match: U.S. Under-19 WNT vs. Czech Republic U-19 WNT
Date: June 10, 2017
Competition: International Friendly
Venue: Stadium Admira; Prague, Czech Republic
Weather: 65 degrees; sunny
Scoring Summary:   1          2          F
USA                             1          0          1
CZE                             2          0          2
CZE – Andrea Staskova (Kamila Dubcova)               8th minute
CZE – Nela Krejcirova                                                38
USA – Own Goal (Gabriela Lipková)                         40
Lineups:
USA: 12-Brooke Bollinger; 3-Sophia Serafin (15-Karlie Paschall, 46), 5-Sydney Dawson (capt.), 18-Karina Rodriguez (20-Viviana Villacorta, 46), 2-Kiara Pickett, 8-Adrienne Richardson (6-Natalie Winters, 64), 10-Savannah DeMelo (19-Kerry Abello, 46) 17-Sydney Zandi (24-Taylor Kornieck, 64), 11-Emina Ekic (7-Abigail Kim, 61), 9-Jordan Brewster, 14-Cecilia Gee (13-Isabella Briede, 61)
Subs not used: 1-Amanda McGlynn, 21-Julie Doyle
Head Coach: Keri Sarver
CZE: 1-Gabriela Lipkova (16-Katerina Zuchová, 46); 2-Nela Krejcirova (15-Kristyna Ciperova, 46, 4-Natalie Valaskova, 6-Gabriela Slajsova (11-Katerina Vojtková, 46), 7-Andrea Staskova, 10-Kamila Dubcova (capt.) (9-Sárka Kristofová, 46), 12-Marie Bohatova (8-Lucie Dudová, 46), 13-Michaela Dubcova, 14-Tereza Hrtankova (5-Natálie Kodadová, 46), 17-Natalie Kavalová, 18-Kristyna Siváková (3-Tereza Kejcová, 46)
Subs not used: None
Head Coach: Petr Vlachovsky
Statistical Summary: USA / CZE
Shots: 10 / 15
Shots on Goal: 4 / 9
Saves: 8 / 4
Corner Kicks: 3 / 5
Fouls: 6 / 6
Offside: 1 / 1
Misconduct Summary:
CZE – Michaela Dubcova                                           87th minute
Officials:
Referee: Eliska Královec-Kramlová (CZE)
Asst. Referee 1: Dagmar Záková (CZE)
Asst. Referee 2: Nikola Safránková (CZE)