U.S. U-19, U-20 Women's National Teams set for training camps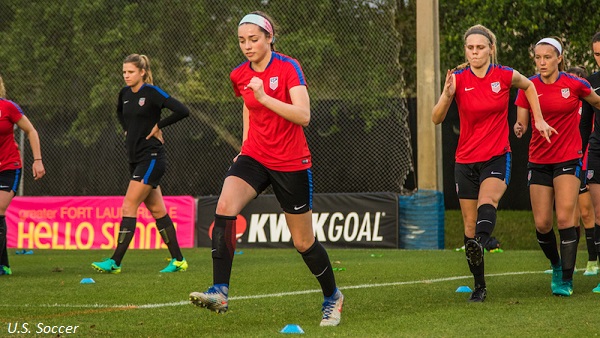 CHICAGO (Via U.S. Soccer) – The U.S. Under-20 Women's National Team and the U.S. Under-19 Women's National Team will conduct overlapping training camps at the U.S. Soccer National Team Training Center in Carson, California, with both teams playing the Japan U-20 WNT during their events.
The U-19 WNT will kick it off with a camp running from May 13-20 while the U.S. U-20 WNT will be in camp from May 18-26. The U-19s will face the Japan U-20 WNT once, on Friday, May 19 (5 p.m. PT), while the U.S. U-20s will play Japan twice, on Monday, May 22 (5 p.m. PT) and Wednesday, May 24 (5 p.m. PT). All the matches will be on Field #1 – Glenn "Mooch" Myernick Field – at the U.S. Soccer NTC at StubHub Center in Carson.
Twenty-six players – a mixture of 11 collegiate players with the rest youth club players – have been called into the U-20 camp, which includes midfielder Jaelin Howell and forward Sophia Smith, who both spent time training with the full U.S. Women's National Team in early April. The roster also includes Brianna Pinto, who was on the U.S. WNT roster for the 2017 SheBelieves Cup but did not see action. All three played for the USA at the 2016 FIFA U-17 Women's World Cup in Jordan. Five additional players on the roster also played in Jordan: goalkeeper Laurel Ivory, forward Civana Kuhlmann, forward Adrienne Richardson and defenders Isabel Rodriguez and Karina Rodriguez.
+READ: Sky Blue FC, New York SC partner to join U.S. Soccer Girls' DA
Three players were members of the 2016 FIFA U-20 Women's World Cup in Papua New Guinea in goalkeeper Brooke Heinsohn, midfielder Savannah DeMelo and defender Emily Fox.
The age cut-off for the next U-20 Women's World Cup in France is players born on or after January 1, 1998. This U-20 roster features 13 players born in 1998, 11 born in 1999 and two (Pinto and Smith) born in 2000.
Last March, the U-20 WNT played three international matches in La Manga, Spain, defeating Norway 8-2, falling to Germany 2-1 and defeating France 2-0. Sixteen players from that trip will come into this camp, including scorers of 10 of the 11 goals in that tournament. Smith scored four goals over the three games while Kelsey Turnbow scored against Norway and France. Abigail Kim scored twice against Norway.
The U-19 WNT roster will feature 24 players, four of whom were part of the USA's 2016 FIFA U-17 Women's World Cup Team: goalkeeper Hillary Beall, defenders Kiara Pickett and Naomi Girma, and midfielder Sydney Zandi. The roster is made up of 11 players born in 1998, 12 in 1999 and one in 2000 (Girma). The U-19 roster has nine college players with the rest still playing youth club.
In a rare double, defender Samantha Hiatt will attend both camps.
+READ: USA falls in PKs to Mexico in CONCACAF U-17 Championship final
U.S. U-20 WNT Roster by Position

GOALKEEPERS (4): Amanda Dennis (Penn State; Palmetto, Fla.), Brooke Heinsohn (Duke; Norfolk, Mass.), Laurel Ivory (West Florida Flames; Surfside, Fla.), Amanda McGlynn (Virginia Tech; Jacksonville, Fla.)
DEFENDERS (8): Sydney Dawson (Internationals SC; Akron, Ohio), Julie Doyle (San Diego Surf; Laguna Niguel, Calif.), Emily Fox (UNC; Ashburn, Va.), Samantha Hiatt (Stanford; Newcastle, Wash.), Tara McKeown (San Diego Surf; Newbury Park, Calif.), Isabel Rodriguez (Michigan Hawks; Canton, Mich.), Karina Rodriguez (UCLA; Torrance, Calif.), Sophia Serafin (West Coast FC; Glendora, Calif.)
MIDFIELDERS (6): Tierna Davidson (Stanford; Menlo Park, Calif.), Savannah DeMelo (USC; Bellflower, Calif.), Jaelin Howell (Real Colorado; Windsor, Colo.), Taylor Korniek (Colorado; Henderson, Nev.), Brianna Pinto (CASL; Durham, N.C.), Viviana Villacorta (Beach FC; Lawndale, Calif.)
FORWARDS (8): Amirah Ali (PDA; Voorhees, N.J.), Belle Briede (Tophat SC; Alpharetta, Ga.), Mireya Grey (Crossfire SC; Seattle, Wash.), Abigail Kim (California; Vashon, Wash.), Civana Kuhlmann (Colorado Rush; Littleton, Colo.), Adrienne Richardson (Minnesota Thunder Academy; Oakdale, Minn.), Sophia Smith (Real Colorado; Windsor, Colo.), Kelsey Turnbow (Santa Clara; Scottsdale, Ariz.)
U.S. U-19 WNT Roster by Position

GOALKEEPERS (3): Hillary Beall (So Cal Blues; Laguna Beach, Calif.), Brooke Bollinger (Orlando City; Melbourne, Fla.), Zoe Clevely (Irvine Strikers; Huntington Beach, Calif.)
DEFENDERS (8): Kerry Abello (Eclipse Select; Batavia, Ill.), Malia Berkely (Florida State; Liberty Township, Ohio), Naomi Girma (Central Valley Crossfire; San Jose, Calif.), Samantha Hiatt (Stanford; Newcastle, Wash.), Tavia Leachman (Utah; Long Beach, Calif.), Julie Mackin (Clemson; Castle Rock, Colo.), Kaiya McCullough (UCLA; Mission Viejo, Calif.), Kiara Pickett (Eagles; Santa Barbara, Calif.)
MIDFIELDERS (6): Samantha Coffey (Match Fit Academy; Sleepy Hollow, N.Y.), Kristina Fisher (Miami; Jupiter, Fla.), Zoe Morse (Virginia; East Lansing, Mich.), Natalie Winters (Iowa; Plymouth, Mich.), Taryn Torres (FC Dallas; Frisco, Texas), Sydney Zandi (Penn Fusion; West Chester, Penn.)
FORWARDS (7): Theresa Boade (Colorado Rush; Castle Rock, Colo.), Jordan Brewster (Internationals SC; North Canton, Ohio), Emina Ekic (Javanon FC; Fairdale, Ky.), Wrenne French (Tennessee SC; Franklin, Tenn.), Cecilia Gee (Stanford; Orinda, Calif.), Tziarra King (N.C. State; Sicklerville, N.J.), Cameron Murtha (Bethesda SC; Kensington, Md.)