U.S. U-19 MNT, Xolos exchange wins in training camp friendlies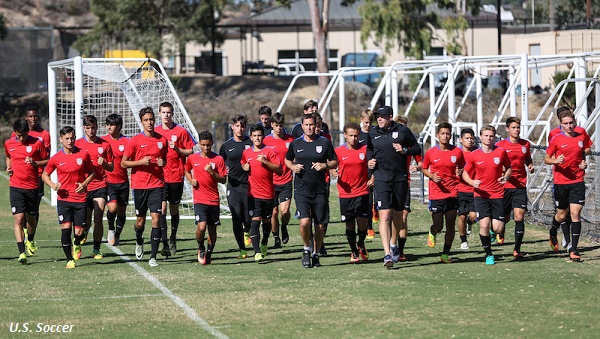 CHULA VISTA (Via U.S. Soccer) – The U.S. U-19 Men's National Team wrapped up its first training camp of the year with an Oct. 7 double-header against Mexican side Club Tijuana, registering a 1-0 loss and a 4-0 win in Chula Vista, Calif.
The first match took place at 2 p.m. PT at the Olympic Training Center. The first half was a stalemate between the two teams, and Xolos was able to break through in the second frame with a 56th minute penalty kick. The U.S. was able to shut down Xolos attack but was unable to find the back of the net, resulting in a 1-0 final score in favor of Xolos.
+Read: Saint Louis FC Academy tops U.S. U-17 MNT in PKs after 1-1 draw
The U.S. U-19's came out blazing for the second match just two hours later, the lineup featuring all players who didn't get a chance to participate in the first game. Alex Rose opened up the scoresheet for the USA with a 32nd minute goal assisted by John Nelson. Milo Barton, Danny Griffin, and Logan Panchot each added to the score in the second half, netting goals in the 53rd, 60th, and 70th minute, respectively. The U-19's capped a strong 4-0 performance with a shut out for goalkeeper Brady Scott.
Up next for the U-19 MNT is a joint training camp with the U.S. U-18 MNT, set to take place from Nov. 5-11 in Sunrise, Fla.
+Read: U.S. U-20 MNT falls 2-0 to England at Four Nations Tournament
-U.S. U-19 Men's National Team Match Report-
Match: U.S. U-19 Men's National Team vs. Club Tijuana Xolos
Date: Oct. 7, 2016
Competition: Friendly
Venue: Olympic Training Center, Chula Vista, Calif.
Kickoff: 2 p.m. PT
Weather: 87 degrees; Sunny, no clouds
Scoring Summary:         1          2          F
USA                              0          0          0
XOL                              0          1          1
XOL – penalty kick                                  56th minute
Lineups:
USA: 1-Kevin Silva (12-Matias Reynares, 41); 5-Edwin Figueroa, 15-Brandon Terwege, 2-Alexis Velela, 3-Marco Farfan (13-Matias Barraza, 62); 8-Habib Barry, 6-Djordje Mihailovic, 11-David Loera; 7-Alexis Dionicio, 14-Devin Vega, 10-Ethan Zubak
Head Coach: Brad Friedel

Xolos roster not available
-U.S. U-19 Men's National Team Match Report-
Match: U.S. U-19 Men's National Team vs. Club Tijuana Xolos
Date: Oct. 7, 2016
Competition: Friendly
Venue: Olympic Training Center, Chula Vista, Calif.
Kickoff: 4 p.m. PT
Weather: 85 degrees; Sunny, no clouds
Scoring Summary:         1          2          F
USA                              1          3          4
XOL                              0          0          0
USA – Alex Rose (John Nelson)                 32nd minute
USA – Milo Barton (Jacob Montes)             53
USA – Danny Griffin (Felipe Hernandez)      60
USA – Logan Panchot (Alex Rose)             70
Lineups:
USA:  22-Brady Scott; 19-Sam Golan, 17-Sean O'Hearn, 21-Logan Panchot, 4-John Nelson; 16-Grant Robinson, 20-Danny Griffin, 23-Jacob Montes; 9-Felipe Hernandez, 13-Matias Barraza (18-Milo Barton, 23), 24-Alex Rose
Head Coach: Brad Friedel