U.S. U-19 Men's National Team defeats Spain in COTIF Tournament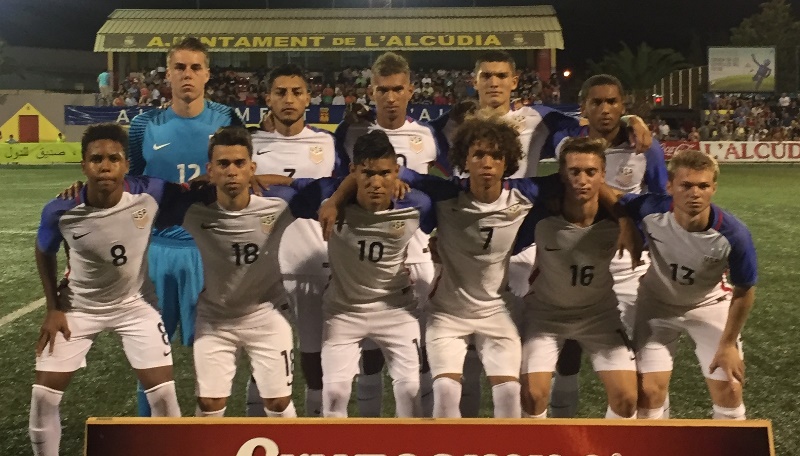 VALENCIA, Spain (Via U.S. Soccer) – The U.S. Under-19 Men's National Team defeated Spain 1-0 in its third match of the 2016 COTIF Tournament.
The USA held its own against the traditional youth soccer power house and took the lead in the 51st minute on a Brandon Vazquez goal. The goal was enough to give the USA the victory and keep the team alive in the race for a place in the semifinals.
The USA will play against Bahrain in its last group stage match on Monday, Aug. 1 at 3:15 p.m. ET (CBS Sports Network). With a win, the USA will place either first or second in Group A, earning the team a spot in the semifinals. The USA could advance with a tie against Bahrain only if Venezuela defeats Spain.
+Read: U.S. U-19 MNT earns 1-0 victory over Mauritania in COTIF Tournament
– U.S. Under-19 Men's National Team Match Report –
Match: U.S. Under-19 Men's National Team vs. Spain
Date: July 29, 2016
Competition: 2016 COTIF Tournament
Venue: Estadio Municipal Els Arcs De L'Alcudia
Kickoff: 10:30 p.m. (local)
Weather: 75 degrees
Scoring Summary:       1          2          F
USA                                 0          1          1
ESP                                  0          0          0
USA – Brandon Vazquez                        51st minute 
Lineups:
USA: 12-Justin Vom Steeg; 7-Marlon Fossey, 15-Auston Trusty, 3-Hugo Arellano, 13-John Nelson; 8-Weston McKennie (capt.), 18-Christian Enriquez (21-Nelson Hunsinger, 63), 16-Djordje Mihailovic; 20-Kevin Lankford (9-Isaiah Young, 41), 11-Brandon Vazquez, 10-Pierre Da Silva (23-Colby Agu, 80)
Subs not used: 1-Kevin Silva, 2-Eddie Munjoma, 5-Hector Montalvo, 6-Amir Bashti, 14-Devin Vega, 17-Abdulkadir Haji, 19-Donovan Pines, 22-Brady Scott
Head Coach: Brad Friedel
ESP: 1-Alvaro Fernandez Llorente; 2-Aitor Bunuel Redrado (capt.), 4-Alex Martin Valeron, 5-Jose Castano Munoz, 3-Marc Cucurella Saseta (15-Francisco Garcia Torres, 56); 14-Jose Luis Garcia, 18-Pedro Diaz Fanjul (6-Genaro Rodriguez Serrano, 49), 19-Peru Nolaskoain Esnal (10-Oscar Rodriguez, 49); 11-Javier Puado Diaz (7-Ruben Fernandez Serrano, 56), 16-Joel Rodriguez Satorres (9-Francisco Navarro Aliaga, 49), 17-Jordan Gutierrez Nsang
Subs not used: 8-Antonio Islam Otegui, 12-David Fondarella, 13-Daniel Martin Fernandez, 20-Alejandro Sanchez Antequera, 28-Gonzalo Avila Gordon, 39-Juan Brandariz Movilla
Head Coach: Luis De La Fuente 
Stats Summary: USA / ESP
Shots: 5 / 10
Shots on Goal: 2 / 8
Saves: 8 / 1
Corner Kicks: 3 / 9
Fouls: 13 / 12
Offside: 2 / 4
Misconduct Summary:
USA – Brandon Vazquez (caution)                      18th minute
ESP – Jordan Gutierrez Nsang (caution)            18
USA – Kevin Lankford (caution)                          32
USA – Hugo Arellano (caution)                           51
ESP – Marc Cucurella Saseta (caution)              59
ESP – Francisco Navarro Aliaga (caution)         68
USA – Isaiah Young (caution)                              71
USA – Marlon Fossey (caution)                          74
* Note: Game was played with two 40 minute halves.