U.S. Paralympic National Team roster named for 2016 Paralympics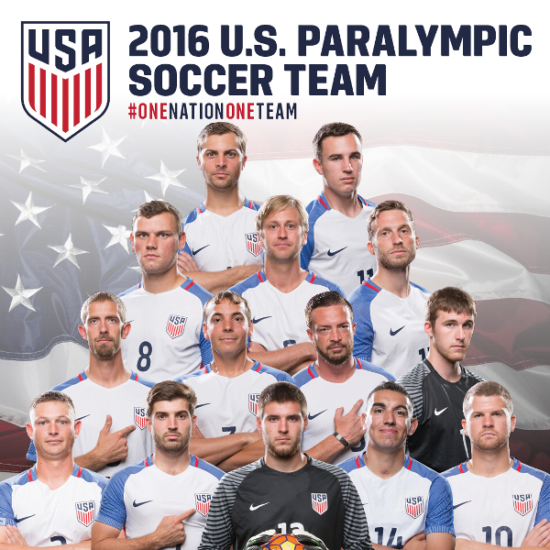 CHICAGO (Via U.S. Soccer) – U.S. Paralympic National Team head coach Stuart Sharp named a 14-player roster for the upcoming 2016 Paralympic Games, set to take place Sept. 7-18 in Brazil.
"We have set some targets for ourselves to achieve in Brazil," said Sharp. "It's not going to be easy competing against the top seven countries in the world. The one thing for sure is that we will not be going to the Brazil to accept anything less than fully committed performances – as a tight unit we have the belief that our team possesses the technical ability and collective desire to achieve the extraordinary."
Five players are returning to the Paralympic Games after competing in the 2012 games in London, including goalkeeper Alex Hendricks, defenders Bryce Boarman and Gavin Sibayan and midfielders Adam Ballou and Tyler Bennett.
The average age of the 14-player roster is 25 years old. Sibayan is the oldest at 35 and has been with the team since 2011, while 18-year old Mason Abbiate is the youngest player on the roster and one of nine first-time Paralympic Games players. The group includes three former and one current member of the U.S. military.
All of the players have made a significant commitment to realize their Olympic Dream.
"Our fortified mentality, in part, comes from the commitment each player has shown this year to make the national squad, with players putting their lives on hold in the buildup to the Games," Sharp said. "This includes some players deferring semesters at university, turning down career opportunities and in some cases leaving their jobs to ensure they can prepare themselves fully with the team.
The U.S. will kick off Group A play in this summer's Rio 2016 Paralympic Games on Sept. 8 against the fourth-ranked Netherlands, followed by matches against second-ranked Russia on Sept. 10 and sixth-ranked Argentina on Sept. 12, whom the PNT came back to defeat 4-3 on May 6 in Salou, Spain. Group B contains Brazil, Great Britain, Ireland and Ukraine. The top two teams from each group will advance to the Semifinals on Sept. 14, with the medal matches set take place on Sept. 16.
Paralympic soccer is played seven-a-side on a smaller field and with smaller goals than non-disabled soccer. Each team plays with seven men using the International Federation of Associated Football (FIFA) rules, which have been slightly modified to accommodate the disabilities of the athletes.
To be eligible for Paralympic soccer, athletes must be ambulatory and have a diagnosis of non-progressive brain damage that is associated with motor control dysfunction such as Cerebral Palsy, traumatic brain injury or stroke. More information about eligibility and the classification of athletes is available at the IFCPF website.
Roster by Position
GOALKEEPERS (2): Sean Boyle (Minneapolis, Minn.), Alex Hendricks (Columbus, Ohio)
DEFENDERS (3): Bryce Boarman (Colorado Springs, Colo.), David Garza (San Diego, Calif.), Gavin Sibayan (Denver, Colo.)
MIDFIELDERS (6): Mason Abbiate (San Diego, Calif.), Tyler Bennett (Akron, Ohio), Steven Bohlemann (Weston, Fla.), Gregory Brigman (Harrisburg, N.C), Josh Brunais (Stafford, Va.), Kevin Hensley (Memphis, Tenn.)
FORWARDS (3): Adam Ballou (Virginia Beach, Va.), Drew Bremer (Grand Rapids, Mich.), Seth Jahn (Lakeland, Fla.)