U.S. U-18 Women's National Team kicks off final camp of 2016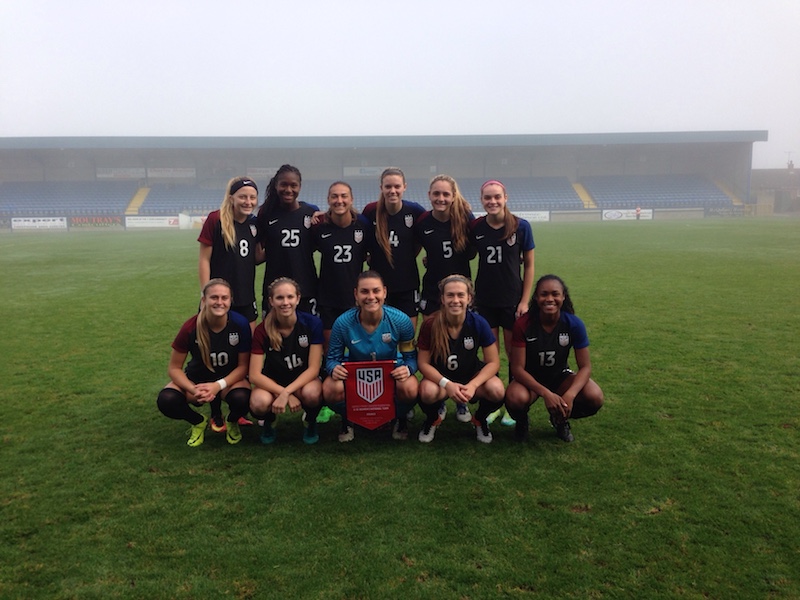 CHICAGO (Via U.S. Soccer) – The U.S. Under-18 Women's National Team has kicked off its its final training camp of the year, which is running from December 10-17 at the U.S. Soccer National Training Center in Carson, California.
This is the seventh and last U.S. U-18 WNT event of 2016 as this group will move to the U-20 level next year to begin a two-year cycle. Three of this year's U-18 events were trips to Europe and this is the fourth domestic training camp.
+Read: U.S. Girls National Team players set for Strikers and GK camp
U.S. Soccer Women's Development Coach Jitka Klimkova named 26 players to the camp roster which features a mixture of college and youth club players, as well as one player playing in Europe. There are 14 collegiate players in camp, all of whom recently completed their seasons.
Twenty of the players were born in 1998, which is the age cut-off year for the 2018 FIFA U-20 Women's World Cup, with six born in 1999. The goal for this age group is to ultimately qualify for the next U-20 Women's World Cup which will be held in France.
U.S. U-18 WNT Roster by Position

GOALKEEPERS (3): Shelby Hogan (Providence; Franklin, Mass.), Kaylan Marckese (Florida; St. Petersburg, Fla.), Mandy McGlynn (Virginia Tech; Jacksonville, Fla.)
DEFENDERS (8): Kerry Abello (Eclipse Select; Batavia, Ill.), Malia Berkely (Florida State; Liberty Township, Ohio), Sydney Dawson (Internationals SC; Akron, Ohio), Samantha Hiatt (Boston College; Newcastle, Wash.), Julie Mackin (Clemson; Castle Rock, Colo.), Tara McKeown (San Diego Surf; Newbury Park, Calif.), Zoe Morse (Michigan Hawks; East Lansing, Mich.), Karlie Paschall (Tennessee Soccer Club; Brentwood, Tenn.)
MIDFIELDERS (8): Samantha Coffey (New York SC; Sleepy Hollow, N.Y.), Tierna Davidson (Stanford; Menlo Park, Calif.), Jordan Harr (Texas Tech; Sachse, Texas), Taylor Kornieck (Colorado; Henderson, Nev.), Shea Moyer (FC Revolution; Wyomissing, Penn.), Viviana Villacorta (Beach FC; Lawndale, Calif.), Natalie Winters (Iowa; Evergreen, Colo.), Nicole Whitley (Rutgers; Freehold, N.J.)
FORWARDS (7): Amirah Ali (PDA; Voorhees, N.J.), Belle Briede (Tophat SC; Alpharetta, Ga.), Ceilia Gee (Lamarinda United; Orinda, Calif.), Mireya Grey (Crossfire; Seattle, Wash.), Abigail Kim (Pacific Northwest SC; Vashon, Wash.), Courtney Strode (Vaxjo DFF; Oceanside, Calif.), Kelsey Turnbow (SC Del Sol; Scottsdale, Ariz.)