U.S. U-18 Women's National Team heads to San Diego training camp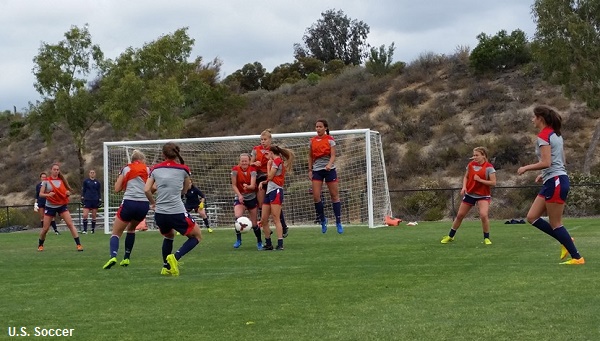 CHICAGO (Via U.S. Soccer) – After two international trips and two domestic camps so far this year, the U.S. Under-18 Women's National Team heads to San Diego for a training camp at the U.S. Olympic Training Center in Chula Vista, Calif., running from Sept. 3-10.
U.S. Soccer Women's Technical Director April Heinrichs has called up a 26-player roster that features 25 youth club players and one college player in goalkeeper Gabrielle Kouzelos from Louisville. The roster features nine players born in 1999 – which is the age cut-off year for this year's 2016 FIFA U-17 Women's World Cup – with the rest born in 1998. U.S. U-17 WNT head coach B.J. Snow named his World Cup roster last week.
+Read: U.S. U-19 Men's National Team roster named for Serbia tournament
The U-18s will drive up to Long Beach to face Beach FC Women of the WPSL on Friday, Sept. 9, at Long Beach State with a kickoff at 2 p.m. PT.
The goal for this age group is to ultimately qualify for the 2018 FIFA U-20 Women's World Cup which will be held in France.
U.S. U-18 WNT Roster by Position
GOALKEEPERS (4): Zoe Clevely (Pateadores; Huntington Beach, Calif.), Gabrielle Kouzelos (Louisville; Wadsworth, Ohio), Ashley Orkus (Concorde Fire; Vestavia Hills, Ala.), Olivia Sekany (Pleasanton Rage; Livermore, Calif.)
DEFENDERS (7): Kerry Abello (Eclipse Select; Batavia, Ill.), Myra Konte (BRYC Elite Academy; Woodbridge, Va.), Brynn Martin (Colorado Rush; Littleton, Colo.), Taylor Mitchell (Real So Cal; Tarzana, Calif.), Mia Palmer (Crossfire; Portland, Ore.), Karlie Paschall (Tennessee SC; Brentwood, Tenn.), Olivia Petit (Internationals SC; Akron, Ohio)
MIDFIELDERS (7): Olivia Athens (PSV Union FC; Atherton, Calif.), Haley Berg (Solar; Celina, Texas), Samantha Coffey (NYSC; Sleepy Hollow, N.Y.), Sydney Dawson (Internationals SC; Akron, Ohio), Arlie Jones (San Diego Surf; Las Vegas, Nev.), Viviana Villacorta (Beach FC; Lawndale, Calif.), Sofia Weiner (Colorado Rush; Evergreen, Colo.)
FORWARDS (8): Amirah Ali (PDA; Voorhees, N.J.), Belle Briede (Tophat SC; Alpharetta, Ga.), Kirsten Davis (St. Louis Gallagher; Chesterfield, Mo.), Mireya Grey (Crossfire; Seattle, Wash.), Lauren Rice (Indy Fire; Noblesville, Ind.), Rheagen Smith (Dallas Texans; Carollton, Texas), Kelsey Turnbow (SC Del Sol; Scottsdale, Ariz.), Courtney Walker (Carolina Rapids; Waxhaw, N.C.)