U.S. U-18 Women's National Team blanks Northern Ireland 3-0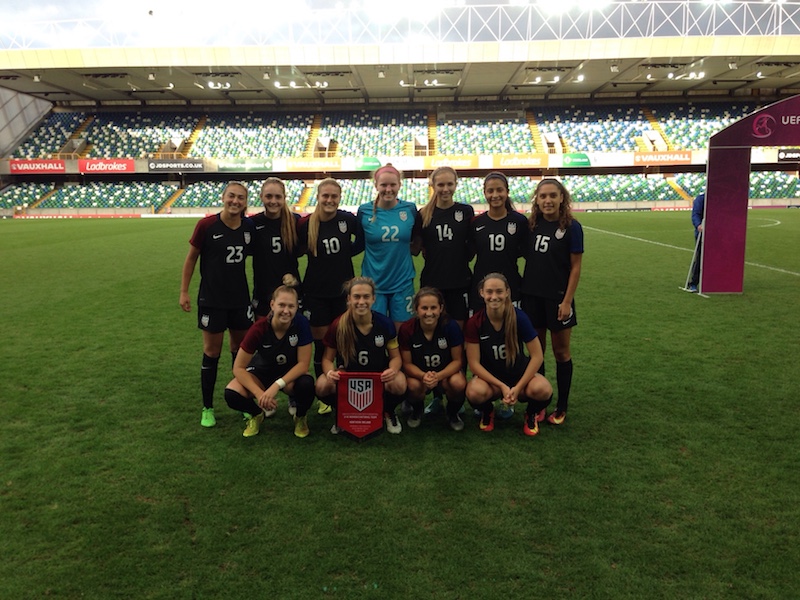 BELFAST, Northern Ireland (Via U.S. Soccer) – The U.S. U-18 Women's National Team defeated the Northern Ireland Under-19 WNT by a 3-0 score in its third and final match of the Women's International Cup. The match was played in front of a crowd of 1,500 fans. The USA finished second in the tournament that also featured France and England.
The USA went up 2-0 after 13 minutes, courtesy of a 10th minute strike from Belle Briede and an own goal from Northern Ireland. The opening goal came off a cross from the left side Kelsey Turnbow, who scored twice in the USA's 3-1 win against France on Oct. 20. Briede scored the other goal against France. The USA fell to tournament champion England 2-1 in its first match.
+Read: ECNL Mid-Atlantic Conference Recap – October 22-23, 2016
The Americans put the match away with a third goal in the 72nd minute off a quick counter attack as Vivana Villacorta dribbled with pace at the back line before playing a through ball to Mireya Grey who took a touch and slotted it past the 'keeper.
Northern Ireland sat back in a defensive posture for the entire match, playing with one target forward, and the USA did not allow a shot over the 90 minutes.
U.S. Soccer Women's Technical Director April Heinrichs named 20 players to the roster for the tournament, eight born in 1999 with the remainder born in 1998. As the majority of players in the U.S. U-18 WNT player pool are currently competing in their freshman seasons of college soccer, the roster was made up almost entirely of players currently playing youth club.
+NCAA Women's Soccer Commitment Announcements: October 2016
U.S. Under-18 Women's National Team Match Report
Match: U.S. Under-18 Women's National Team vs. Under-19 Northern Ireland WNT
Date: Oct. 23, 2016
Competition: Women's International Cup
Venue: National Stadium at Windsor Park: Belfast, Northern Ireland
Weather: 55 degrees; Sunny
Scoring Summary:   1          2          F
USA                             2          1          3
NIR                              0          0          0
USA – Belle Briede (Kelsey Turnbow)                        10th minute
USA – Own Goal                                                        13
USA – Mireya Grey (Vivana Villacorta)                      72
Lineups:
USA: 22-Mandy McGlynn; 5-Sydney Dawson, 6-Samantha Coffey (capt.), 9-Belle Briede (8-Haley Berg, 46), 10-Arlie Jones, 14-Kelsey Turnbow (25-Amirah Ali, 74), 15-Mia Palmer (21-Jojo Harber, 66), 16-Tara McKeown (4-Julie Doyle, 74), 18-Shea Moyer (13-Mireya Grey, 46), 19-Viviana Villacorta, 23-Karlie Paschall
Subs not used: 1-Brooke Heinsohn, 20-Sofia Weiner, 24- Kirsten Davis
Head Coach: April Heinrichs
NIR: 12-Caoihme Callaghan (1-Kirsty McCaught, 63); 2-Courney Moore, 3-Lauren Robson, 4-Emma McMaster, 5-Teressa Burns, 6-Caitlyn Hamilton, 7-Chloe Orr, 9-Rebecca Bassett, 10-Abbie Magee (17-Louise Crawford, 63), 15-Yasmin White, 18-Megan Beattie (8-Chloe McGinn)
Subs not used: 11-Miagh Downey, 13-Brodie Olive, 14-Isobel Coppel, 19-Morgane Beggs, 20-Chelsea Cochrane
Head Coach: Alfie Wylie
Statistical Summary: USA / NIR
Shots: 28 / 0
Shots on Goal: 15 / 0
Saves: 0 / 12
Corner Kicks: 13 / 0
Fouls: 4 / 7
Offside: 1 / 1
Misconduct Summary:
None
Officials:
Referee: Maria Marotta (ITA)
Asst. Referee 1: Francesca Di Monte (ITA)
Asst. Referee 2: Yordanka Korcheva (BUL)
4th Official: Galiya Echeva (BUL)