U.S. U-18 MNT falls to Sweden in final Nordic Cup group game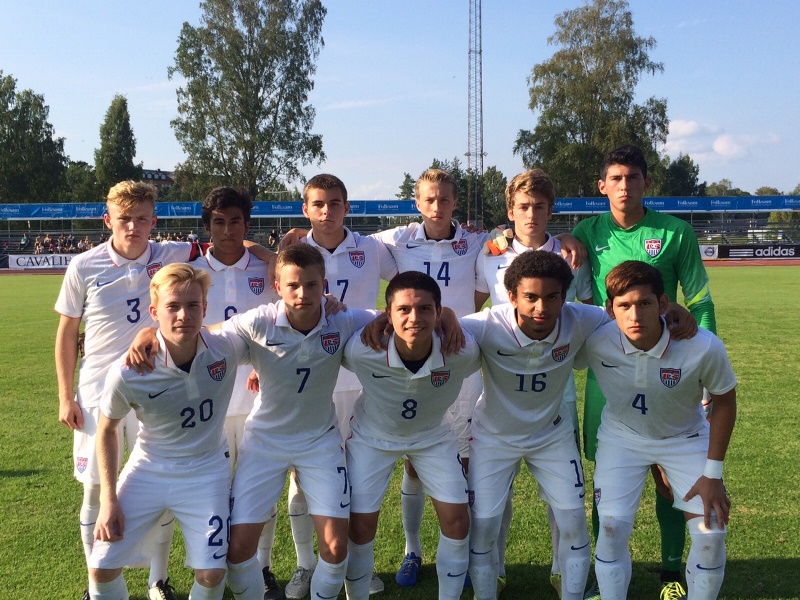 KARLSTAD, Sweden (Via Soccer) – The U.S. Under-18 Men's National Team dropped its third and final group game in the Open Nordic Cup, 2-1, to host Sweden.
The U.S. struck for the first goal of the game when Andrew Carleton converted a penalty kick in the 35th minute, giving the MNT the lead.
In the second frame, Sweden came out on the attack and earned a corner kick in the 50th minute. Henrik Bellman reached the set-piece cross with a header, which he put off the crossbar. Swedish defenseman Hugo Andersson was the first to the rebound and promptly finished to level the game. Two minutes later Sweden would take the lead, with Teddy Bergqvist scoring a counter attack, a goal which proved to be the game-winner.
The U-18's pressured for the match's remaining 28 minutes, looking for an equalizer, but the tying goal never came. The MNT finished group play with a 1-2-0 record and will play Finland in a fifth place playoff on Sunday, Aug. 9.
-U.S. U-18 Men's National Team Match Report-
Match: U.S. U-18 MNT vs. Sweden U-17 MNT
Date: Friday, Aug. 7, 2015
Competition: 2015 Open Nordic Cup; Group Play
Venue: Tingsvalla; Karlstad, Sweden
Kickoff: 6 p.m. (12 p.m. ET)
Attendance: 500
Weather: 69 degrees
Scoring Summary: 1 2 F
USA 1 0 1
SWE 0 2 2
USA – Andrew Carleton (Penalty Kick) 35th minute
SWE – Hugo Anderson 50
SWE – Teddy Bergqvist (Joel Joshoghene Asoro) 52
Lineups:
USA: 1-Eric Lopez; 4-Jordi Avila, 17-Carson Vom Steeg, 3-Aedan Stanley (capt.); 16-Danny Jones, 8-Jonathan Gonzalez, 6-Juan Torres (21-Raul Aguilera, Jr., 63), 14-Griffin Dorsey (10-Nick Taitague, 63); 20-Andrew Carleton, 7-Aristotle Zarris (23-Jose Carranza, 76), 9-Justin Rennicks (11-Lucas Del Rosario, 63)
Subs not used: 2-Callum Stretch, 5-Calvin Aroh, 13-Gabriel Paniagua, 15-Wilson Harris, 22-Brady Scott
Head Coach: Javier Perez
SWE: 12-Maite Pahlsson; 2-Johan Stenmark (3-Emre Erdogdu, 64), 14-Filip Ornblom, 5-Hugo Andersson, 19-York Rafael (4-Oscar Krusnell, 36); 11-Mattias Svanberg (20-Alexander Isak, 60), 9-Mirad Garza (6-Lukas Browning Lagerfeldt, 40), 7-Joseph Colley (capt.) (13-Anel Ahmedhodzic, 74), 8-Henrik Bellman (17-Oscar Petersson, 59); 10-Max Olsson (15-Joel Joshoghene Asoro, 40), 16-Teddy Bergqvist
Subs not used: 1-Pontus Dahlberg
Head Coach: Magnus Wikman
Stats Summary: USA / SWE
Shots: 7 / 5
Shots on Goal: 3 / 5
Saves: 3 / 2
Corner Kicks: 5 / 9
Fouls: 10 / 9
Offside: 3 / 1
Misconduct Summary:
USA – Raul Aguilera, Jr. (Caution) 70th minute
Officials:
Referee: Mikael Jonasson
Referee 1: Porour Arnar Arnason
Referee 2: Dan Hojgaard
Fourth Official: Alex Troleis
NOTE – Game was 80 minutes**