U.S. U-18 Men's National Team set for Lisbon International Tournament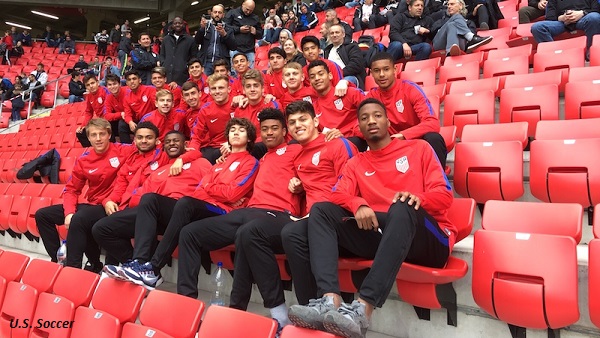 CHICAGO (Via U.S. Soccer) – U.S. Under-18 Men's National Team head coach Omid Namazi has named a 20-player roster for the team's third gathering and second international tournament of 2017, taking place from June 8-19 in Lisbon, Portugal.
During the 2017 U-18 Lisbon International Tournament, the USA will face Japan on June 14, followed by Norway and Portugal on June 16 and 18. The team with the most points in the four-team group at the end of the tournament will be crowned 2017 champions.
Of the 20 players on the roster, 11 are returning from the most recent U-18 MNT gathering in April, when the team traveled to Trnava, Slovakia to participate in the 2017 Slovakia Cup. During that tournament, the USA took drew Hungary (1-1), defeated Belarus (2-1), and earned a win against Slovakia in penalties (4-3) after drawing 1-1 in regular time. After advancing to the Championship game, the USA fell just short of capturing the hardware, falling 3-1 to Russia.
+READ: U.S. U-16 Boys National Team kicks off camp in Carson, Calif.
All 20 players have registered at least two seasons in the U.S. Soccer Development Academy. Forward Justin Rennicks leads the roster with five seasons in the Academy, all with the New England Revolution.
In addition, all players on the roster were born in 1999. Six players are making their debuts with the U-18 player pool in 2017: defenders Gideon Davis, Matthew Real, Christian Takaki and Carson Vom Steeg, midfielder Raul Aguilera, and goalkeeper Gabe Rosario.
Under-18 Men's National Team Roster by Position
GOALKEEPERS (2): Trey Muse (Seattle Sounders; Tukwila, Wash.) Gabe Rosario (Reading FC; Charlotte, N.C.)
DEFENDERS (7): Gideon Davis (CE Europa; Barcelona, Spain.) Jack Maher (Scott Gallagher; Caseyville, Ill.), Mark McKenzie (Philadelphia Union; Bear, Del.), Matthew Real (Philadelphia Union; Drexel Hill, Pa.), Aedan Stanley (St. Louis Scott Gallagher SC; Columbia, Ill.), Christian Takaki (PA Classics; Dover, Pa.), Carson Vom Steeg (Real So Cal; Santa Barbara, Calif.)
MIDFIELDERS (7): Faris Abdi (IMG; Bradenton, Fla.), Raul Aguilera (Orlando City S.C.; Sanford, Fla.), Christian Cappis (Texans SC Houston; West Chicago, Ill.), Koby Carr (Texas Rush; San Antonio, Texas), Jose Carranza (North Carolina FC; Manassas, Va.) Andrew Paoli (San Jose Earthquakes; San Jose, Calif.) Brandon Servania (FC Dallas; Birmingham, Ala.)
FORWARDS (4): Lucas Del Rosario (CASL; Durham, N.C.), Griffin Dorsey (Colorado Rush; Evergreen, Colo.) Emanuel Perez (CASL; Garner, N.C.), Justin Rennicks (New England Revolution Academy; Hamilton, Mass.)