U.S. U-18 Men's National Team roster named for Spain trip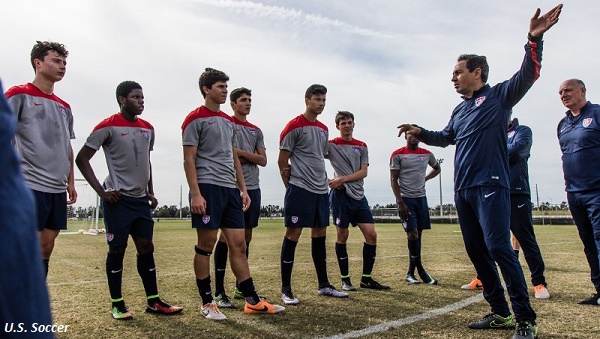 CHICAGO (Via U.S. Soccer) –  U.S. Under-18 Men's National Team head coach Omid Namazi has named a 20-player roster for the team's fourth gathering of 2017, an international camp in Marbella, Spain from October 1 to 10. It will be the final camp of the U-18 cycle before the group moves up to the U-20 level in 2018.
During camp the USA will take on Belgium on Oct. 5 and Russia on Oct. 9.
"I feel we have a very strong roster going into this camp. We are looking to end the U-18 player cycle, players born in 1999, on a good note," Namazi said. "Our goal is to continue to establish our style of play and also gets results against some formidable opponents. With Belgium, they possess the ball, so it's going to be important for us to make sure that we can put pressure on the ball and battle to get into a rhythm, because if not, it's going to be difficult. With Russia, they are a little bit different. They'll give you some ground to play, but they sit back, absorb the pressure and they are very quick on the counter."
+READ: Dave Van Den Bergh named full-time U.S. U-15 Boys National Team coach
Of the 20-player roster, nine return from the most-recent U-18 MNT gathering– the 2017 U-18 Lisbon International Tournament in Lisbon, Portugal. There, the red, white and blue fell 2-0 to Japan and 2-1 to Norway, but rallied in its final match to come back and defeat Portugal 2-1. The U.S. scored in the 86th minute to equalize and notched the winner in stoppage time.
Eighteen players on the roster have ties to the U.S. Soccer Development Academy, with three players currently registered with Academy clubs. Only Nebiyou Perry (AIK) and Angel Uribe (Club Tijuana) have never played for an Academy team. Midfielder Christian Cappis, who recently switched clubs from Texans SC Houston to FC Dallas, was named U-17/18 Central Conference Player of the Year during the 2016-2017 Development Academy season. He followed up the award with an outstanding Academy Playoffs, leading Texans SC Houston to its first ever Academy Championship.
During the 2016-2017 U-17/18 Academy season, six players on the roster, including Cappis, were each named Conference Best XI selections in their respective conferences: Wake Forest defender Mark McKenzie (Philadelphia Union), midfielder Brandon Servania (FC Dallas), NC State forward Emmanuel Perez (Capital Area Railhawks – CASL), Saint Louis FC Academy defender Aedan Stanley (St. Louis Scott Gallagher Missouri) and Charlotte Independence defender Sam Vines (Colorado Rapids).
All but one player called to camp were born in 1999. Julian Araujo, born in 2001, is the lone 16-year-old on the roster. It's the 2017 debut for Araujo, Nebiyou Perry, Paul Rothrock, Nick Taitague, Juan Pablo Torres and Sam Vines at the U-18 level.
GOALKEEPERS (2): Eric Lopez (LA Galaxy; Los Angeles, Calif.), Brady Scott (FC Koln; Petaluma, Calif.)
DEFENDERS (6): Julian Araujo (Barca Academy; Lompoc, Calif.), Mark McKenzie (Wake Forest; Bear, Delaware), Matthew Real (Philadelphia Union; Drexel Hill, Pa.),  (Saint Louis FC Academy; Columbia, Ill.), Angel Uribe (Club Tijuana; San Diego, Calif.), Carson Vom Steeg (Stanford; Santa Barbara, Calif.)
MIDFIELDERS (7): Christian Cappis (FC Dallas; Katy, Texas) Jose Carranza (North Carolina FC; Masassas, Va.), Paxton Pomykal (FC Dallas; Highland Village, Texas), Paul Rothrock (Notre Dame; Seattle, Wash.), Brandon Servania (Wake Forest; Birmingham, Ala.), Juan Pablo Torres (Sporting Lokoren; Lilburn, Ga.), Sam Vines (Charlotte Independence; Charlotte, N.C.)
FORWARDS (5): Shaft Brewer (RB Leipzig; Sacremento, Calif.), Griffin Dorsey (Indiana University; Evergreen, Colo.) Emanuel Perez (NC State; Garner, N.C.), Nebiyou Perry (AIK; New York, N.Y.), Nicholas Taitague (FC Shalke; Midlothian, Va.)