U.S. U-18 Men's National Team earns 2-1 win over Costa Rica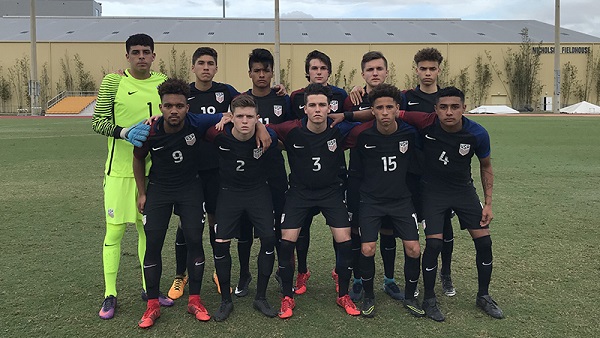 U.S. National Team Roster Pools
U-15 | U-16 | U-17 | U-18 | U-19 | U-20 | MNT
ORLANDO, Fla. (Via U.S. Soccer) – After going down 1-0 to Costa Rica in the 40th minute, the U.S. Under-18 Men's National Team responded with great resolve, using a goal in first-half stoppage time from Indiana Vassilev and a 59th minute set-piece finish from Konrad De La Fuente to open up the 2018-2019 U-18 MNT competition cycle with a 2-1 victory at the University of Central Florida.
The teams will meet again on Feb. 11, back at UCF, with a 10 a.m. ET scheduled kickoff time. The match is open to the public and admission is free.
Costa Rica got on the scoreboard first in the 40th minute when Jose Rodriguez Santamaria stole possession near midfield and quickly sent a through ball between the defense to the top of the box where Julen Cordero Gonzalez sliced the ball past charging USA goalkeeper David Ochoa.
Just moments away from the end of the first half, the USA found the equalizer. Developing from the right flank, what looked to be an over-hit cross was kept inbounds by USA forward Ulysses Llanez, who headed the ball to center back Nico Benalcazar near the top of the penalty area. As Costa Rica defenders sprinted towards him, the New York City FC product gifted a chance for midfielder Indiana Vassilev, who one-timed his finish to the left of goalkeeper Anthony Walker to even the score line.
+READ: FC Bayern Munich, FC Dallas announce player development partnership
The USA would find the go-ahead goal 14 minutes into the second half. A poorly timed aerial challenge from Costa Rica set the USA up with a free kick opportunity a foot outside the left side of the penalty area. From that spot, Konrad De La Fuente did the rest, curling his chance to the right of the wall and into the back of the net.
U.S. head coach Omid Namazi called up 24 players for this camp and matches. Twenty of the players have played or currently play for clubs in the U.S. Soccer Development Academy. All 24 players on the roster were born in 2001 – the age cut off year for the 2021 FIFA U-20 World Cup.
Costa Rica have had recent success with its men's youth teams as both U-17 and U-20 teams qualified for and participated in the 2017 FIFA U-17 and U-20 World Cups, respectively.
– U.S. Under-18 Men's National Team Match Report –
Match: U.S. U-18 Men's National Team vs. Costa Rica
Date: Feb. 9, 2018
Competition: International Friendly
Venue: UCF Soccer and Track Stadium; Orlando, Fla.
Kickoff: 4 p.m. ET
Attendance: 150
Weather: 82 degrees
Scoring Summary:             1               2               F
USA                                             1               1               2
CRC                                             1               0               1
CRC – Julen Cordero Gonzalez (Jose Rodriguezz Santamaria)       40th minute
USA – Indiana Vassilev (Nico Benalcazar)                                      45+1
USA – Konrad De La Fuente                                                            59
Lineups:
USA: 1-David Ochoa; 2-Ian Hoffmann, 4-Julian Araujo, 18-Nico Benalcazar (24-Owen Otasowie, 72), 3-Stuart Ritchie (23- David Mendoza, 56); 6-Taylor Booth (capt.) (16-Aidan Morris, 87), 15-Cameron Duke, 10-Indiana Vassilev (20- Bryan Reynolds, 72); 7-Jalen Hawkins (21-Roberto Hategan, 46), 9-Konrad De La Fuente, 11-Ulysses Llanez
Substitutes not used: 5- Leonardo Sepulveda, 8-Marcelo Palomino, 12-Kris Shakes, 13-Thomas Roberts, 14-Jose Rivas, 17-Nelson Martinez, 19-Stefan Stojanovic, 22-Jacob Schick, 
Head coach: Omid Namazi
CRC: 1-Anthony Walker Cruz; 2-Alexander Roman Bermudez (15-Maikel Gonzales Chaves, 78), 3-Daniel Chacon Salas, 13-Matthew Bolanos Garcia, 5-Emmanuel Coronado Salas; 6-Rashir Parkins Harris (14-Sergio Cespedes Davy, 78), 8-Roan Wilson Gordon (17-Aaron Suarez Zuniga, 67), 10-Jose Rodriguezz Santamaria; 7-Geancarlo Castro Gonzalez, 9-Julen Cordero Gonzalez, 11-Freed Cedeno Alvarado (16-Daniel Gutierrez Montero, 67)
Substitutes not used: 4-Dylan Davila Brenes, 12-Felipe Rojas Vargas, 18-George Barrett Savage
Head coach: Hugo Marcelo Herrera

Stats Summary: USA / CRC
Shots: 21 / 6
Shots on Goal: 12 / 3
Saves: 2 / 10
Corner Kicks: 3 / 3
Fouls: 11 / 12
Offside: 0 / 0
Misconduct Summary:
CRC – Daniel Chacon Salas (caution)           39th minute
USA – Cameron Duke (caution)                      62
Officials: 
Referee: Elvis Osmanovic (USA)
Assistant Referee 1: Matthew Osterhouse (USA)
Assistant Referee 2: Steven Whalen (USA)
Fourth Official: Matthew Schwartz (USA)