U.S. U-17 Women's National Team shuts out Japan 2-0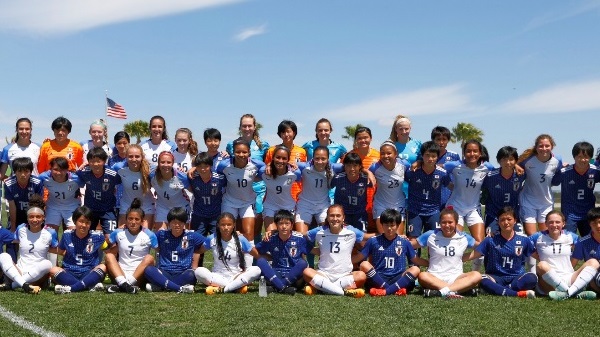 LAKEWOOD RANCH, Fla. (Via U.S. Soccer) – The U.S. Under-17 Women's National Team defeated its counterpart from Japan 2-0 in the third of three matches between the teams at a training camp in Florida. The teams drew 0‑0 on March 21 and the USA won 4-1 on March 23.
"It was a really tough final game for our players today," U.S. U-17 WNT head coach Mark Carr said. "Playing Japan over three games with minimal turnaround is very difficult, but it's exactly what our young players need."
The USA got on the board in the 8th minute when Isabella D'Aquilla played a through ball to Sunshine Fontes and she scored her 13th goal at the U-17 international level.
The game stayed tight until the 64th minute when Hannah Bebar scored on a corner kick that skipped through traffic, off a Japanese player and into the net.
+READ: Elite level competition on display at Jefferson Cup Girls Showcase
"Today was a game of two halves," Carr added. "Japan tested us in ways we are not normally stretched. We scored an early opportunistic goal against the run of play and were forced to defend for long periods, but I am so pleased with how we defended, limited Japan's chances and fought for 90-plus minutes."
With the score at 2-0, U.S. goalkeeper Angelina Anderson saved a penalty kick to secure the shutout.
"At the half, we were able to regroup and prioritize some things, and our effort, attitude and execution were much better in the second half," Carr said. "This is an incredibly hungry group of players and they did everything we asked over the three games. These experiences have made us better and put us in a great place as we now head to World Cup qualifying next month."
The match was the final game before Carr selects his 20-player roster for the 2018 CONCACAF Women's Under-17 Championship being held in Nicaragua from April 19-29. The Americans were seeded into Group B, where they will face Costa Rica, Bermuda and Canada in the tournament that will qualify three teams to the 2018 FIFA U-17 Women's World Cup.
Japan is one of 10 countries, along with host Uruguay, that have qualified for the 2018 FIFA U-17 Women's World Cup. Three more teams will come from CONCACAF and three more from Europe.
U.S. Under-17 Women's National Team Match Report
Match: U.S. Under-17 WNT vs. Japan U-17 WNT
Date: March 25, 2018
Competition: International Friendly
Venue: Premier Sports Complex Stadium; Lakewood Ranch, Fla.
Weather: 80 degrees, dry
Scoring Summary:    1          2          F
USA                             1          1          2
JPN                             0          0          0
USA – Sunshine Fontes (Isabella D'Aquila)              8th minute
USA – Hannah Bebar                                                 64
USA: 1-Angelina Anderson; 4-Talia DellaPeruta (14-Smith Hunter, 46), 3-Kate Wiesner, 19-Michela Agresti (5-Tori Hansen, 46), 15-Natalia Staude, 6-Astrid Wheeler (20-Sophia Jones, 60), 10-Mia Fishel (24-Croix Bethune, 46), 11-Maya Doms (17-Hannah Bebar, 46), 7-Samantha Meza (9-Kalyssa Van Zanten, 69), 18-Sunshine Fontes (21-Samantha Kroeger, 46), 13-Isabella D'Aquila (8-Diana Ordonez, 46)
Subs Not Used: 2-Makenna Morris, 12-Lindsey Romig, 16-Payton Linnehan, 22-Julia Dohle, 23-Kennedy Wesley
Head Coach: Mark Carr
JPN: 2-Chihiro Tomioka, 3-Hana Shibuya (16-Amyu Hirai, 83), 4-Ibuki Nagae, 5-Shino Matsuda, 6-Sara Ito, 10-Momo Nakao, 11-Moe Nakae (9-Fukina Mizuno, 46) (15-Tamaki Okuma, 83), 12-Haruka Osawa (13-Yukino Gatto, 62), 14-Wakaba Goto, 18-Shiori Fukuda, 19-Momoka Kinoshita (16-Marino Iwamoto, 46), 20-Yuzuki Yamamoto (7-Chise Takizawa, 46)
Subs Not Used: 1-Shu Ohba, 8-Sakura Onuki, 21-Rio Matsui
Head Coach: Naoki Kusunose
Stats Summary: USA / JPN
Shots: 8 / 8
Shots on Goal: 5 / 6
Saves: 5 / 4
Corner Kicks: 8 / 3
Fouls: 9 / 3
Offside: 3 / 3
Misconduct Summary:
USA – Michela Agresti (caution)                    16th minute
USA – Sophia Jones (caution)                       72
Officials:
Referee: Madzid Coric (USA)
Assistant Referee: Igor Santos (USA)
Assistant Referee: Santiago Lorenzo (USA)
Fourth Official: Todd Lazelle (USA)