U.S. U-17 Women's National Team falls to China PR 5-4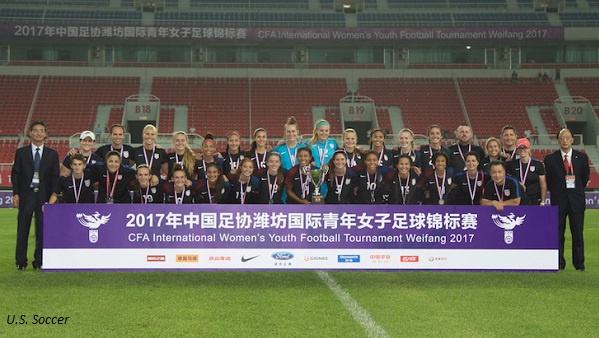 WEIFANG, China (Via U.S. Soccer) – The U.S. Under-17 Women's National Team played a wild back-and-forth finale in the U-16 CFA International Women's Youth Football Tournament, eventually falling to host China PR on a goal in the final minute of regulation time.
Jordan Canniff scored twice for the USA while Katie Wiesner and Ainsley Ahmadian scored single goals in a match that saw the USA fall behind three times in the first half, only to tie the game three times and head into the break knotted at 3-3. The USA then took a 4-3 lead on a Canniff goal in the 59th minute, but China equalized in the 63rd and got a game-winner in the 90th through Linyan Zhang. China attacker Qian Yang proved hard to contain, scoring three of her team's five goals.
The USA lost captain Kennedy Wesley very early in the game when she injured her leg after a hard tackle and had to be substituted in the 4th minute. Wiesner took over the armband after Wesley's substitution.
The USA went into the game needing a win to finish first in the four-team tournament, but with the loss, China finished first, the USA was second, Japan was third and Canada finishes fourth.
The USA defeated Japan 2-0 on July 12 and tied Canada 1-1 on July 14. Japan beat Canada, 3-1, in today's other match.
"Our trip to China provided us with many challenges in regards to travel and playing abroad, but also on the field, where we faced three different but talented opponents," said U.S. head coach Mark Carr. "We had a mixed bag of results, but more importantly, I was proud of all the players, how we played and how we improved during the tournament. This experience will only help us move forward in our development journey. We know we have work to do and I know the players will focus improving themselves with their clubs ahead of our August camp."
At this point in the World Cup cycle, all four teams in the tournament were basically U-16 teams with players born in 2001 and 2002. All the matches were played at the Weifang Olympic Sports Center Stadium in Weifang, which is located on the coast of northeast China at the base of the Shandong Peninsula.
This group of U.S. players is in the middle of the first year of a two-year cycle in which they will attempt to qualify for the 2018 FIFA U-17 Women's World Cup that will be staged in Uruguay.
– U.S. Under-17 Women's National Team Match Report –
Match: United States U-17 WNT vs. China U-17 WNT
Date: July 16, 2017
Competition: U-16 CFA International Women's Youth Football Tournament
Venue: Weifang Olympic Stadium; Weifang, China
Weather: 85 degrees; high humidity
Attendance: 1,000
Scoring Summary:   1          2          F
USA                              3          1          4
CHN                           3          2          5
CHN – Han Tang                                                        9th minute
USA – Kate Wiesner                                                   20
CHN – Qian Yang                                                       23
USA – Ainsley Ahmadian (Payton Linnehan)             30
CHN – Qian Yang                                                       33
USA – Jordan Canniff                                                 44
USA – Jordan Canniff                                                 59
CHN – Qian Yang                                                       63
CHN – Linyan Zhang                                                  90
Lineups:
USA: 1-Angelina Anderson: 3-Kate Wiesner, 6-Kennedy Wesley (capt.) (5-Michela Agresti, 4), 4-Tori Hansen, 17-Talia DellaPeruta, 9-Jordan Canniff, 11-Croix Bethune, 15-Maya Doms (8-Astrid Wheeler, 46), 10-Mia Fishel (7-Sam Meza, 56), 18-Payton Linnehan (13-Sunshine Fontes, 74), 19-Ainsley Ahmadian (16-Kalyssa Van Zanten, 82)
Subs not used: 2-Makenna Morris, 12-Lindsey Romig, 14-Natalia Staude, 20-Diana Ordonez
Head Coach: Mark Carr
CHN: 18-Yu Wang, 3-Mengqing Zhou, 4-Shasha Zhou (19-Xiaoxu Huang, 52), 5-Huimin Han, 6-Jing Jin (17-Xuan Wang, 33, 25-Xinyu Zhou, 69), 7-Qian Yang, 8-Yiyao Ou, 9-Mengyu Shen (capt.), 10-Han Tang (20-Yuehua Li, 86), 11-Linyan Zhang, 14-Yinghua Li (21-Shunjin Guo, 39)
Subs not used: 1-Peibin He, 2-Yumeng Wang, 13-Yingrui Li, 15-Kailian Zou, 16-Xinling Wang, 22-Yifei Gao, 23-Shiyi Li
Head Coach: Gao Hong
Stats Summary: USA / CHN
Shots: 11 / 8
Shots on Goal: 7 / 8
Saves: 3 / 3
Corner Kicks: 7 / 2
Fouls: 6 / 3
Offside: 2 / 0
Misconduct Summary:
None
U-16 CFA International Women's Youth Football Tournament Final Standings
| | | | | | | | | |
| --- | --- | --- | --- | --- | --- | --- | --- | --- |
| Team | GP | W | L | T | Pts. | GF | GA | GD |
| CHN | 3 | 2 | 0 | 1 | 7 | 10 | 7 | +3 |
| USA | 3 | 1 | 1 | 1 | 4 | 7 | 6 | +1 |
| JPN | 3 | 1 | 1 | 1 | 4 | 5 | 5 | 0 |
| CAN | 3 | 0 | 2 | 1 | 1 | 3 | 7 | -4 |
U-16 CFA International Women's Youth Football Tournament Final Results
July 12
USA 2, Japan 0
China PR 3, Canada 1
July 14
USA 1, Canada 1
Japan 2, China PR 2
July 16
China PR 5, USA 4
Japan 3, Canada 1