U.S. U-17 Women's National Team earns 2-0 win over Japan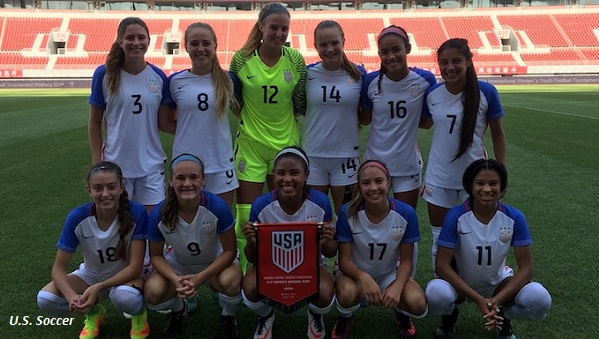 WEIFANG, China (Via U.S. Soccer) – The U.S. Under-17 Women's National Team opened the U-16 CFA International Women's Youth Football Tournament with a 2-0 victory against Japan as Jordan Canniff scored in the first half and Astrid Wheeler tallied in the second.
The four-team tournament also features Canada and China PR. The USA will next take on Canada on July 14 and finish against the hosts on July 16. The USA currently sits in second place in the tournament after China PR defeated Canada, 3-1, in the other match today.
At this point in the World Cup cycle, all four teams are basically U-16 teams with players born in 2001 and 2002. All the matches are being played at the Weifang Olympic Sports Center Stadium in Weifang, which is located on the coast of northeast China at the base of the Shandong Peninsula.
Canniff, who was a member of the USA's 2016 FIFA U-17 Women's World Cup Team in Jordan, opened the scoring in the 35th minute.
The goal sequence started when forward Payton Linnehan picked off a square pass just in front of the center circle inside the Japanese half and dribbled into right side of the penalty area. She lost the ball for a moment in a tackle, but was able to recover and poke it back to Canniff who struck her first-time shot low and hard from 16 yards out into the lower left corner past the outstretched arms of goalkeeper. It was her fifth U-17 international goal.
The USA's second goal came off a corner kick as defender Kate Wiesner sent in a service from the left side which caused the goalkeeper to come for the cross, only to be stuck far out of her net as Wheeler lofted a header over her and a leaping defender. The ball dropped into the middle of the goal for Wheeler's first score at the U-17 international level.
This group of players is in the middle of the first year of a two-year cycle in which they will attempt to qualify for the 2018 FIFA U-17 Women's World Cup that will be staged in Uruguay.
– U.S. Under-17 Women's National Team Match Report –
Match: United States U-17 WNT vs. Japan U-17 WNT
Date: July 12, 2017
Competition: U-16 CFA International Women's Youth Football Tournament Weifang
Venue: Weifang Olympic Stadium; Weifang, China
Weather: 98 degrees; hot, humid
Scoring Summary:   1          2          F
USA                              1          1          2
JPN                             0          0          0
USA – Jordan Canniff (Peyton Linnehan)                  35th minute
USA – Astrid Wheeler (Kate Wiesner)                        78
Lineups:
USA: 12-Lindsey Romig, 3-Kate Wiesner, 14-Natalia Staude, 6-Kennedy Wesley (capt.), 17-Talia DellaPeruta, 8-Astrid Wheeler, 11-Croix Bethune (10-Mia Fishel, 46), 9-Jordan Canniff, 18-Payton Linnehan (19-Ainsley Ahmadian, 83), 7-Samantha Meza (Maya Doms, 60), 16-Kalyssa Van Zanten (13-Sunshine Fontes, 69)
Subs not used:1-Angelina Anderson, 2-Makenna Morris, 4-Tori Hansen, 5-Michela Agresti, 20-Diana Ordonez
Head Coach: Mark Carr
JPN: 18-Shu Ohba, 8-Sara Ito, 6-Shino Matsuda (capt.), 2-Ibuki Nagae, 3-Miyu Arai, 4-Chihiro Tomioka (13-Rin Watanabe, 35), 5-Chihiro Ishida (16-Yuzuki Yamamoto, 46), 10-Moe Nakae (17-Momoka Kinoshita, 46), 7-Momo Nakao, 14-Tomoko Tanaka, 9-Momo Kato (12-Chiina Kamiya, 85)
Subs not used: 1-Rina Yamashita, 15-Nana Watanabe, 19-Warai Yoshizumi, 20-Megumi Ito
Head Coach: Naoki Kusunose
Stats Summary: USA / JPN
Shots: 5 / 10
Shots on Goal: 5 / 5
Saves: 5 / 3
Corner Kicks: 4 / 7
Fouls: 9 / 0
Offside: 2 / 2
Misconduct Summary:
None
U-16 CFA International Women's Youth Football Tournament Standings
| | | | | | | | | |
| --- | --- | --- | --- | --- | --- | --- | --- | --- |
| Team | GP | W | L | T | Pts. | GF | GA | GD |
| CHN | 1 | 1 | 0 | 0 | 3 | 3 | 1 | +2 |
| USA | 1 | 1 | 0 | 0 | 3 | 2 | 0 | +2 |
| CAN | 1 | 0 | 1 | 0 | 0 | 1 | 3 | -2 |
| JPN | 1 | 0 | 1 | 0 | 0 | 0 | 2 | -2 |

U-16 CFA International Women's Youth Football Tournament Results
July 12
USA 2, Japan 0
China PR 3, Canada 1
July 14
USA vs. Canada
Japan vs. China PR
July 16
USA vs. China PR
Canada vs. Japan