U.S. U-17 Women's National Team earns 1-1 draw vs. Slovenia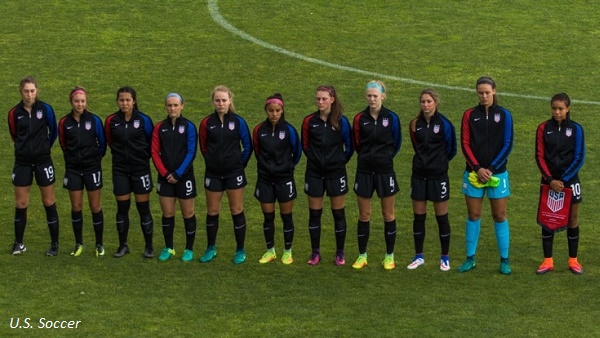 AJDOVSCINA, Slovenia (Via U.S. Soccer) – The U.S. Under-17 Women's National Team played its first international match of its new cycle and drew 1-1 against Slovenia in the opening game for both teams at the 2nd Tornea Femminile Della Nazioni.
The tournament has been held for boys' teams for the past 14 years (including this one), but this is just the second time it has been held for women's teams.
The year's competition is for players born in 2001 or later and features two groups of four teams each, with the USA in Group B along with Slovenia, England and Mexico. Group A features Italy, France, Germany and Belgium.
+READ: U.S. U-15 Boys National Team set for Torneo Delle Nazioni in Italy
The match consisted of 35-minute halves and Slovenia took the lead four minutes into the second half as Marusa Cesnik scored a header from a corner kick.
The USA tied the game in the 58th minute after Lia Godfrey was fouled inside the penalty area and Jordan Caniff converted the spot kick. It was Canniff's third goal in 11 career U-17 caps as she begins her second cycle with this age group.
The USA will next face Mexico on Wednesday, April 26 at ASD Fiumicello in Fiumicello, Italy and finishes group play against England on Friday, April 28 at ND Adria Miren in Miren, Slovenia, which is located just over the border with Italy.
After group play, each team will play a placement game on Saturday, April 29, with the group winners playing for the championship, the second-place finishers playing for third, the third-place finishers playing for fifth and the fourth-place finishers playing for seventh.
The tournament is being staged at 15 different venues, nine in Italy and six in Slovenia.
The U.S. roster features 18 players born in 2001, which is the age cut-off year for the next FIFA U-17 Women's World Cup, taking place in Uruguay.
+Q&A: LA Galaxy's Brian Kleiban on the lessons of GA Cup
U.S. Under-17 Women's National Team Match Report
Match: U.S. Under-17 WNT vs. Slovenia U-17 WNT
Date: April 25, 2017
Competition: Torneo Femminile Delle Nazioni
Venue: Sportni park Ajdovscina; Ajdovscina, Slovenia
Weather: 56 degrees, cloudy
Scoring Summary:    1          2          F
USA                             0          1          1
SVN                             0          1          1
SVN – Marusa Cesnik                        39th minute
USA – Jordan Canniff                        58  
Lineups:
USA: 1-Ruth Jones; 17-Talia DellaPeruta, 4-Tori Hansen, 5-Leah Scarpelli,13-Sunshine Fontes (14-Lia Godfrey,53), 7-Samantha Meza (18-Payton Linnehan, 36), 8-Astrid Wheeler, 19-Madison Mercado (16-Kalyssa Van Zanten, 36), 3-Kate Wiesner, 10-Mia Fishel (capt.), 9-Jordan Canniff (15-Maya Doms, 70)
Subs not used: 11-Croix Bethune, 2-Makenna Morris, 12-Lindsey Romig, 20-Hollyn Torres, 6-Kennedy Wesley
Head Coach: Mark Carr 
SVN: 1-Nika Spaek (capt.); 7-Sara Makovec (15-Eva Vodusek, 68), 19-Kaja Korosec, 14-Zala Vindisar (5-Nika Cucek, 36), 2-Ana Milovic (13-Marcela Kos, 15), 18-Tjasa Kumer (17-Lara Klopcic, 60), 11-Nika Pintaric (13-Marcela Kos, 36) (20-Luana Zajmi, 52), 4-Marusa Cesnik, 10-Adrijana Mori, 8-Izabela Krizaj (16-Vita Zolek, 36), 9-Sara Agrez
Subs not used: 3-Jana Intihar, 12-Zala Mersnik
Head Coach: Petra Mikeln 
Statistical Summary: USA / SVN
Shots: 4 / 6
Shots on Goal: 3 / 2
Saves: 1 / 2
Corner Kicks: 3 / 2
Fouls: 5 / 7
Offside: 0 / 0 
Misconduct Summary:
None 
Officials:
Referee: Andaz Kavcic
Asst. Referee 1: Damjana Antolin
Asst. Referee 2: Sara Mask