U.S. U-17 Women's National Team defeats Venezuela 5-1 in Florida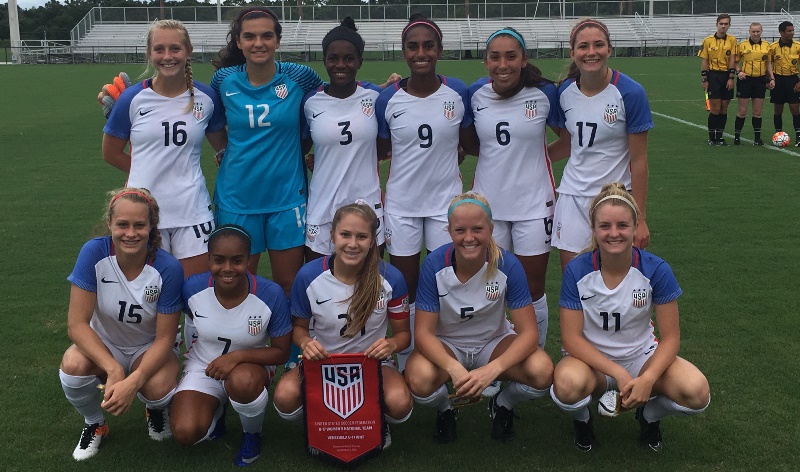 LAKEWOOD RANCH, Florida (Via U.S. Soccer) – The U.S. Under-17 Women's National Team defeated the Venezuela U-17 WNT 5-1 in the second of two games in Florida between countries that will be participating in the upcoming 2016 FIFA U-17 Women's World Cup.
The USA won the first game on Aug. 30 in Tampa by a 4-0 score and followed that up with a 5-1 victory, scoring twice in the first half and three times in the second, including two goals at the very end of the game.
In the first match, the USA scored in the first minute courtesy of a Venezuela own goal, and the Americans didn't take long to get on the board in this match, scoring in the 5th minute through Civana Kuhlmann on an assist from Alexa Spaanstra. It was Kuhlmann's 11th career goal in 17 U-17 caps.
+Read: NSCAA releases new NCAA Women's Division I National Rankings
Frankie Tagliaferri doubled the USA's lead in the 30th minute with her 10th goal at the at the U-17 level and the USA took a 2-0 lead into halftime. In the 60th minute, Venezuela got its only score of the two-game series and it came off a U.S. own goal as Jordan Canniff inadvertently knocked the ball into her own net.
Sixteen minutes later it was Caniff who put the USA back up by two, scoring to make it 3-1 off an assist from Tagliaferri. It was Canniff's second career U-17 goal after scoring her first during the CONCACAF World Cup qualifying tournament earlier this year.
The USA then scored in the 90th and 91st minutes through substitutes Adrienne Richardson and Sophia Smith for the final margin. It was Richardson's first U-17 international goal and Smith's third.
This was the final international match for the USA before the squad leaves later in September for the U-17 Women's World Cup in Jordan. The U.S. U-17s are 12-0-2 in international matches this year heading into the World Cup.
The U.S. plays its first Group D match against Paraguay on Oct. 1 at Prince Mohammed International Stadium in Al Zarqa (7 p.m. local / Noon a.m. ET) before facing Ghana on Oct. 4 at King Abdullah II International Stadium in Amman (4 p.m. local / 9 a.m. ET). The USA will finish group play on Oct. 8 against Japan at Amman International Stadium (7 p.m. local / Noon ET).

U.S. Under-17 Women's National Team Match Report

Match: U.S. Under-17 WNT vs. Venezuela Under-17 WNT
Date: Sept. 2, 2016 
Competition: International Friendly
Venue: Premier Soccer Campus; Lakewood Ranch, Fla.
Weather: 80 degrees, rain 
Scoring Summary:    1          2          F
USA                            2          3          5
VEN                            0          1          1
USA – Civana Kuhlmann (Alexa Spaanstra)             5th minute
USA – Frankie Tagliaferri (Civana Kuhlmann)           38
VEN – Own Goal                                                        60
USA – Jordan Canniff (Frankie Tagliaferri)                76
USA – Adrienne Richardson                                       90
USA – Sophie Smith (Adrienne Richardson)             90+1

Lineups:
USA: 12-Laurel Ivory; 7-Kiara Pickett, 6-Karina Rodriguez, 9-Naomi Girma (20-Emily Smith, 72), 17-Kate Wiesner (23-Kennedy Wesley, 72), 3-Brianna Pinto, 15-Jaelin Howell (8-Sophia Smith, 79), 16-Frankie Tagliaferi (14-Sydney Zandi, 79), 11-Alexa Spaanstra (24-Jordan Canniff, 46), 5-Civana Kuhlmann (2-Lia Godfrey, 46), 21-Ashley Sanchez (capt.) (18-Adrienne Richardson, 72)
Subs not used: 1-Hillary Beall, 4-Izzy Rodriguez, 22-Meagan McClelland
Head Coach: BJ Snow

VEN: 12-Nayluisa Caceres; 14-Gladysmar Rojas, 4-Hilary Vergara, 3-Sandra Luzardo, 2-Veronica Herrera; 5-Iceis Briceno, 6-Nikol Gonzalez (capt.) (18-Nalyerlyn Ropero, 82), 8-Maria Garcia, 11-Dayana Rodriguez, 16-Olimar Castillo; 10-Yerliane Moreno, 15-Heliamar Alvarado (19-Nohelis Coronel, 46)
Subs not used: 1-Alexa Castro, 20- Javiela Liendo,
Head Coach: Kenneth Zseremeta 
Statistical Summary: USA / VEN
Shots: 11 / 5
Shots on Goal: 11 / 3
Saves: 3 / 6
Corner Kicks: 5 / 1
Fouls: 8 / 9
Offside: 6 / 1 
Misconduct Summary:
VEN – Nayluisa Caceres (caution)                54th minute
Officials:
Referee:                      Miguel Martes (USA)
Assistant Referee 1:   Madzid Coric (USA)
Assistant Referee 1:   Todd Lazelle (USA)
4th Official:                  Janessa Gunn (USA)