U.S. U-17 WNT heads to Carson, Calif. for training camp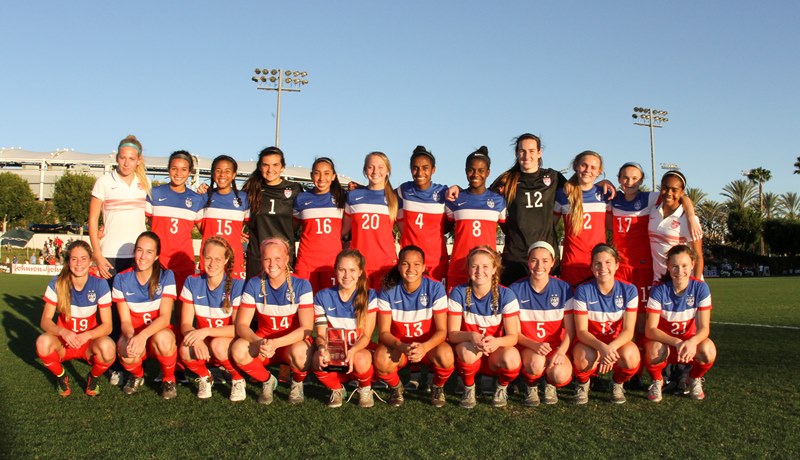 CHICAGO (Via U.S. Soccer) – In its first action since winning the CONCACAF U-17 Women's Championship and qualifying for the 2016 FIFA U-17 Women's World Cup, the U.S. U-17 WNT will head to the U.S. Soccer National Training Center in Carson, Calif., for a training camp running from April 16-23.
U.S. head coach B.J. Snow has named a 26-player roster, including 18 players who participated in the CONCACAF Championship in Grenada in March. Absent from the qualifying team are defender Kennedy Wesley, who is still carrying a knee injury suffered in that tournament, and the competition's Golden Ball winner Ashley Sanchez, who will be coming off a training period with the full U.S. WNT and will be seeing action this year with the U-20 WNT as well.
+Read: U.S. Soccer Development Academy East Conference Recap: Week 18
Of the eight additional players named, four will be making their debut in the Youth National Team camp. The U-17 camp will be held concurrently with a U.S. Under-18 WNT training camp run by U.S. Soccer Women's Technical Director April Heinrichs.
The U-17s are undefeated in eight international games this year after defeating Mexico, 2-1, in the CONCACAF U-17 Women's Championship Final on goals from Sanchez and Civana Kuhlmann. The USA earned its berth to the upcoming U-17 Women's World Cup, which will be held from Sept. 30-Oct. 21 in Jordan, by winning it's CONCACAF qualifying semifinal 5-0 against Canada.
+EXCLUSIVE: ECNL planning to expand to boys, likely by fall 2017
U.S. U-17 WOMEN'S NATIONAL TEAM ROSTER BY POSITION
GOALKEEPERS (2): Hillary Beall (So Cal Blues; Laguna Beach, Calif.), Laurel Ivory (Sunrise Sting; Surfside, Fla.)
DEFENDERS (9): Sydney Collins (FC Portland; Beaverton, Ore.), Naomi Girma (Central Valley Crossfire; San Jose, Calif.), Joanna Harber (Eastside FC; Bellevue, Wash.), Tara McKeown (Eagles; Newbury Park, Calif.), Kiara Pickett (Eagles SC; Santa Barbara, Calif.), Izzy Rodriguez (Michigan Hawks; Canton, Mich.), Karina Rodriguez (So Cal Blues; Torrance, Calif.), Emily Smith (De Anza Force; Los Gatos, Calif.), Kate Wiesner (Slammers FC; Monrovia, Calif.)
MIDFIELDERS (7): Ryanne Brown (Indiana Fire; Indianapolis, Ind.), Mikayla Colohan (La Roca FC; Fruit Heights, Utah), Jaelin Howell (Real CO; Windsor, Colo.), Brianna Pinto (CASL; Durham, N.C.), Frankie Tagliaferri (PDA; Colts Neck, N.J.), Taryn Torres (FC Dallas; Frisco, Texas), Sydney Zandi (Penn Fusion; West Chester, Penn.)
FORWARDS (8): Jordan Canniff (Richmond United; California, Md.), Jasmyne Dunn (Granite Bay FC; Citrus Heights, Calif.), Wrenne French (Tennessee SC; Franklin, Tenn.), Rachel Jones (Tophat; Lawrenceville, Ga.), Civana Kuhlmann (Colorado Rush; Littleton, Colo.), Adrienne Richardson (Minnesota Thunder Academy; Oakdale, Minn.), Sophie Smith (Real Colorado; Windsor, Colo.), Alexa Spaanstra (Michigan Hawks; Brighton, Mich.)