U.S. U-17 MNT blanks Jamaica 4-0 in second training camp friendly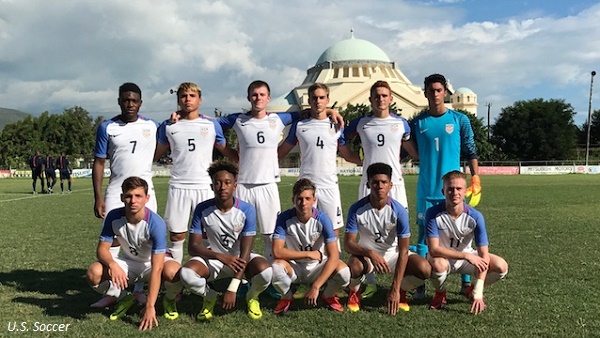 KINGSTON, Jamaica (Via U.S. Soccer) – The U.S. Under-17 Men's National Team blanked the Jamaica U-17s 4-0 in the second friendly matchup of the USA's training camp in Kingston, Jamaica.
George Acosta set the tone of the match early on, scoring in the 6th minute with an assist from Jaylin Lindsey. From there, the U.S. U-17s put on a passing clinic, composing a symphony of ball possession that spread the Reggae Boyz thin. Jamaica's Jamai Topey's ejection in the 33rd minute for a second cautionable offense simply gave the USA more time and space to find their target. That is exactly what Andrew Carleton did on the brink of half time, cushioning the ball on his chest and smashing a volley into the back of the net to give the U.S. at 2-0 lead.
+Read: U.S. U-20 Women's National Team plays France to 0-0 draw in World Cup opener
The Andrew Carleton show continued into the second half, when he managed to catch Jamaica's defense on its heels in the 53rd minute, bagging his second tally of the night and running the score up 3-0. Finally, Ayo Akinola crossed the ball in to find Bryan Reynolds Jr. in the 87th minute, who launched a rocket from 16 yards out to secure a 4-0 victory for the USA.
Next on the schedule for the U-17 MNT are the 2016 Nike International Friendlies from Nov. 30 to Dec. 4, at which the team will face Portugal, Turkey, and Brazil in Lakewood Ranch, Fla.
-U.S. U-17 Men's National Team Match Report-
Match: U.S. U-17 Men's National Team vs. Jamaica
Date: Nov. 6, 2016
Competition: International Friendly
Venue: St. Georges College; Kingston, Jamaica
Kickoff: 3 p.m. ET
Weather: 88 degrees
Scoring Summary:      1          2          F
USA                             2          2          4
JAM                             0          0          0
USA – George Acosta (Jaylin Lindsey)                          6th minute
USA – Andrew Carleton                                                45
USA – Andrew Carleton (Christopher Gloster)               53
USA – Bryan Reynolds (Ayo Akinola)                            87
Lineups:
USA: 1-Justin Garces; 3-Christopher Gloster, 5-Arturo Vasquez, 4-James Sands, 2-Jaylin Lindsey; 6-Christopher Durkin (15-Rayshaun McGann, 57), 8-Blaine Ferri (17-Bryan Reynolds Jr., 68), 10-George Acosta (20-Isaac Angking, 68); 7-Ayomide Akinola, 9-Joshua Sargent (Capt.) (21-Zyen Jones, 76), 11-Andrew Carleton (16-Carlos Asensio, 76)
Subs Not Used: 12-Carlos Joaquim Dos Santos, 13-Chandler Vaughn, 14-Carlo Ritaccio, 18-Adrian Villegas, 19-Ethan Bartlow, 23-Tonny Temple
Head Coach: John Hackworth
JAM: 13-Tajay Griffith; 22-Casseam Preisley (16-Blake White, 46), 6-Nickache Murray (Capt.), 5-Jamai Topey, 3-Jake Walker (2-Kendall Edwards, 28); 10-Renato Campbell, 8-Coby Atkinson, 11-Brandon McGlashan; 20-Chad Letts (17-Jamari Morrison, 67), 9-Raewin Senior, 7-Kaheem Parris (14-Nicque Daley, 46)
Subs Not Used: 1-Daniel Russell, 4-Shaquille Smith, 12-Kimani Gibbons, 15-Jordan Petrekin, 18-Trayvon Reid, 19-Calwayne Allen, 21-Tyrone White, 23-Jeadine White
Head Coach: Andrew Edwards
Misconduct Summary:
JAM – Jamai Topey (caution)                            28th minute
JAM – Jamai Topey (caution)                            33
JAM – Jamai Topey (ejection)                           33
Officials:
N/A
Stats Summary: USA / JAM
Shots: 22 / 2
Shots on Goal: 12 / 0
Fouls: 15 / 10
Corners: 3 / 1
Offside: 0 / 1
Please note: Match was 90 minutes on natural grass.