U.S. U-17 Men's National Team kicks off Sportchain Cup in Spain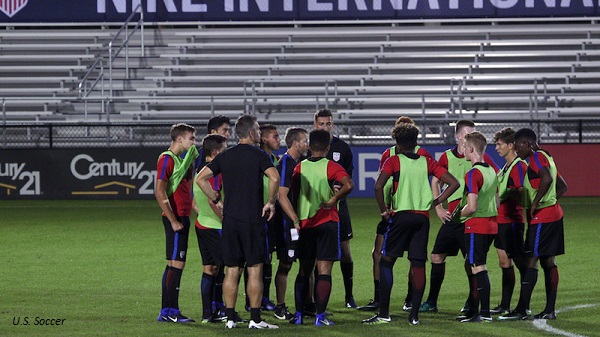 CHICAGO (Via U.S. Soccer) – The U.S. Under-17 Men's National Team will travel to Benicassim, Spain to participate in a series of friendlies against India and Norway in the 2018 Sportchain Cup.
The USA will face India on April 16 and 19 and take on Norway on April 17 and 21. All the matches will be played at the FACSA Sports Centre in Benicassim.
U.S. U-17 MNT head coach John Hackworth has called up 24 players for the tournament, all born in 2002. Included in the roster are 11 players who participated in the 2017 CONCACAF U-15 Championship last August when the USA finished runner up. Another 11 players – some of whom were part of the USA's U-15 CONCACAF Championship roster – participated in the 2017 Nike International Friendlies at which the USA faced Brazil, England and the Netherlands in December. All but three players on the roster have been called up at least once during the 2018-19 U-17 MNT player cycle: Adam Armour, Cesar Garcia and Jack Imperato.
+READ: adidas announces 2018 U-16 Dallas Cup All-Star Team
Development Academy Ties
Of the 24 players called up, 22 have registered at least one season in the U.S. Soccer Development Academy. Goalkeeper Damian Las, defenders Tayvon Gray and Judge, Mason, midfilder Gilbert Fuentes, and forward Gianluca Busio collectively lead the roster in that regard, each having played four seasons.
Three from the roster are MLS Homegrown players in George Bello (Atlanta United FC), Gianluca Busio (Sporting Kansas City) and Gilbert Fuentes (San Jose Earthquakes). Along with Bello and Busio, six more players on the roster also garnered U-15/16 Best XI conference selections in 2017:
-Alejandre, Axel (Central)
-Bello, George (East)
-Busio, Gianluca (Central)
-Judge, Mason (East)
-Las, Damian (Central)
-Reyna, Giovanni (East)
Bello, who was named East Conference Player of the Year for the 2016-17 Academy season, also helped lead Atlanta United FC's U-15/16 squad to its first Development Academy national title in 2017.
Roster by Position
GOALKEEPERS (2): Aaron Cervantes (Pateadores; Chino Hills, Calif.), Damian Las (Chicago Fire; Chicago, Ill.)
DEFENDERS (8): Axel Alejandre (FC United; Chicago, Ill.), Michael Barragan (Atlas FC; Guadalajara, Mexico), George Bello (Atlanta United FC; Douglasville, Ga.), Tayvon Gray (New York City FC; Bronx, N.Y.), Kobe Hernandez (LA Galaxy; Los Angeles, Calif.), Mason Judge (Chargers Soccer Club; Tampa, Fla.), Joseph Scally (New York City FC; Lake Grove, N.Y.), John Tolkin (New York Red Bulls; Chatham, N.J.)
MIDFIELDERS (7): Luis Flores (Shattuck-Saint Mary's; Half Moon Bay, Calif.), Gilbert Fuentes (San Jose Earthquakes; Tracy, Calif.), Cesar Garcia (FC Dallas; Carrollton, Texas), Jack Imperato (De Anza Force; San Jose, Calif.), Andres Jasson (New York City FC; Greenwich, Conn.), Adam Saldana (Real So Cal; Panorama City, Calif.), Peter Stroud (New York Red Bulls; Chester, N.J.)
FORWARDS (7): Adam Armour (North Carolina FC Youth; Cary, N.C.), Gianluca Busio (Sporting Kansas City; Greensboro, N.C.), Diego Lopez (Atlanta United FC; Chino, Calif.), Joshua Pynadath (AFC Ajax; Amsterdam, Netherlands), Benjamin Redzic (FC Dallas; Carrollton, Texas), Giovanni Reyna (New York City FC; Bedford Corners, N.Y.), Ray Serrano (Seattle Sounders FC; Graham, Wash.)