U.S. U-17 Men's National Team roster named for Jamaica camp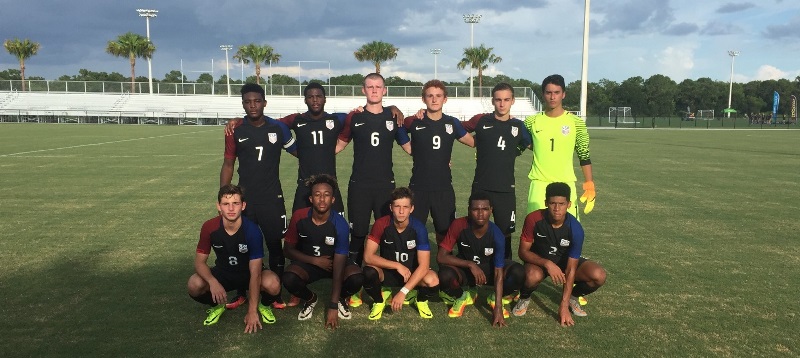 CHICAGO (Via U.S. Soccer) – U.S. Under-17 Men's National Team head coach John Hackworth has named 22 players to the roster that will take part in a training camp from Oct. 30-Nov. 9 in Kingston, Jamaica.
The U-17 MNT will face their Jamaican counterparts on Nov. 2 at 3 p.m. ET at the National Stadium East and on Nov. 6 at 3 p.m. ET at St. Georges College.
Out of the 22 players, 18 are on U.S. Soccer's 2016 Fall Residency roster, 20 currently play in Development Academy clubs, and 21 have Academy ties.
+U.S. Soccer Development Academy East Conference Recap: Week 9
After wrapping up the training camp in Jamaica, the U-17's will prepare for the 2016 Nike International Friendlies, which kick off on Nov. 30 in Lakewood Ranch, Fla. The foreign training camp and Nike Friendlies will both serve as further preparation for the 2017 U-17 World Cup qualifiers set to begin next April.
Roster by Position
GOALKEEPERS (2): Carlos Joaquim Dos Santos (S.L. Benfica; Philadelphia, Pa.), Justin Garces (Kendall SC; Miami, Fla.)
DEFENDERS (9): Carlos Asensio (Atlanta United; Roswell, Ga.), Ethan Bartlow (Crossfire Premier; Woodinville, Wash.), Christopher Gloster (New York Red Bulls; Montclair, N.J.), Jaylin Lindsey (Sporting Kansas City; Charlotte, N.C.), Rayshaun McGann (Philadelphia Union; Royal Palm Beach, Fla.), Carlo Ritaccio (BW Gottschee; Westbury, N.Y.), James Sands (New York City FC; Rye, N.Y.) Arturo Vasquez (FC Golden State; Mira Loma, Calif.), Chandler Vaughn (DC United; Woodbridge, Va.)
MIDFIELDERS (5): George Acosta (Weston FC; Hollywood, Fla.), Isaac Angking (New England Revolution; Providence, R.I.), Christopher Durkin (D.C. United; Glen Allen, Va.), Blaine Ferri (Solar Chelsea SC; Southlake, Texas), Adrian Villegas (Portland Timbers; Hood River, Ore.)
FORWARDS (6): Ayomide Akinola (Toronto FC; Brampton, Ont.), Andrew Carleton (Atlanta United; Powder Springs, Ga.), Zyen Jones (Atlanta United; Clarkston, Ga.), Bryan Reynolds Jr. (FC Dallas; Little Elm, Texas), Joshua Sargent (St. Louis Scott Gallagher Missouri; O'Fallen, Mo.), Tonny Temple (IMG Academy; Millville, Pa.)